Hader getting used to highs and lows of relief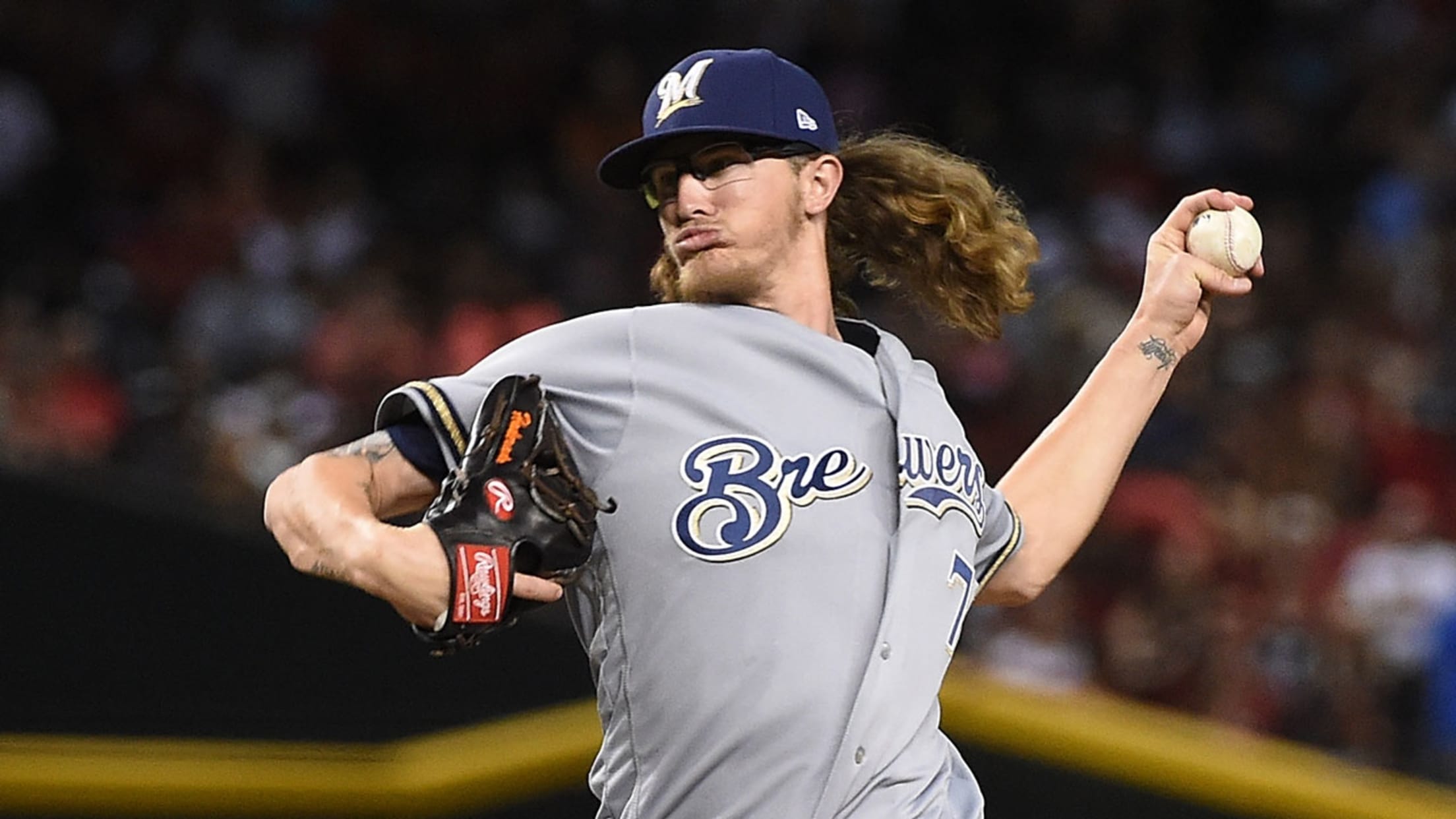 Josh Hader owns a 2.16 ERA in 26 relief appearances this season following Monday's 5-4 loss to the Reds. (Getty)
CINCINNATI -- This is all new to Josh Hader, the highs and lows of being a late-inning reliever for the first time in his baseball life, in the midst of a Major League pennant race, no less.For the second time in as many outings, Hader absorbed the loss on Monday
CINCINNATI -- This is all new to Josh Hader, the highs and lows of being a late-inning reliever for the first time in his baseball life, in the midst of a Major League pennant race, no less.
For the second time in as many outings, Hader absorbed the loss on Monday when Billy Hamilton turned on a two-out fastball in the bottom of the ninth inning and sent a walk-off home run to the seats beyond the wall in left field at Great American Ball Park. While the Reds celebrated, Hader walked toward the clubhouse after the 5-4 loss, where he found solace from someone who has been there before.
"The hardest part about pitching at this level, late [innings] in the bullpen -- and I know people say this all the time -- is you have to have a short memory," said Brewers setup man Anthony Swarzak, who had held the Reds scoreless in the eighth inning before Hader took over in the ninth. "That's the hardest thing to do as a young guy, because you've waited your whole life to get here. And when you don't succeed, it's the ultimate low. [But it's] followed by the ultimate high when you do succeed.
"The hardest thing to do is find an even keel. That's what I'm trying to explain to Josh. Brush it off. Figure out what you did wrong; be honest with yourself. Then, make an adjustment and get the [heck] back out there."
Swarzak has been imparting another message, too.
"I keep reminding him that he's one of the best arms in baseball," Swarzak said. "Remembering that is half the battle on days like today."
Hamilton hit a fastball, the pitch Hader used overwhelmingly in working to a 1.39 ERA and a .140 opponents' average through his first 24 appearances. Of his 12 pitches in a dominant, three-strikeout inning against the Nationals at Miller Park on Friday, 11 were strikes -- the firmest at 97.9 mph.
It was, "Here, hit it." And few hitters did.
But in his past two outings, Hader has given up home runs on fastballs. Washington's Michael A. Taylor hit one at 93.1 mph for a tying home run on Saturday before Hader surrendered the Brewers' lead on a Trea Turner double. On Monday, the switch-hitting Hamilton hit one at 95.1 mph.
"I think it was a pretty good pitch inside," Hader said. "Maybe I left it up a little bit."
Are opponents sitting on that pitch?
"I wouldn't doubt it," Hader said. "I'm sure the scouting report says, 'He uses fastball a lot.' The pitch before that, I threw a changeup to keep him off balance. That's just how it goes sometimes."
Hader has thrown fastballs 83.8 percent of the time since joining the Brewers' bullpen in June, the sixth-highest rate in the Majors for relievers with at least 30 innings. It can be a formula for success, particularly for a power left-hander -- the Orioles' Zach Britton has thrown 94.7 percent fastballs this year, while the Rockies' Jake McGee has thrown them at a 93.4-percent clip and Nationals closer Sean Doolittle at a 88.5-percent rate.
"Josh is going to do what he's good at, and that's what he's doing," Brewers manager Craig Counsell said. "He threw a good fastball that a guy hit. That's what you're going to see the next time he takes the mound -- really good fastballs. Sometimes, they're going to get you. That's part of this.
"This is the big leagues. He's going to give up some runs. I know the sparkling ERA, the low-one ERA is great, but he's going to give up some runs. I'm telling you, going forward, he's a big part of this and a huge part of what we're trying to do this month. I have a ton of confidence in him."