Monday's best: Brinson narrowly misses cycle in big game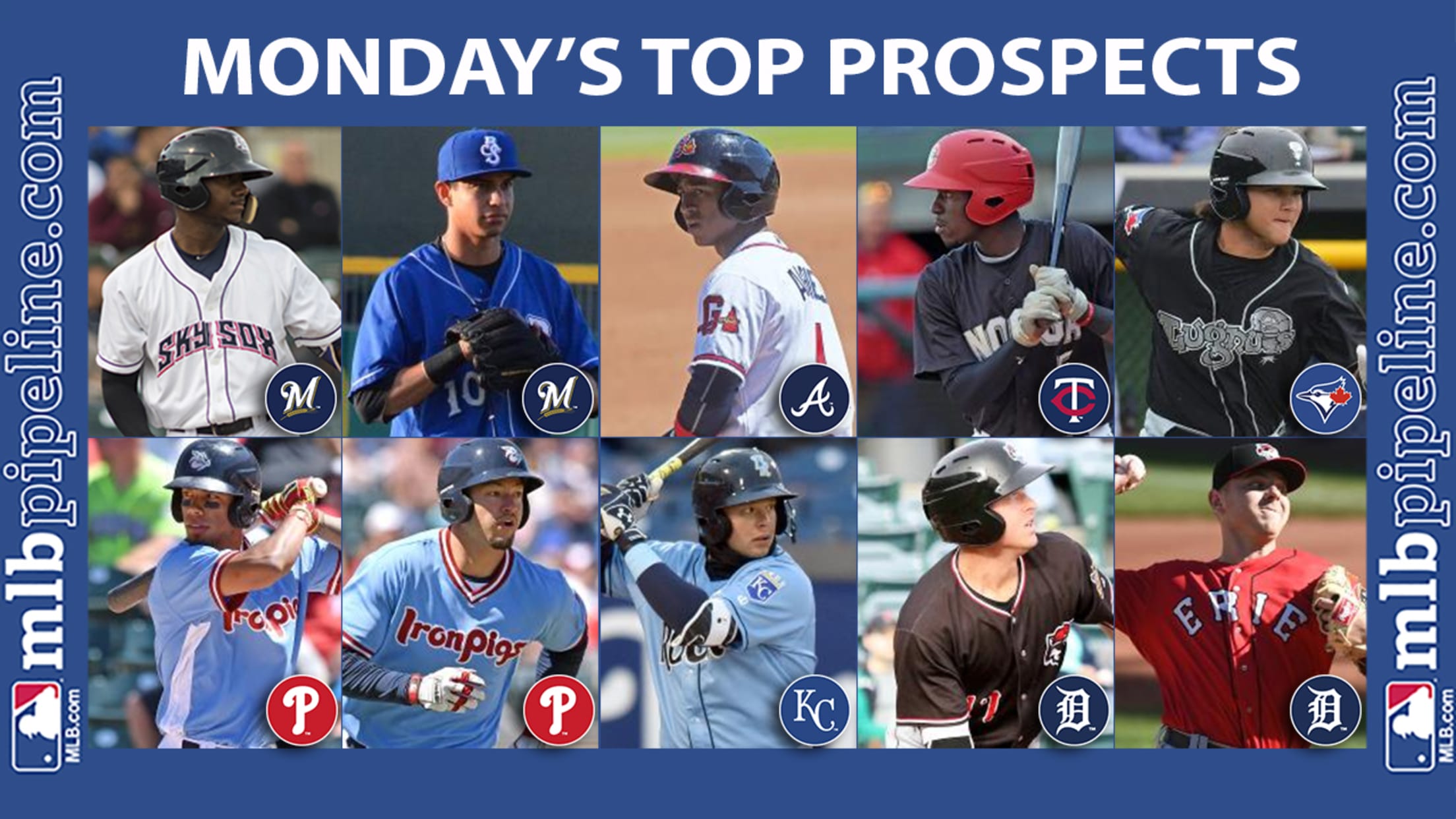 After hitting .097 in 14 games with the Brewers, Lewis Brinson was optioned to Triple-A Colorado Springs and immediately got back on track.The No. 13 overall prospect was a perfect 4-for-4 and nearly hit for the cycle as Colorado Springs topped Omaha 14-3 on Monday night.In his first game back
After hitting .097 in 14 games with the Brewers, Lewis Brinson was optioned to Triple-A Colorado Springs and immediately got back on track.
The No. 13 overall prospect was a perfect 4-for-4 and nearly hit for the cycle as Colorado Springs topped Omaha 14-3 on Monday night.
In his first game back with the Sky Sox, Brinson singled in the first, walked in the second, doubled in the fourth and hit a three-run homer in the fifth.
Milwaukee's top prospect had a chance to complete the cycle when he came to the plate in the seventh, but a strong relay saw him thrown out at third as he tried to use his 60-grade speed to stretch a double into the triple he needed.
MILB Video - Title: Brinson records fourth hit - Url: http://www.milb.com/r/video?content_id=1544107483
The 23-year-old certainly stole the show, but Brinson wasn't the only Brewers prospect that had a game to remember. After hitting .276 and stealing 31 bases in 71 games with Double-A Biloxi, Mauricio Dubon (Brewers' No. 9 prospect) was promoted to Triple-A and collected his first two hits in the win. Dubon, batting lead off, singled and doubled to finish 2-for-6.
Other top prospect performances from Monday's action:
• No. 7 overall prospect Ozzie Albies (Braves' No. 1) matched his career high with four RBIs in Triple-A Gwinnett's 11-4 win over Toledo. Albies finished 3-for-6 with a triple in the game and is batting .277 through 67 games. The 20-year-old got off to a slow start this year but is having his best month of the season, hitting .307 despite also missing some time while on the disabled list.
MILB Video - Title: Albies triples in a pair - Url: http://www.milb.com/r/video?content_id=1544150983
• No. 41 overall prospect Nick Gordon (Twins' No. 1) is 4-for-8 over the past two games after going 2-for-5 for Chattanooga. The 21-year-old is putting together a strong season for the Lookouts in his first experience of Double-A baseball. Gordon, who has hits in 14 of his past 16 games, is hitting .312 through 68 games with 43 RBIs and a career-high six home runs.
• No. 95 overall prospect Bo Bichette (Blue Jays' No. 5) is hitting .396 through 60 games after his third straight multi-hit performance for Class A Lansing. Bichette went 2-for-4 in a win over Bowling Green and is 7-for-13 (.538) over the past three games.
• Phillies prospects Nick Williams (No. 4) and Dylan Cozens (No. 9) combined to go 4-for-8 with two doubles, a homer and two RBIs for Triple-A Lehigh Valley. Williams went 2-for-4 with two doubles and an RBI while Cozens hit his 17th homer of the season on a 2-for-4 night.
MILB Video - Title: Watch: Cozens goes yard - Url: http://www.milb.com/r/video?content_id=1544342683
• Royals No. 6 prospect Chase Vallot turned in the first two-homer game of his career, but it wasn't enough as Class A Advanced Wilmington fell 8-6 to Frederick. Vallot hit a two-run homer in the third and a solo shot in the eighth to finish 2-for-3 with three RBIs.
• Tigers prospects Michael Gerber (No. 7) and Artie Lewicki (No. 21) led Double-A Erie to a comfortable 9-1 win over Akron with strong performances at the plate and on the mound. Gerber has three multi-hit efforts in his past four games after going 3-for-5 with three RBIs, while Lewicki bounced back from a rough outing with seven scoreless frames. The right-hander gave up two hits, fanned six and didn't issue a walk.
MILB Video - Title: Lewicki finishes the seventh - Url: http://www.milb.com/r/video?content_id=1543628883
• Yankees No. 12 prospect Domingo Acevedo put together another strong start for Double-A Trenton. The 23-year-old was brought up to Triple-A for two starts -- going 1-1 with a 4.38 ERA -- but he was dominant in his return to Trenton. Acevedo struck out nine and gave up one unearned run in seven innings.
• Rangers No. 18 prospect Jonathan Hernandez cruised through seven scoreless innings and extended his scoreless streak to 13 frames for Class A Advanced Down East. Hernandez, who hasn't given up a run in either of his past two starts, barely let anyone reach base as he gave up just one hit, walked one and struck out eight.
• Nationals No. 19 prospect Raudy Read continues to drive in runs for Double-A Harrisburg. The 23-year-old catcher has eight RBIs over the past three games after going 3-for-4 with two RBIs in a loss to Reading. Read set a career best with 51 RBIs in 101 games last season and has 33 through 57 games this year.
• White Sox No. 21 prospect Micker Adolfo got Class A Kannapolis off to a fast start with a two-run homer in the first inning. Adolfo, who finished 2-for-3 with three RBIs, has flashed plenty of power this season as the homer was his 10th, a career-high. Even more impressive, eight of the homers have come in this month alone.
MILB Video - Title: Micker Adolfo belts 10th homer - Url: http://www.milb.com/r/video?content_id=1542230983
• Cardinals No. 26 prospect Johan Oviedo made his United States debut for Rookie-level Johnson City and put together an absolute gem. The 19-year-old, whom the Cardinals signed with a seven-figure bonus last July, gave up three hits and struck out seven in six scoreless innings.
• Orioles No. 27 prospect David Hess put together one of his best starts this season for Double-A Bowie. Hess, 23, gave up three hits over seven scoreless frames while notching seven strikeouts. He also threw 58 of his 81 pitches for strikes and issued two walks after giving up nine earned runs on 13 hits and five walks in his last two starts.
• Rays No. 28 prospect Genesis Cabrera's Double-A Montgomery debut went about as well as he could have hoped. The 20-year-old gave up just two hits and limited Birmingham to just one unearned run over seven innings. Cabrera struck out eight, a season high, and threw 59 of his 97 pitches for strikes.