Who has edge? Crew-Nats position by position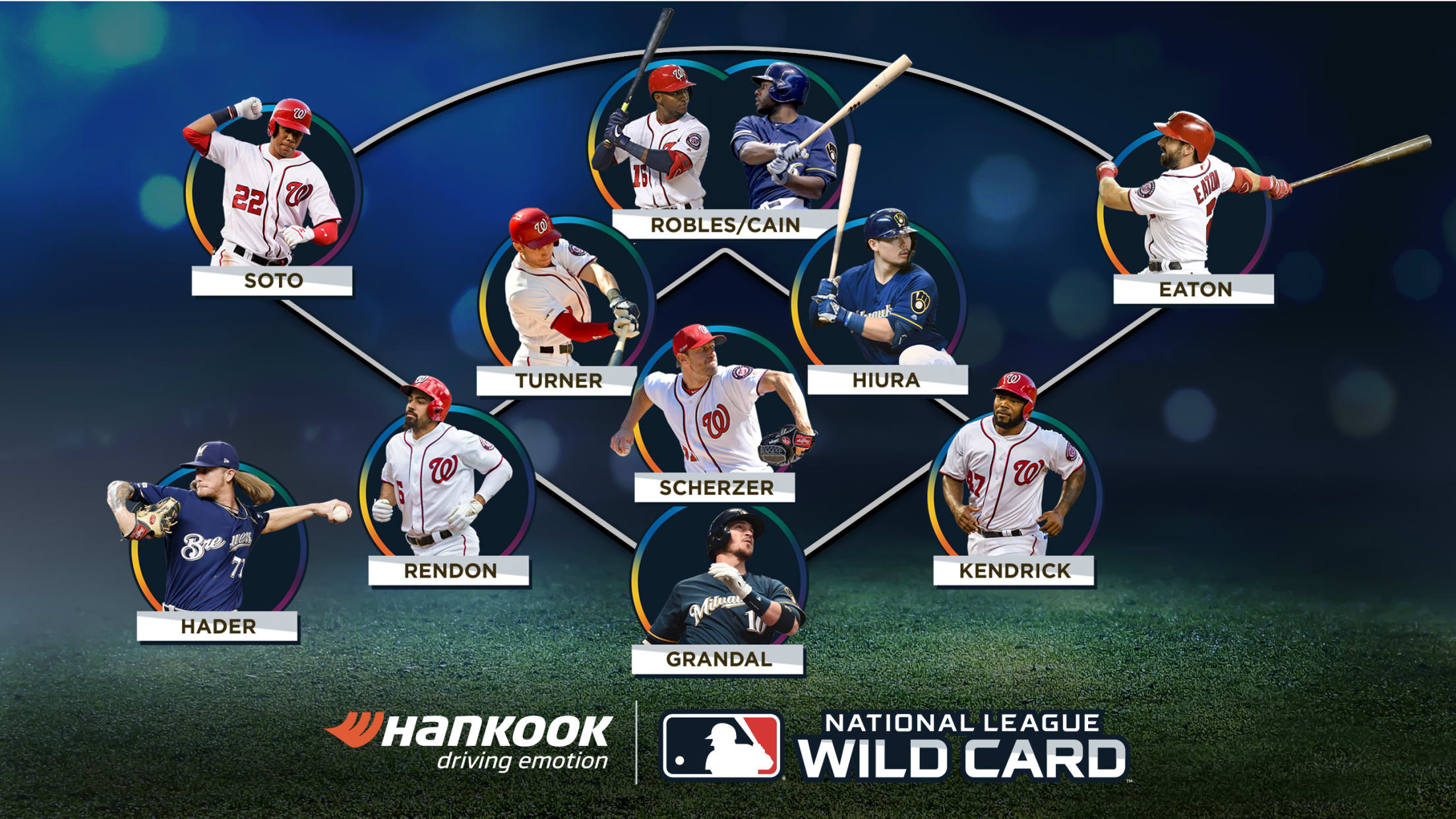 It looked over for the Nationals when they were 19-31 and 8 1/2 games out of a postseason spot at the conclusion of play on May 23. But they posted one of the best records in baseball from that point forward. It looked over for the Brewers when reigning 2018
It looked over for the Nationals when they were 19-31 and 8 1/2 games out of a postseason spot at the conclusion of play on May 23. But they posted one of the best records in baseball from that point forward.
It looked over for the Brewers when reigning 2018 National League MVP Award winner and potential '19 NL MVP Christian Yelich fractured his right kneecap on Sept. 10. But they won 12 of their first 14 games without him to clinch a postseason appearance.
So these are mentally tough teams who have crafted compelling stories on their way to Tuesday's NL Wild Card Game. Alas, one of those stories is going to come to an end in this cold-blooded, one-and-done round at Nationals Park.
While any number of factors can decide a baseball game -- particularly a high-stakes game like this -- let's take a look at how the NL East and NL Central runners-up stack up, position by position.
• Shop postseason gear: Brewers | Nationals
Catcher
A problem with passed balls hounded Yasmani Grandal in October with the Dodgers last year, but the dude can flat-out rake. His 121 Weighted Runs Created Plus (wRC+) mark (or 21 percent better than league average) was by far the best of any qualified catcher in baseball.
With Max Scherzer on the mound, it'll likely be Kurt Suzuki behind the plate for the Nats, as the two have established a rapport. Suzuki has been in a timeshare with Yan Gomes. Gomes is the better defender of the two, but Suzuki's had the stronger offensive season (102 wRC+).
Advantage: Brewers
First base
Howie Kendrick could get the start here for the Nats to free up the hot-hitting Asdrúbal Cabrera at second. Or the Nats could go with Kendrick at second and either Matt Adams or Ryan Zimmerman at first.
With the exact Nats lineup an unknown at the time of this writing, it's hard to pick sides here. But for the record, Brewers first baseman Eric Thames has an .851 OPS and 117 wRC+, whereas Kendrick is at .966 and 146, Adams is at .753 and 88 (12 percent below average) and Zimmerman is at .735 and 89.
Advantage: Nationals if it's Kendrick, Brewers if it's not
Second base
As mentioned, it could be Kendrick here for Washington. Or it could be Cabrera, whose season numbers (97 wRC+) aren't anything special, but whose .969 OPS since joining the Nats in early August allowed him to seize time from Brian Dozier.
The Brewers counter with Keston Hiura, who has made a fine first impression in his rookie season (145 wRC+ in 82 games) and finished strong in September despite missing some time with a hamstring injury. What will the rookie's heartbeat be in a game like this?
Slight advantage: Brewers
Shortstop
Orlando Arcia stepped up big for the Brew Crew on the postseason stage last year with three homers, but he has a .607 OPS over the last two seasons. The clear nod here goes to Trea Turner, whose return from a broken right index finger in May helped jumpstart the Nats. He ignites the top of the lineup with a .353 on-base percentage and more than 30 steals.
Big advantage: Nationals
Third base
Mike Moustakas has had another strong season (117 wRC+), though he dealt with a wrist injury in early September and elbow soreness in the last days of the season.
Anyway, NL MVP Award candidate Anthony Rendon (1.011 OPS, 154 wRC+, 6.9 FanGraphs Wins Above Replacement) is one of the best players in the game at any position.
Big advantage: Nationals
Left field
Ryan Braun (.849 OPS, 117 wRC+) was dealing with a calf issue at season's end, but he's expected to be ready for Tuesday's game.
In any event, the Nats have one of the best young players in baseball in Juan Soto, whose sophomore effort (.282/.400/.547 slash, 142 wRC+) has been every bit as enthralling as his rookie season.
Big advantage: Nationals
Center field
Victor Robles hasn't lived up to his pedigree like Soto just yet, but he's the Major League leader in outs above average in the outfield (21), and his spectacular running catch sealed the Nats' postseason berth.
And as you probably know, Lorenzo Cain's obviously no defensive slouch (third in outs above average, with 14), either. He made two sensational plays at Coors Field on Saturday. He also has experience in this sort of setting (three RBIs total in the 2014 AL Wild Card Game and Game 163 last year). Alas, he's also been dealing with a sprained left ankle that might not prevent him from playing but could hinder him. So while we'd ordinarily give the nod to the veteran Cain here, let's call it a draw for now.
Advantage: Push
Right field
You know which way this one would go if Yelich were around. As it is, the Nationals have the pesky veteran Adam Eaton, with his .363 OBP. The Brewers have given most of the post-Yelich opportunity to rookie Trent Grisham (.242/.333/.430). He's responded fairly well despite the earlier-than-expected at-bats, but we'll side with experience.
Advantage: Nationals
Starting pitchers
This is where it gets really interesting. There's an old school vs. new school vibe to this matchup, with Scherzer, an ace among aces, going up against a Brewers team prone to having the starter go two times through the order before bowing out.
Milwaukee's starter -- or, rather, initial out-getter -- is Brandon Woodruff, who, oblique issue aside, has had an excellent first season as a full-time starter (3.62 ERA, 122 ERA+ in 121 2/3 innings). He's only made two appearances since coming back from the injury, pitching four scoreless innings. The Brewers are 18-4 in his starts this season.
Then you have Scherzer. His workload was limited by a back issue in the second half, and his performance since coming back has been uneven (4.74 ERA, .751 opponent OPS), likely yanking him from his NL Cy Young Award track.
So yes, there's an argument for going with the Brewers' more modern arrangement here. Me? I'll defer to Mad Max on this one.
Advantage: Nationals
Bullpens
Nationals manager Dave Martinez has already promised that it's an "all hands on deck" situation for Washington after Scherzer, which means Stephen Strasburg and Patrick Corbin could wind up pitching in relief in this game. The Nats could use the help, because they've dealt with bullpen issues all year, and while Daniel Hudson, Hunter Strickland and Tanner Rainey have been able to bridge the gap to closer Sean Doolittle at times, the overall reliability of this group is in question.
The Brewers have the edge here. Closer Josh Hader is straight-up filthy with north of 16 strikeouts per nine innings, and he can provide multiple innings, too. The successful conversion of Drew Pomeranz and Brent Suter has made one of the best bullpens in baseball even better, and Craig Counsell employs this group masterfully.
Big advantage: Brewers
Prediction: The contrast in how these two clubs will seek to get their outs makes this a fun matchup. With the bullpen-oriented game October has become, the Brewers can certainly steal this one on the road. Again, though, I just can't help but feel that the guy who pitched seven scoreless with a black eye and broken nose earlier this season will lead the way. The Nats will advance to face the Dodgers.