Brewers draftee slams Oregon St. into semis
Third-round pick Harrison leads Beavers in rout of LSU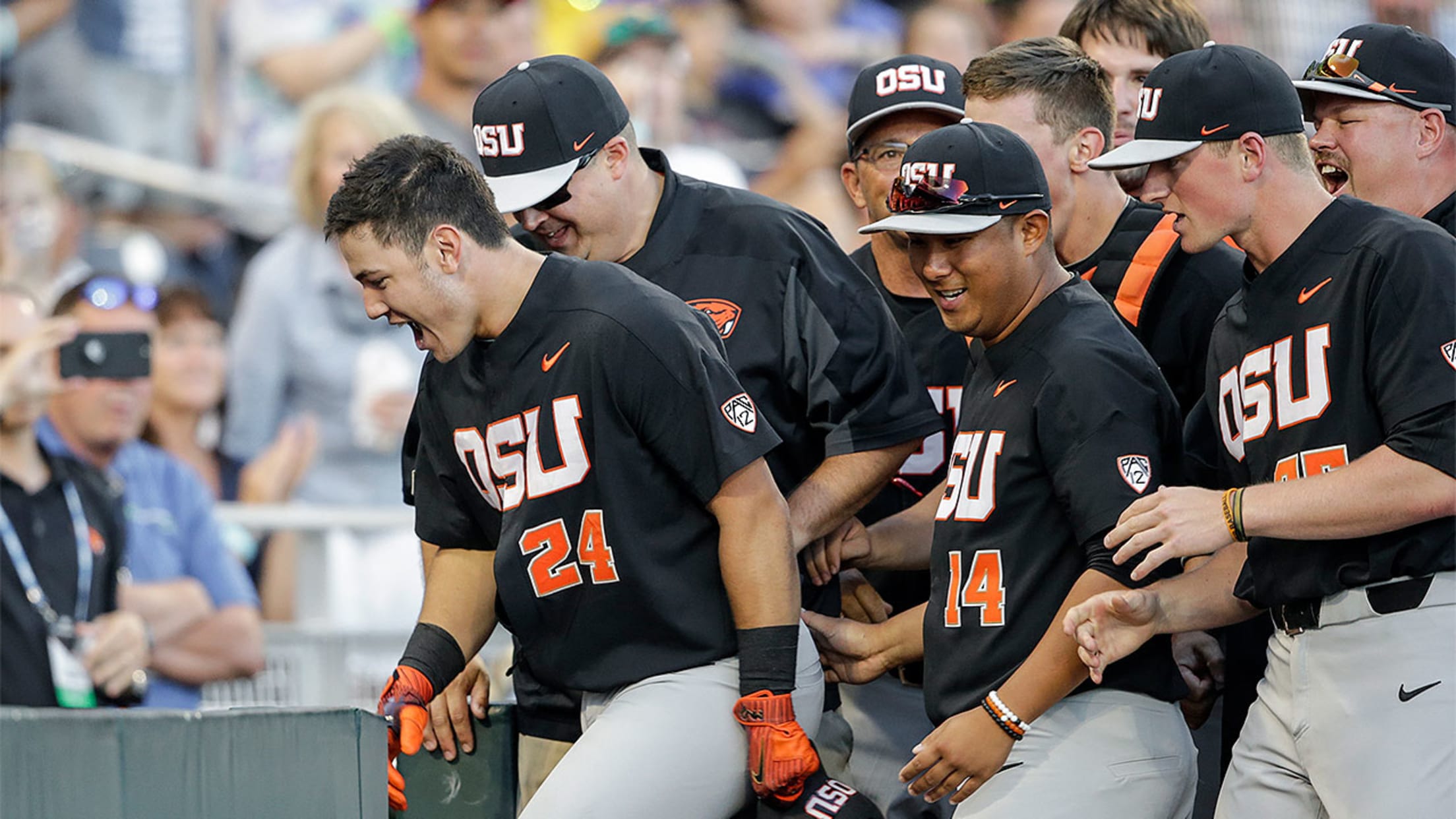 KJ Harrison (24) celebrates with his Oregon State teammates after hitting a grand slam at the College World Series in Omaha, Neb. (AP)
Brewers third-round Draft pick KJ Harrison hit a grand slam to pace No. 1 Oregon State's 13-1 second-round win over No. 4 LSU in the College World Series on Monday, catapulting the top-seeded Beavers into the national semifinals.Oregon State used 10 hits to run away from LSU and force the
Brewers third-round Draft pick KJ Harrison hit a grand slam to pace No. 1 Oregon State's 13-1 second-round win over No. 4 LSU in the College World Series on Monday, catapulting the top-seeded Beavers into the national semifinals.
Oregon State used 10 hits to run away from LSU and force the Tigers into an elimination game Wednesday against Florida State.
Starter Bryce Fehmel cruised through eight innings, allowing just two hits and one earned run to a Tigers lineup dotted with four players selected in last week's MLB Draft.
• 2017 MLB Draft Tracker
The Beavers gave the sophomore right-hander plenty of run support, before and after Harrison's grand slam off Hunter Newman in the sixth. Second baseman Nick Madrigal collected three hits and drove in three, right fielder Trevor Larnach drove in three, and Pirates 39th-round pick Mike Gretler doubled and scored three runs.
Here's a look at the rest of the action from Day 3 in Omaha:

Game 5: Florida State 6, Cal State Fullerton 4
Tigers 32nd-round pick Drew Carlton notched a four-out save to lock down the Seminoles' comeback win over the Titans and keep Florida State alive in the tournament.
Indians 18th-round pick Dillon Persinger (RBI double) and Nationals 24th-round pick Tim Richards (two-run homer) helped the Titans take a 4-3 lead in the sixth, but the Seminoles responded with three in the seventh to take the lead for good.
Phillies 26th-round pick Quincy Nieporte walked to drive in the tying run, and Cal Raleigh and Matt Henderson added RBIs in the frame.
That was more than enough for Rockies 33rd-round pick Alec Byrd and Carlton, who combined to toss 2 2/3 innings of scoreless relief.
What's next
Oregon State advances to the semifinals, set for Friday at 3 p.m. ET. The Beavers will face the winner of Florida State and LSU, which play an elimination game Wednesday.
Tuesday's action slates TCU and Texas A&M against each other in an elimination game at 2 p.m. ET. No. 7 Louisville plays No. 3 Florida in a winners' bracket matchup at 7 p.m. ET.