Prospect Peralta named All-Star for Carolina
Right-hander earned same honor last season with Class A Wisconsin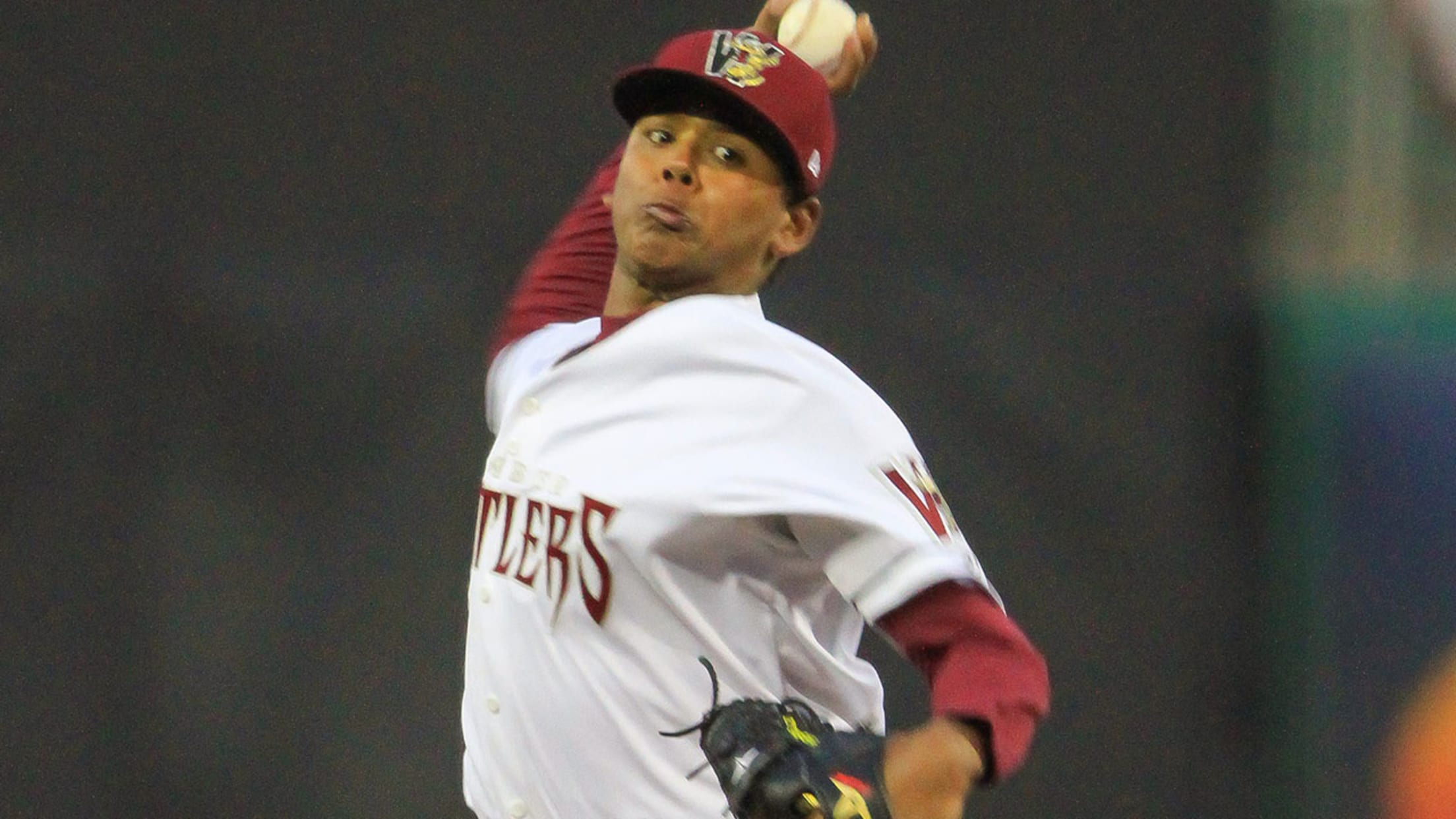 Right-hander Freddy Peralta has 78 strikeouts in 56 1/3 innings this season for Class A Advanced Carolina. (MiLB)
MILWAUKEE -- Brewers pitching prospect Freddy Peralta has risen from nervous newcomer to Carolina League All-Star.The Dominican-born right-hander, No. 19 on MLBPipeline.com's list of Milwaukee's top prospects, was 19 years old when he was traded from the Mariners to the Brewers along with two other teenage pitching prospects for Adam
MILWAUKEE -- Brewers pitching prospect Freddy Peralta has risen from nervous newcomer to Carolina League All-Star.
The Dominican-born right-hander, No. 19 on MLBPipeline.com's list of Milwaukee's top prospects, was 19 years old when he was traded from the Mariners to the Brewers along with two other teenage pitching prospects for Adam Lind in December 2015. Peralta remembers bashfully introducing himself to his Class A Wisconsin teammates on the first day of practice the following April.
"I said, 'OK, I'm Freddy. Nice to meet you guys. I want you to think that I'm like you guys, so I don't want to be alone. I want to talk with you guys, so if you want to meet me, ask me,'" Perata said.
He may have been nervous at the time, Peralta didn't show it on the field, earning Midwest League All-Star honors that year and a promotion in July. Now 21, he learned earlier this week that he's an All-Star again in the Carolina League with Class A Advanced Carolina.
Five Mudcats teammates also got the nod: infielders Isan Diaz and Jake Gatewood, outfielder Corey Ray and pitchers Nate Griep and Cody Ponce.
Peralta earned the honor on the strength of impressive strikeout numbers. Through 12 games (eight starts), Peralta has a 3.04 ERA and 78 strikeouts in 56 1/3 innings. Among pitchers in the Brewers organization who have logged at least 30 innings, only big league closer Corey Knebel has more strikeouts per nine innings than Peralta's 12.5.
"He's a little more mature when he came over from the trade from the Mariners. Physically he's gotten a little stronger," Mudcats pitching coach Dave Chavarria said. "He speaks English well, so he's adapting to the life over here in the United States, which has helped out a whole lot."
Because of his bilingualism, Peralta took it upon himself to help his fellow Latin pitchers improve their language comprehension, especially during the Mudcats' pitchers meetings.
"I try to figure it out and explain to them, because they have to understand everything. It's hard for the Latin guys," Peralta said. "I try to speak every time and talk with the American guys, because that is the best way for you to get better."
One of the pitchers Peralta helps is Brewers No. 11 prospect Marcos Diplan, his best friend and tandem partner. The two right-handers split starts, with one pitching five or six innings and the other finishing games.
According to Chavarria, Peralta's fastball sits in the 91-95 mph range and is his most dangerous tool. His slider and curveball aren't far behind, earning an "average" 50 out of 80 rating on MLBPipeline.com.
"His slider and changeup are still a work in progress. He spins his slider really well. He's able to keep it down," Chavarria said. "The changeup is also in place. It's just finding spots where it's easier to capitalize on."
A native of Moca, Dominican Republic, Peralta played baseball from 2-5 p.m. every day of the week before he signed with the Mariners in 2013. At 5 feet 11 and 175 pounds, Peralta is considered a bit undersized for the Major Leagues, but Chavarria said he has only seen progress -- not limitations.
"He's starting to mature a little bit as a pitcher and starting to understand all of the little details, all of the little things which is overall helping with taking care of all the big things," Chavarria said. "It's just the whole package of him maturing on- and off-the-field that's helped his progress in a huge way. He's on the right track."