Brewers reliever Knebel dealing with UCL issue
Righty to join Jeffress on injured list, prompting 9th-inning evaluation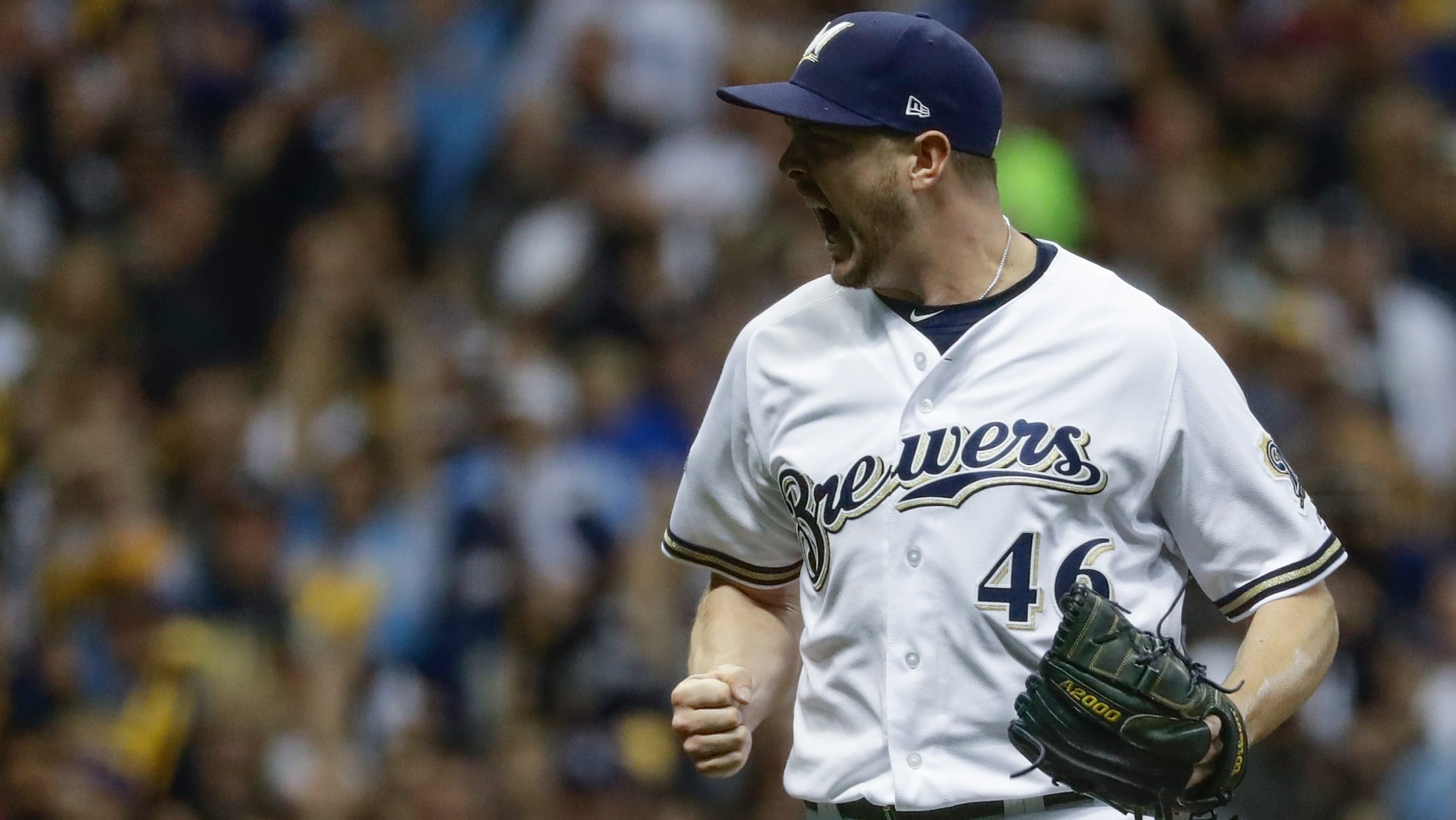 PHOENIX -- With Opening Day one week away, the Brewers on Thursday learned they will be without both of their top two right-handed relievers to begin the defense of their National League Central crown. Corey Knebel, a 2017 National League All-Star, will join 2018 All-Star Jeremy Jeffress on the injured
PHOENIX -- With Opening Day one week away, the Brewers on Thursday learned they will be without both of their top two right-handed relievers to begin the defense of their National League Central crown.
Corey Knebel, a 2017 National League All-Star, will join 2018 All-Star Jeremy Jeffress on the injured list after an MRI scan of Knebel's elbow revealed what manager Craig Counsell referred to as "an issue with the UCL." It is not a complete tear of the ligament, Counsell said, and Knebel will get a second opinion before deciding on a course of action.
"We're still determining the extent and whether to officially call it fraying/tear/etc.," Brewers president of baseball operations David Stearns said. "But we know it's damaged to some extent."
Asked whether the Brewers were faced with losing Knebel all season, Counsell said: "No, I wouldn't say that. We don't know that. … Corey has pitched with this for a long time, so we've got to figure out what's there, what's new. We're going to make sure we get the right answer and then move forward."
Knebel's situation is doubly concerning for the Brewers because their other right-handed bullpen stud, Jeffress, is already slated to open the season on the injured list because of what he described as shoulder weakness earlier in camp. Jeffress returned to a mound Thursday for a bullpen session that "went well," according to Stearns, but the most optimistic estimate has him in the Majors by mid-April at the earliest.
Both Jeffress and Knebel worked hard down the stretch last season. Jeffress pitched a team-high 73 times in the regular season, before a handful of uncharacteristically shaky games against the Rockies and Dodgers in the postseason. Knebel pitched 57 times in the regular season despite missing five weeks with a hamstring injury in April and May, then taking a 10-day break in August amid a period of struggles. Knebel returned to deliver 16 scoreless appearances from the start of September through Game 163 on Oct. 1, before appearing in nine of the Brewers' 10 postseason games.
Knebel threw fastballs and curveballs in a quick inning against the Dodgers on Sunday in Glendale, Ariz., but Counsell noticed a dip in fastball velocity.
Brewers love using Josh Hader in a flexible, multi-inning role, but Jeffress/Knebel down could force an altered strategy. Other options for the ninth right now begin with Albers, Barnes, Guerra. Notable: David Stearns has added a reliever at the end of camp three straight years.

— Adam McCalvy (@AdamMcCalvy) March 21, 2019
The Brewers have long kept a close eye on the health of Knebel's right elbow. When they acquired him from the Rangers in a January 2015 trade that sent Yovani Gallardo to Texas, Knebel was coming off a Triple-A season in which he was shut down on Aug. 18 with an elbow injury. He was able to rehab without Tommy John surgery and made it to Milwaukee that season.
"We talked Monday morning. He didn't feel good in the game on Sunday," Counsell said.
Either Jeffress or Knebel has led the Brewers in saves each of the past two seasons, and their injuries will force a departure from the flexible, multi-inning strategy of usage for electric left-hander Josh Hader, or a committee approach to begin 2019. Or, perhaps a combination of both.
"What I will tell you is it does change a little bit with Josh," Counsell said. "We're going to have to move Josh back in the game a little bit. Sometimes."
Counsell added, "We can still get outs. If you go back to 2018, the bullpen's best stretch is when Corey was out early in the year. That was the best stretch that our bullpen had. And if you looked up at the end of May, there were six guys that were performing at a really, really high level. That can happen again."
The Brewers' Opening Day bullpen isn't set, but the names mentioned by Counsell as late-inning options besides Hader included Matt Albers, Jacob Barnes and Junior Guerra. Albers is the most experienced in high-leverage work; he started last season strong before suffering a shoulder injury and struggling so mightily upon his return in late July that he faded into September mop-up work, and he was left off the postseason roster.
Albers is having a strong camp. He pitched in a Minor League game Wednesday for the second half of back-to-back appearances and said he came through feeling strong.
"I feel like the ball is coming out; velo is pretty good. All signs are pointing toward 'really good,'" he said. "Hopefully we've moved past the injury and won't have to deal with that this year."
Of Knebel's situation, Albers said, "We have Hader there, and a lot of other guys with really good stuff in the bullpen. All of those guys were pitching in big situations last year. If [Jeffress and Knebel] end up missing part of the year, we've got to pick up the slack."
There's also the possibility Stearns will add more help. He already picked up veteran right-hander Josh Fields this week, though Fields has not pitched since early March when the Dodgers designated him for assignment and will need to begin the regular season at Triple-A San Antonio. This week, The Athletic reported that the Brewers were in talks with the top free-agent reliever on the market, Craig Kimbrel. He remained unsigned as of Thursday morning.
Stearns has added a reliever at the end of camp in each of the last three years: Carlos Torres in 2016, Jared Hughes in 2017 and Dan Jennings last year.
"I think David always looks at it like, is there a place to get better?" Counsell said. "It doesn't matter where we're at with injuries, health. That's how he always operates."