Brewers recall 2011 Ali visit, Champ's impact
Milwaukee players and coaches affected by famous boxer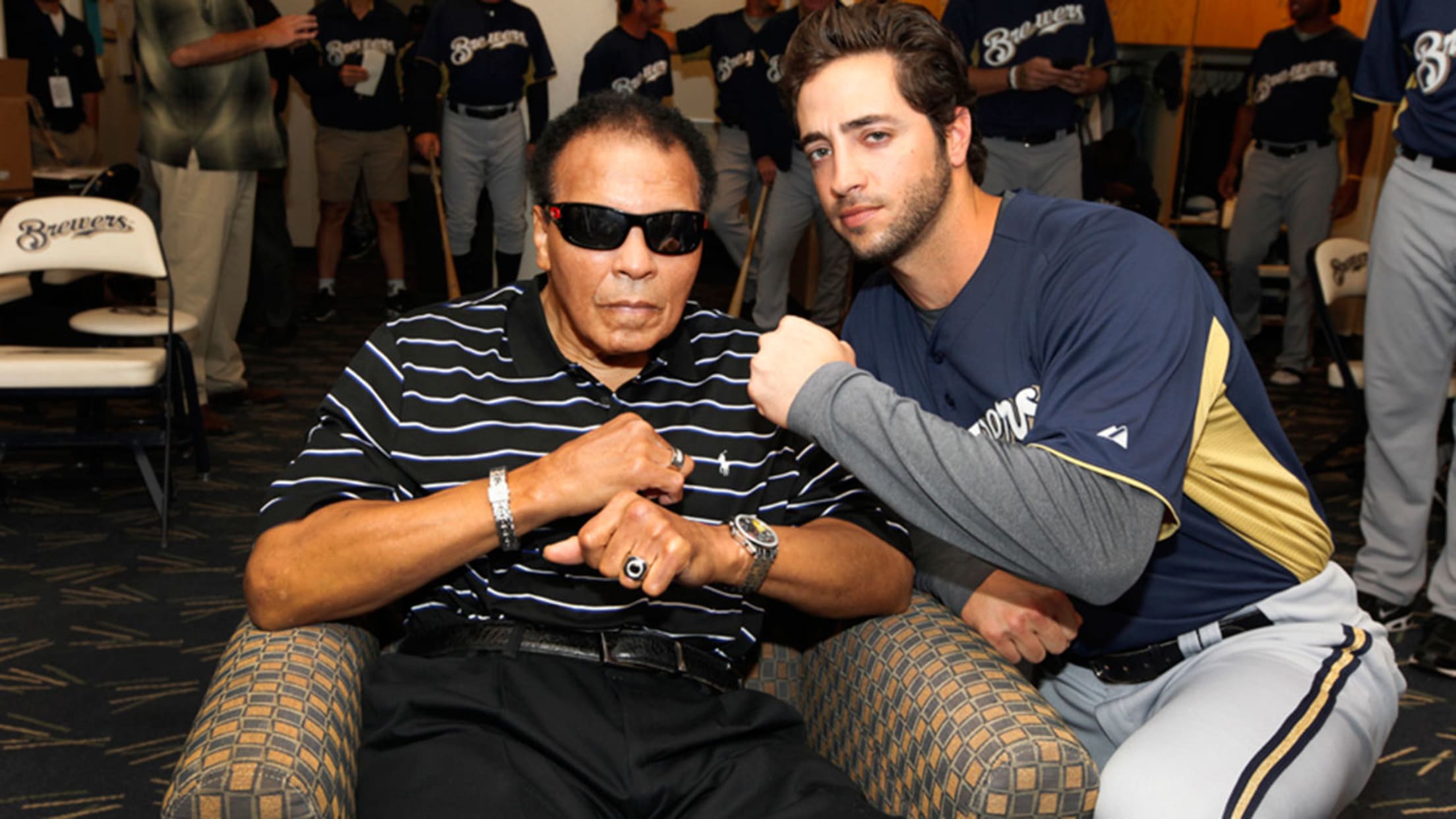 Muhammad Ali poses with Brewers outfielder Ryan Braun during his 2011 visit to the team's Spring Training facility. (Scott Paulus/Brewers)
PHILADELPHIA -- The eyes behind the dark sunglasses still sparkled when Muhammad Ali visited the Brewers at Maryvale Baseball Park during 2011 Spring Training. Parkinson's disease had taken its toll, but Ali was still "The Greatest," so Robin Yount, Prince Fielder and Ryan Braun waited patiently for the opportunity to
PHILADELPHIA -- The eyes behind the dark sunglasses still sparkled when Muhammad Ali visited the Brewers at Maryvale Baseball Park during 2011 Spring Training. Parkinson's disease had taken its toll, but Ali was still "The Greatest," so Robin Yount, Prince Fielder and Ryan Braun waited patiently for the opportunity to snap a photo and enjoy a moment in Ali's presence.
Ali's passing late Friday was met with sadness in the clubhouse for those players and staffers who remain.
"He's a man with as much presence as any other human being I've ever been in the same room with," said Brewers manager Craig Counsell, who met Ali several times, including that day in 2011.
The visit was coordinated by the Brewers Community Foundation and Athletes for Hope, a nonprofit run by an elite group of philanthropic athletes who inspire other pros to find a charitable cause and support it. Ali's wife, Lonnie, addressed the team before Ali took photos.
"He's just got a huge presence," Counsell said. "There are famous people, known people, who walk in the room and you feel something. He had this way of being in a room, and he was the biggest presence by far. Not by trying to take it over -- he just took it over."
"It was really cool, man, to meet a famous figure from history," Brewers catcher Jonathan Lucroy said. "I never saw him fight, obviously, but it was really cool. He was the greatest fighter of all time."
The Brewers met Muhammad Ali in 2011 Spring Training. Here's video from the visit: https://t.co/aktKKHyomt pic.twitter.com/6vpQ5TxLWM

— Adam McCalvy (@AdamMcCalvy) June 4, 2016
Brewers bench coach Pat Murphy had a more personal relationship with the Ali family, whose primary estate is in Benton Harbor, Mich. The nearest large airport is in South Bend, Ind., where Murphy made his name in baseball as the head baseball coach at Notre Dame. He would occasionally see the Ali family on their travels in the early 1990s, and since Murphy had long idolized Ali, even winning a handful of boxing tournaments himself as youth, he introduced himself.
The relationship was renewed in the late 2000s when Murphy was head coach at Arizona State, as the Ali family also has a home in Phoenix.
"Lonnie has a passion for baseball, and she is huge on helping people get opportunities," Murphy said. "She sought me out in Arizona, and didn't know I had pictures all over my house of The Champ, and a big portrait of him. They came to my house one day and we talked a little bit, tried to help some kids out, get them some opportunities in baseball and beyond.
"They've been really wonderful to me. They did a big charity event for me, I've spent some time at their house. I have a tattoo on my back of my kids' names, and around it are all the people who influenced me. One of the names is Ali."
Murphy is on a small list of people who have dined in Ali's home. One day, Murphy and Ali sat on the couch and thumbed through a book of unpublished photographs of Ali. Now and again, Ali would dramatically point to a photo, pause for a while, then smile.
"Remember, I grew up in that era when he was a household name," Murphy said. "I was with my son, and he knew who Ali was, but I don't think he realized [the magnitude] of having dinner with the champ and Lonnie.
"But you know what's great about the [Ali family]? They really care about people. That quote about 'a life lived for others is a life worth living?' That was the [Ali family]. Lonnie lives her life helping people."
Counsell's most memorable encounter with Ali wasn't a meeting at all. He recalled the 1997 World Series against the Indians, when Marlins manager Jim Leyland spoke to Ali about coming into the clubhouse to give a speech.
"Jim gave this very emotional speech about, 'The Champ is coming, The Champ is coming,'" Counsell recalled. "He didn't end up coming, but [Leyland] turned the speech into a very motivational speech, like Leyland was great at. That's the first memory I have of [Ali] being connected to baseball."