Anderson scratched, likely back next series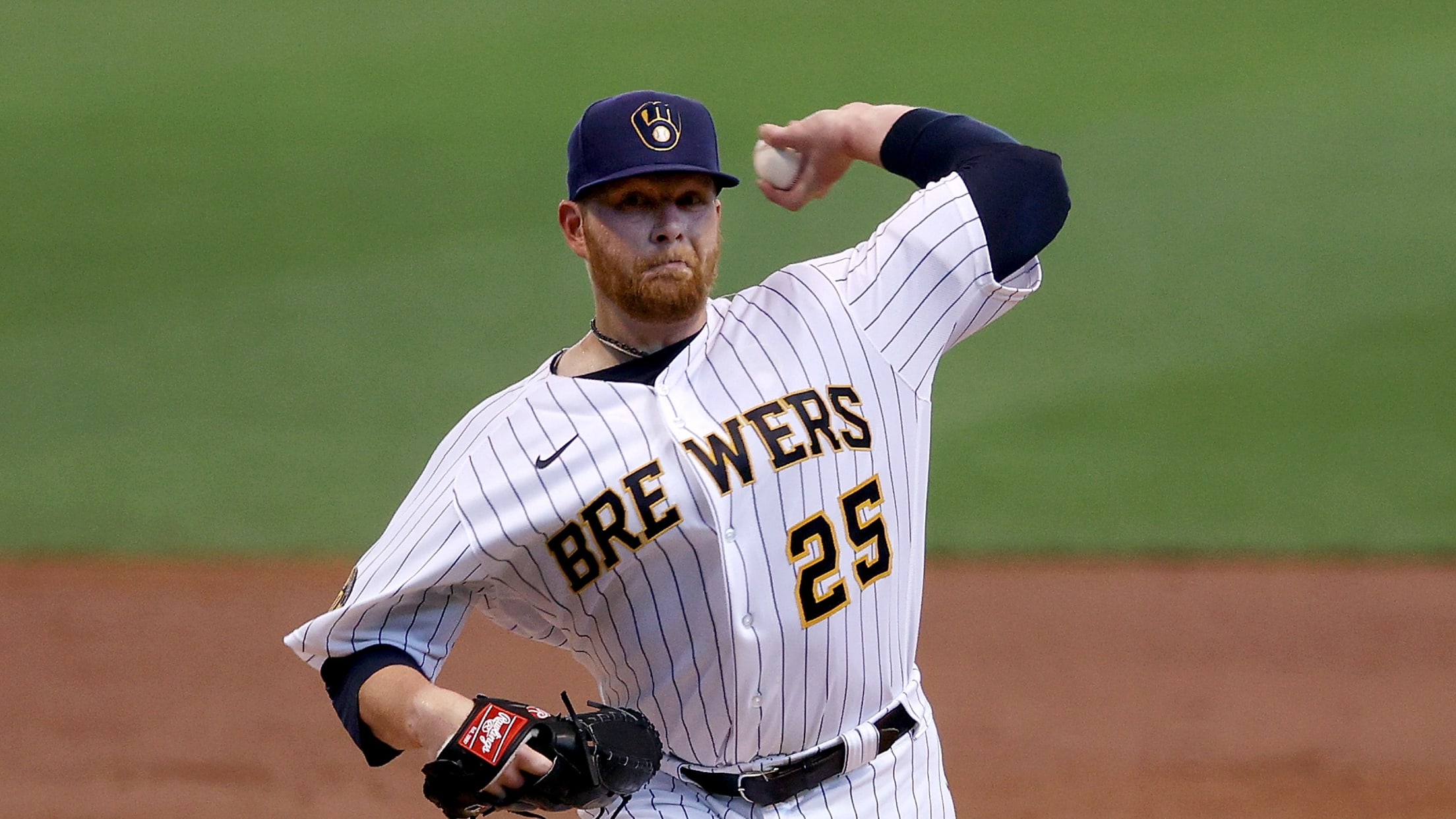 MILWAUKEE -- One game into a stretch of eight games in five days, the Brewers scratched left-hander Brett Anderson from his scheduled start against the Cubs on Saturday with a tight right hip, and prepared for a bullpen game led off by left-hander Brent Suter. Anderson's issue presented itself for
MILWAUKEE -- One game into a stretch of eight games in five days, the Brewers scratched left-hander Brett Anderson from his scheduled start against the Cubs on Saturday with a tight right hip, and prepared for a bullpen game led off by left-hander Brent Suter.
Anderson's issue presented itself for the first time on Saturday and is not considered serious, manager Craig Counsell said.
"Anderson is just day to day, and he should slot in somewhere in the St. Louis series," Counsell said. "We're pretty optimistic he'll be available in one of the St. Louis games."
• Suter impresses on mound ... with somersault!
There are a lot of St. Louis games, so a lingering issue for Anderson could create problems for Milwaukee in the coming days. The Brewers and Cardinals are scheduled to play doubleheaders on Monday and Wednesday at Miller Park as they begin to make up the three postponements in early August when the Cardinals had positive tests for COVID-19 in their traveling party.
The Brewers have yet to set their pitching plan for that five-game series against St. Louis, though Counsell suggested one of the Monday games was going to be a bullpen affair. If he's healthy by then, Anderson could start one of those games Monday, and Corbin Burnes the other.
Then the Brewers will need a starter for Tuesday and for one of the games of the other doubleheader on Wednesday, alongside Brandon Woodruff. One of the vacancies is expected to be filled by right-hander Josh Lindblom, who has made recent appearances out of the bullpen because the Brewers haven't required a fifth starter.
Braun: 'I feel pretty good right now'
Ryan Braun annually has done some of his best work in September, and he's hoping he's healthy enough to continue that trend in 2020.
Braun has been an on-again, off-again member of the Brewers' starting lineup this season because of a variety of nagging physical issues, most notably an infected right index finger that landed him on the 10-day injured list early in the regular season, and the back stiffness that has plagued him since surgery following the 2015 season. But he was healthy enough to deliver a walk-off sacrifice fly in Friday's 1-0 win over the Cubs and then a two-run homer Saturday in Milwaukee's 4-2 loss.
"I feel pretty good, I really do," Braun said. "Obviously, it's been a challenging season for me since stopping and starting -- for all of us -- but for me specifically. At the end of Spring Training I dealt with some things physically -- the finger thing, the back flared up a little bit. So, there's been a number of stops and starts to my season, which makes it challenging to get in a rhythm.
"But I feel really good right now. This is the time of year where I enjoy playing baseball the most. Obviously, the games are all of the utmost importance and significance, and so the goal is to be able to be my best and to contribute as often as possible here down the stretch."
He has regularly risen to the moment down the stretch in his 14 seasons in a Brewers uniform, hitting go-ahead home runs in three of the team's four postseason-clinching victories during his tenure (2008, '11, '19).
In each of the past two seasons, Braun's September OPS has exceeded his mark for the season, including a .991 OPS in 2018 when the Brewers charged to the National League Central title.
"I think everybody enjoys these games a little bit more. I don't think Ryan is unique to that," Counsell said. "Good players should thrive in these games. That should happen. That needs to happen if you want to win these games."
Strikeout streak
It had been more than three years since the Brewers got consecutive pitching performances like the ones delivered by Burnes (11 strikeouts in Wednesday's win at Detroit) and Woodruff (12 strikeouts in Friday's win over the Cubs).
The previous back-to-back double-digit strikeout games came from Chase Anderson (11 strikeouts) and Jimmy Nelson (10 strikeouts) on May 27-28, 2017, against the D-backs.
To find comparable performances for the Brewers before that, one has to go all the way back to the waning days of the 2012 season. Marco Estrada (11 strikeouts) and Mike Fiers (10 strikeouts) did it against the Astros on Sept. 29-30, 2012.