Learning (the) curve: 3 vying for catching spots
Newbies Susac, Bandy and Pina each have own training techniques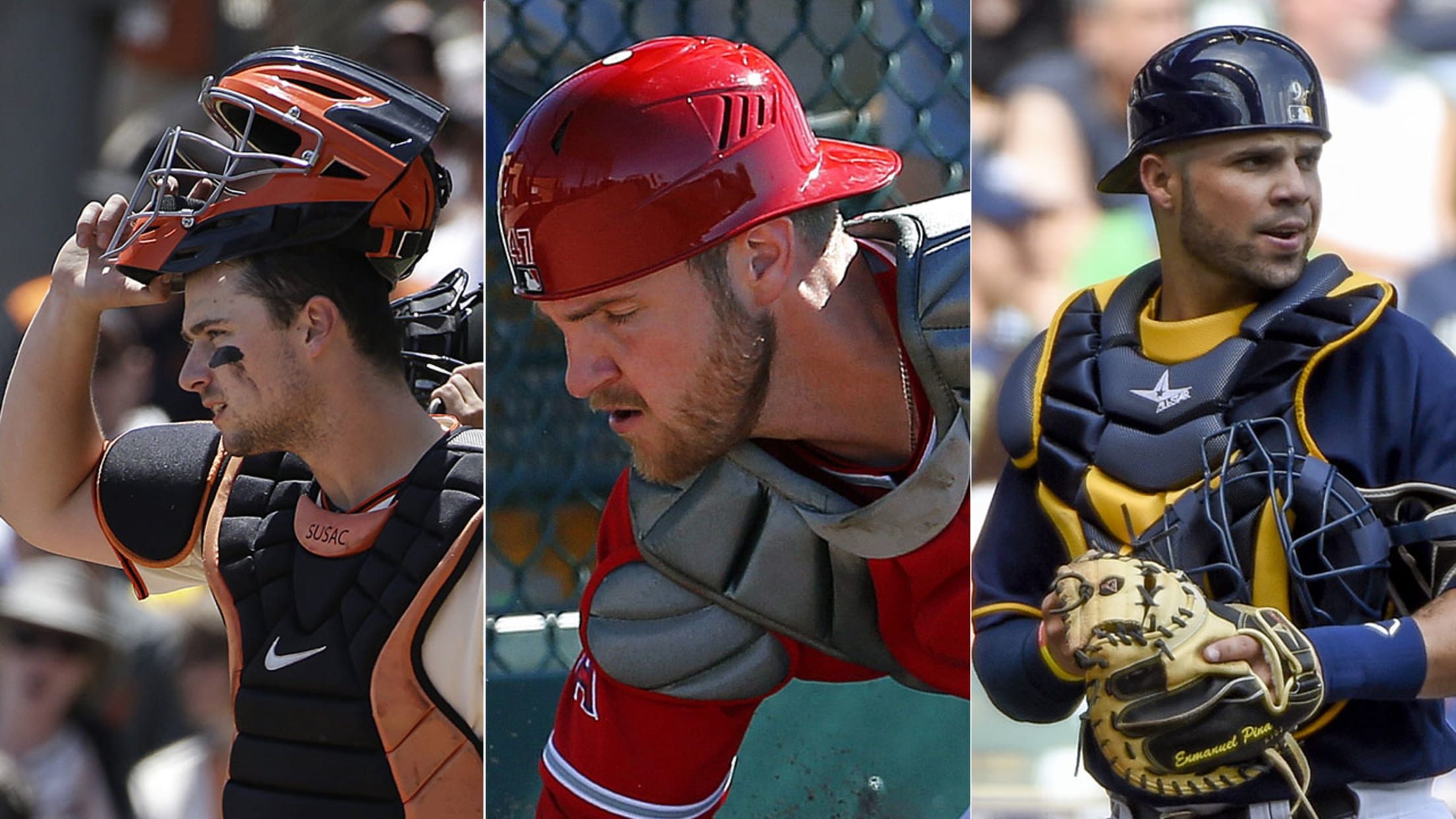 PHOENIX -- Imagine you are a catcher joining a new team, and you have to learn a whole staff of pitchers -- their stuff, their mindsets, their quirks -- all at once. Where do you start?Pose that question to the three Brewers catchers vying to replace mainstays Jonathan Lucroy and
PHOENIX -- Imagine you are a catcher joining a new team, and you have to learn a whole staff of pitchers -- their stuff, their mindsets, their quirks -- all at once. Where do you start?
Pose that question to the three Brewers catchers vying to replace mainstays Jonathan Lucroy and Martin Maldonado, and you get three different answers.
For Jett Bandy, the newest of the bunch, it begins with Xs and Os.
"You just grab somebody and start talking," said Bandy. "'What pitches do you throw? What's your 'out' pitch? What pitch gets you back into counts? How do you like to attack guys? Where do you want me to set up?' Then, as you go, you start getting into their personalities."
Spring: Info | Tickets | Schedule | Gear
Across the clubhouse, Andrew Susac is operating in reverse order.
"For me, it's getting to know their personalities first. That's what I learned from Buster," said Susac, referring to Giants catcher Buster Posey. "Some guys need to know they're doing all right. Some guys you can be harder on. I think the personality aspect of it is overlooked sometimes."
For the third catcher competing for time in Brewers camp, it starts outside the clubhouse.
"It starts in the bullpen," Manny Pina said. "I see what kind of pitches they have. If the cutter moves a lot, or the sinker moves a lot. Then, talk."
Bandy, Pina and Susac came to the Brewers via trades over the past 16 months. Pina was the player-to-be-named in the 2015 deal that sent Francisco Rodriguez to the Tigers. Susac was part of a package from the Giants for Will Smith in August, a trade announced moments after the Brewers dealt All-Star catcher Jonathan Lucroy to Texas. Bandy came to the Brewers in the December trade that sent Maldonado to the Angels.
For five seasons, Lucroy and Maldonado provided continuity behind the plate. Now, the Brewers are in transition. Neither Bandy, Pina nor Susac has ever made a big league Opening Day roster. All three have played in the Majors, but Susac leads the way with 262 plate appearances.
"Really, what's important for me for those guys is that their focus stays on 'just improve,'" manager Craig Counsell said. "Improve yourself this camp. Don't worry about everything else that's going on. Focus on improving your game.
"The rest of the stuff, the learning the guys, that's going to happen. That happens through the course of a Spring Training camp. … We'll get it done."
Pina and Susac have a head start on Bandy. Pina played in 33 games for the Brewers over the final two months of last season after beginning the year at Triple-A Colorado Springs, where he caught Wily Peralta and others. Susac played in nine games as a September callup.
Bandy is brand-new.
"I'm starting completely from scratch, but that's your job as a catcher," Bandy said. "It's tough, but it's something that's got to get done, and it will get done."
Bandy and Susac plan to keep notes through camp as they learn the nuances of Brewers pitchers.
"Just writing it down is locking it in my memory," Bandy said.
Can it all be a little overwhelming?
"Not when it's your job," Pina said. "It's your job every day to get to know these guys."