Crew deals Kratz to Giants for Hinojosa
Wilson joins bullpen; final two roster spots remain in question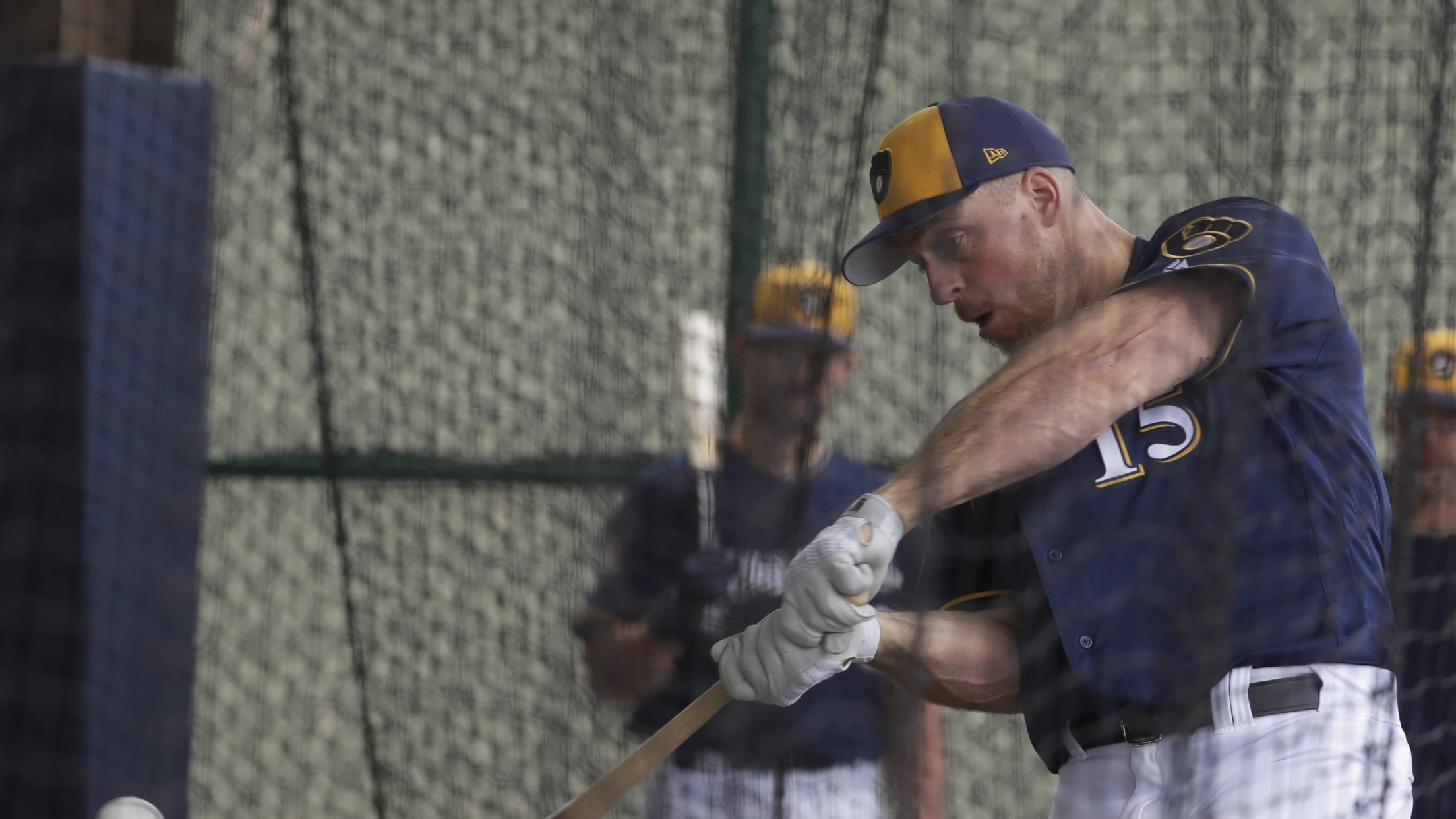 PHOENIX -- The Brewers traded catcher Erik Kratz to the San Francisco Giants for Minor League infielder C.J. Hinojosa on Sunday in a move that provided some welcome closure for the 38-year-old Kratz after an uncertain spring. Kratz, who reported to camp as the out-of-options third catcher for a Brewers
PHOENIX -- The Brewers traded catcher Erik Kratz to the San Francisco Giants for Minor League infielder C.J. Hinojosa on Sunday in a move that provided some welcome closure for the 38-year-old Kratz after an uncertain spring.
Kratz, who reported to camp as the out-of-options third catcher for a Brewers team that only planned to carry a pair into the regular season, was fielding guesses in the clubhouse this week about where he might land for Opening Day. Bench coach Pat Murphy said, "Miami." Another observer guessed the Cubs. Kratz was sure of only one thing: He was eager for a resolution.
As the Brewers prepared to depart the desert on Sunday for exhibition games in Montreal -- and the Giants headed to Oakland -- the resolution came.
The Brewers immediately used the opening on their 40-man roster to make official the signing of veteran reliever Alex Wilson to a one-year contract. President of baseball operations David Stearns described Hinojosa as a versatile defender with good contact skills who will likely be assigned to Double-A Biloxi.
"I found out, whatever, Feb. 1 officially that I wouldn't make the team, so it's nice to get that resolved. It's bittersweet, though," Kratz said. "You miss out on spending time with some guys that you really made a connection with."
He made that connection beginning last May 25, when the Brewers acquired Kratz and installed him as the backup catcher. By September, he had played his way into an equal timeshare with Manny Pina -- as Kratz, at 38 years, 112 days old, became the oldest position player to make his postseason debut since the Dodgers' Jose Morales in 1983. Kratz became the oldest position player to start his postseason debut since Lave Cross in 1905 with the Philadelphia A's. In quite a coincidence, Cross happens to have been born in Milwaukee, and Kratz just outside of Philadelphia.
But he didn't just play, he delivered. Kratz's two-run single in the eighth inning of Game 2 of the National League Division Series sealed a 4-0 victory that gave the Brewers a 2-0 series lead on the way to a three-game sweep of the Rockies. He finished 5-for-8 in the National League Division Series.
"I think when you have special seasons, players like Erik do special things," Brewers manager Craig Counsell said. "Guys you expect to make small contributions make big contributions. That's what Erik did."
The NLDS was one of the best highlights of a career that has taken Kratz all over the baseball map. He believes the Giants will be his 13th organization; we can count at least 12 in box scores. If he gets in a game for the Giants, it will be his eighth Major League team.
"There's plenty of memories," Kratz said. "Seeing my teammates celebrate on the field after [Game 163 at Wrigley Field], hearing the fans all throughout the playoffs," Kratz said. "Game 6 [of the NL Championship Series], they were excessively loud, and it was something cool to be a part of. It's something I'm never going to forget."
I appreciate the love and support I got from MKE. You are loyal fans and you welcomed me in with open arms and me and family will never forget that. Thank you for giving me all you had because I gave it all for you and my teammates.

— Erik Kratz (@ErikKratz31) March 24, 2019
Wilson joins 'pen
Alex Wilson, who expects to make his unofficial Brewers debut on Monday night in Montreal against the Blue Jays, opted out of his Minor League deal with the Indians after being informed he wouldn't make Cleveland's Opening Day roster. He sought opportunity with a contender, and said the Brewers emerged as the landing spot quickly.
Wilson will be right at home with a Brewers team driven by analytics.
"I had a tough first month, and I sat down and looked at the numbers with our analytics guys there in Detroit," Wilson said. "Basically, opponents were hitting under .200 off of my cutter and about .300 off of my fastball, and at the time I was throwing a lot of four-seams. So we upped my cutter usage quite a bit and tried to go with primarily two-seams and crisscross both sides of the plate. It worked out really well."
Wilson produced a fourth straight season of at least 59 appearances while posting a 1.05 WHIP.
The Brewers covet that durability in light of health concerns for Jeremy Jeffress (arm weakness) and Corey Knebel (damaged UCL) that will land both on the injured list for Opening Day. Jeffress is making progress, but Knebel faces a long absence. Counsell said the club doesn't expect to have more information about a course of action until after Opening Day.
"It just means somebody else is going to step up, and there's plenty of arms in here to do it," Wilson said. "A lot of times, guys just need an opportunity."
Decisions, decisions
The Brewers left for Montreal with an idea of which of the three remaining relief candidates would get the final two spots on the 25-man roster. But they don't plan to make the decisions official until closer to Thursday's 11 a.m. CT deadline to set the Opening Day roster, because an outside pick-up is possible.
While they were linked last week to free agent Craig Kimbrel, Stearns gave no indication Sunday that an acquisition of that magnitude was in the works.
"There's going to be plenty of player movement over the next 3-4 days, as there always is leading up to Opening Day, so we will keep an eye out for anything that pops up," Stearns said. "But if nothing pops up, we are comfortable."
Up next
The Brewers donned Montreal Canadiens sweaters and knit hats on an 80 degree day in Phoenix on Sunday for their flight north. They will play exhibitions against the Blue Jays at Olympic Stadium on Monday and Tuesday at 6:05 p.m. CT, with Brandon Woodruff slated to start Monday night. The games will be webcast via MLB.com.
Well, Arizona, it's been a blast.

As the rest of the guys continue to play in today's final #CactusCrew game, the #CanadaCrew is heading north.

✈️ Next stop: Montreal 🇨🇦 pic.twitter.com/8sjf7dDVku

— Milwaukee Brewers (@Brewers) March 24, 2019