Father's Day has extra meaning for Shaw
Brewers third baseman's daughter had two open heart surgeries on June 9-10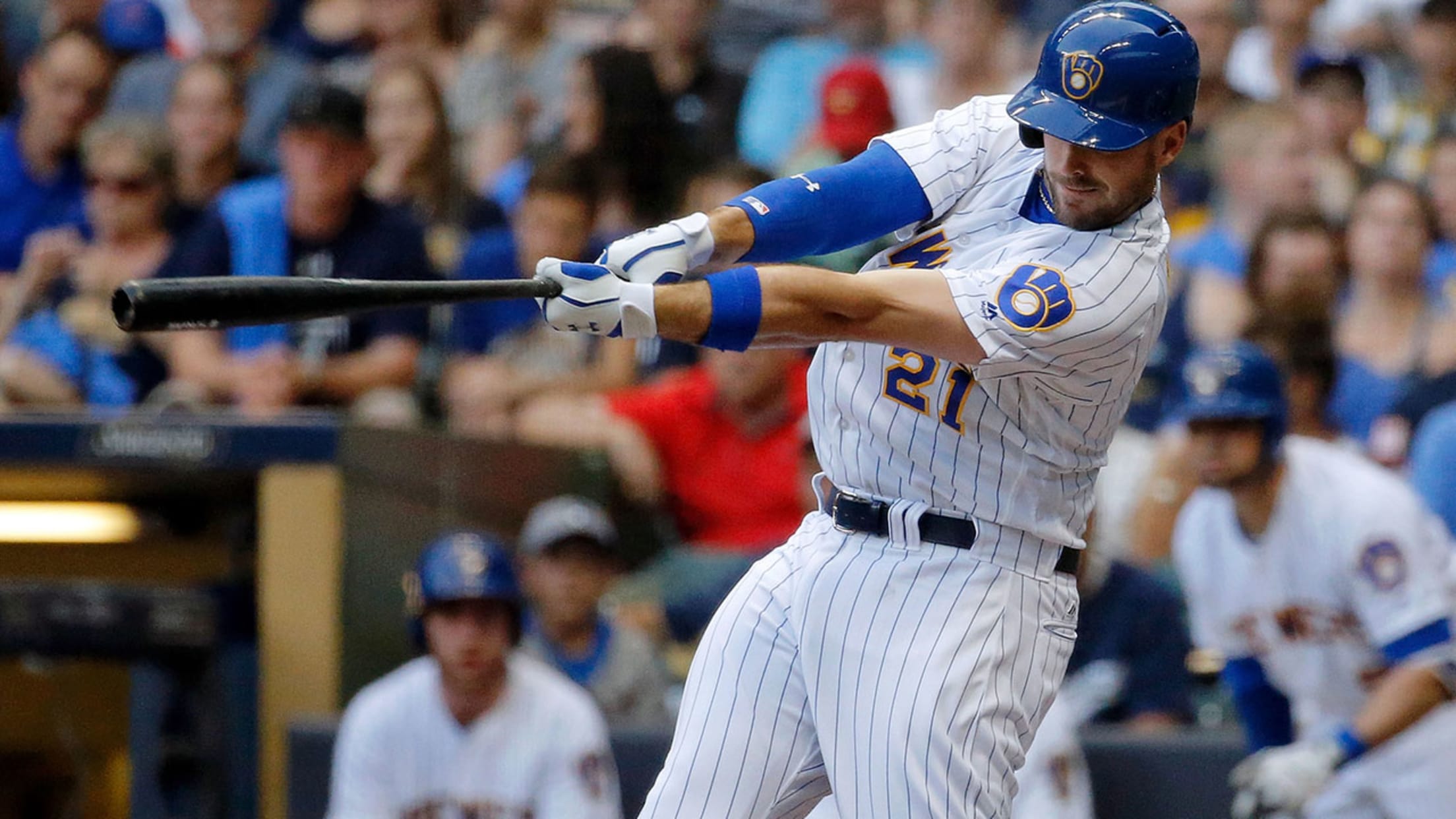 Brewers third baseman Travis Shaw's daughter was born with a condition called hypoplastic left heart syndrome. (Getty)
MILWAUKEE -- Travis Shaw had his newborn daughter in his thoughts Saturday as he donned one of the Brewers' special uniforms for Father's Day weekend. Baby Ryann remains at Children's Hospital of Wisconsin but is getting stronger by the day, Shaw said, following multiple surgeries last weekend for a congenital
MILWAUKEE -- Travis Shaw had his newborn daughter in his thoughts Saturday as he donned one of the Brewers' special uniforms for Father's Day weekend. Baby Ryann remains at Children's Hospital of Wisconsin but is getting stronger by the day, Shaw said, following multiple surgeries last weekend for a congenital heart defect.
"This is obviously my first Father's Day," Shaw said, "so it means a little bit more."
Shaw said he and wife, Lindy, have been overwhelmed by the outpouring of well-wishes from Brewers fans since he shared the family's story. The Shaws learned in January -- a month after Travis was traded from Boston to the Brewers -- that their first child would be born with a condition called hypoplastic left heart syndrome. Ryann Shaw required two open heart surgeries on June 9-10.
:: Father's Day 2017 ::
She was stable enough that Shaw rejoined the Brewers on Tuesday, and following an 0-for-3 in the first game of a doubleheader, Shaw drove in at least one run in each of his next four games. After returning home in the wee hours of Friday morning and visiting Ryann during the day, he hit one of the Brewers' four home runs in a 10-inning, 6-5 win over the Padres on Friday night.
On Sunday, Father's Day, Shaw plans to spend the evening at the hospital with his wife and daughter.
"It means a lot that people care about us," Shaw said. "A lot of things were put into perspective over the last week. You realize that it's not just baseball. It's been tough."
On the field, Shaw has displayed an ability to compartmentalize. He entered the weekend tied for sixth in the National League with 17 doubles, and tied for ninth with 47 RBIs.
"I've been doing that the whole year," he said. "Sometimes I don't know what exactly I'm thinking. I just keep going."
While Shaw has his family on his mind, Major League Baseball is again using the occasion of Father's Day to rally support for the fight against prostate cancer.
It's Father's Day Weekend! The #Brewers will be wearing these unis today & tomorrow. Hope you're bringing dad out to the park! pic.twitter.com/Mhv8jU6oHw

— Milwaukee Brewers (@Brewers) June 17, 2017
Players and field personnel have been wearing blue ribbons and blue wristbands on Father's Day since MLB first partnered with the Prostate Cancer Foundation in 1996, and now the initiative has been expanded to two days and includes special blue-accented caps and jerseys. MLB will donate all royalty payments from the sales of those items to the Prostate Cancer Foundation and Stand Up To Cancer.
In addition, the "Home Run Challenge" has given fans the opportunity to make a one-time monetary donation for every home run hit by their favorite MLB clubs from June 1 through Sunday. The Brewers were one of three teams which pledged a dollar amount for every home run their teams hit during the period.
Since its inception, the Home Run Challenge has raised more than $45 million for PCF, the world's leading philanthropic organization funding and accelerating prostate cancer research.
On Sunday, MLB.com, all 30 clubs and broadcast partners will express their gratitude by sharing their favorite baseball moments of Dad on social media using #MLBDads. Fans are encouraged to do the same.