Pitch execution an issue for Peralta thus far
Brewers right-hander has lost both of his starts this season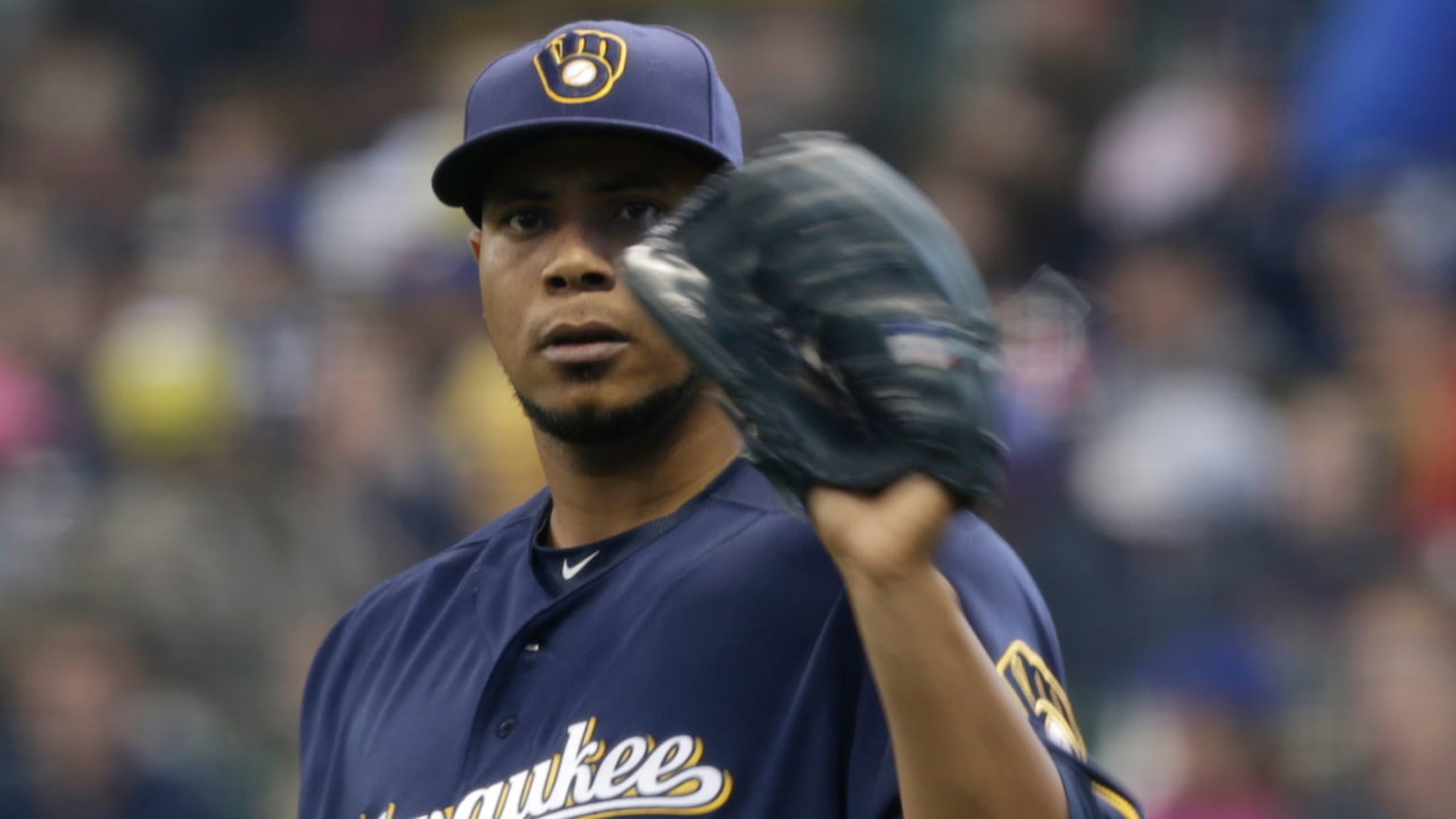 "I'm having a tough time locating my pitches," Wily Peralta said. (Getty)
MILWAUKEE -- No matter how good a pitcher's stuff is, the inability to locate pitches can make for rough outings. That's the battle Wily Peralta is currently fighting.Peralta struggled again Saturday, allowing six runs on seven hits with four walks in 4 1/3 innings during the Brewers' 6-4 loss to
MILWAUKEE -- No matter how good a pitcher's stuff is, the inability to locate pitches can make for rough outings. That's the battle Wily Peralta is currently fighting.
Peralta struggled again Saturday, allowing six runs on seven hits with four walks in 4 1/3 innings during the Brewers' 6-4 loss to the Astros at Miller Park.
"I'm having a tough time locating my pitches," Peralta said. "I'm leaving pitches in the middle of the plate. That's all. I just have to make a little adjustment in my [bullpen session] between starts and go out there and execute. That's all."
After posting a 6.30 ERA in six starts in Spring Training, Peralta allowed four earned runs over four innings in Monday's Opening Day loss to the Giants.
Peralta allowed the first three batters he faced to reach Saturday, as the Astros plated a pair of first-inning runs on sacrifice flies by Colby Rasmus and Tyler White.
Rasmus continued to burn Peralta, as the left fielder hit a solo home run on a hanging slider in the third inning and belted a two-run blast in the fifth. White followed Rasmus' fifth-inning homer with a solo shot, chasing Peralta.
"I thought at times his slider was really good today," Brewers manager Craig Counsell said. "He made some mistakes to Rasmus. But I thought his slider worked today, especially against the right-handed hitters. He just had some misses in at-bats that kind of let them back into some counts. Rasmus just hurt him. That was the story for Wily today."
An important piece of Milwaukee's rebuilding project, Peralta entered the season hoping to bounce back from a rough 2015 in which he was limited to 20 starts due to an oblique injury that cost him two months.
Peralta found success in 2014, going 17-11 with a 3.53 ERA in 32 starts. He's gone 5-12 with a 5.15 ERA since, a span of 22 starts.
"It's still 95 [mph] with run," Brewers catcher Jonathan Lucroy said. "It's still good stuff. His control is just a little off. We've got to get that back. I know he's working hard on it.
"It's frustrating for him because I know he's battling through it, and I'm right there with him catching him. We'll get through it. He's just got to get his control down and get rolling."
Peralta also expressed confidence in his ability to turn things around, acknowledging it is way too early to panic.
"You don't want to start the season this way," Peralta said. "You want to come out of the gate doing pretty good. It has been a rough first two starts of the season. I have 31 left. I have to keep my head up and come back in five more days and try to do better."
Andrew Gruman is a contributor to MLB.com