Anderson to settle at hot corner for Marlins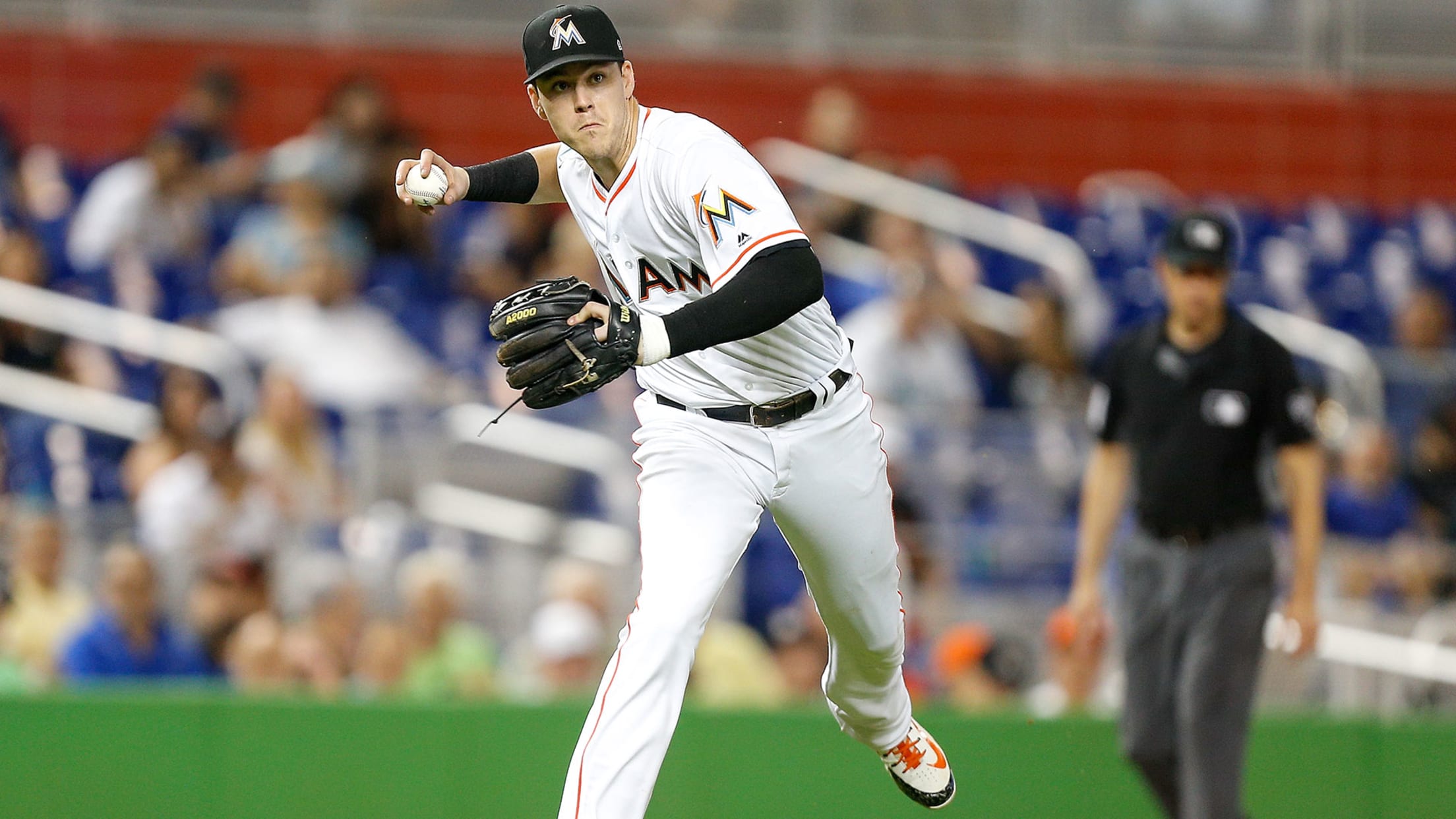 MIAMI -- FanFest cleared up one unanswered question for the Marlins on Saturday afternoon.The organization put to rest where Brian Anderson will play, at least when Spring Training starts next week. The plan is for Anderson to return to third base, and stay there.:: Spring Training coverage presented by Camping
MIAMI -- FanFest cleared up one unanswered question for the Marlins on Saturday afternoon.
The organization put to rest where Brian Anderson will play, at least when Spring Training starts next week. The plan is for Anderson to return to third base, and stay there.
:: Spring Training coverage presented by Camping World ::
"We do plan on playing him at third," manager Don Mattingly told reporters at the annual FanFest at Marlins Park. "He was excellent in right field last year, but as an organization, we feel like he makes us a better organization playing third base."
Anderson, one of the young faces of the franchise, came through the system as a third baseman, and played there on Opening Day in 2018. But when Martín Prado returned from injury, Anderson moved to right field.
Overall, Anderson played 91 games in right field, compared to 71 at third base.
"I talked with Martin this winter, and he's feeling great," Mattingly said. "He's working hard, as he always does. He understands what happens with teams, with playing time and guys playing all over the place; guys get hurt. But Martin will obviously be working at third, and we'll work him around the field a little bit. But the main thing with him is to get him into Spring Training at a pace that he's healthy, and he has a chance to go compete again. Nobody questions if Martin can play. It's just been keeping him on the field."
Prado, 35, was limited to 54 games last year, missing significant time due to left hamstring, left quad and right oblique strains.
"If we can get him on the field, there's going to be plenty of opportunity for him, and he's going to make us a better team," Mattingly said.
Anderson finished fourth in National League Rookie of the Year Award voting, finishing with a .273 batting average, 11 home runs and 65 RBIs.
International market priority
A trend is developing in a number of trades the Marlins are making. In many of their moves, the team seeks international bonus pool money back in return. That happened again in Thursday's deal that sent J.T. Realmuto to the Phillies for catcher Jorge Alfaro and pitching prospects Sixto Sanchez and Will Stewart. Miami also received $250,000 in international bonus pool money.
The Marlins made two significant international signings in October, adding outfielders Victor Victor Mesa and Victor Mesa Jr. Victor Victor signed for $5.25 million and Victor Jr. came to terms for $1 million.
"Give this organization a chance," president of baseball operations Michael Hill said. "We've done some things that's out of character from the past. I think that should be recognized and should be noticed. We were aggressive in going out and getting the top international free agent on the market in Victor Victor. And every opportunity that we get, when we make a trade, we're trying to bring back international money. One-third of our game is Latin."
Realmuto trade reaction
As difficult as it was to trade Realmuto, the Marlins gain five years of control with Alfaro catching and they've added two pitching prospects who project to be part of their future rotation.
"Obviously, with J.T., we had to do the best for the organization, as far as continuing to acquire talent that is going to be here when we're ready [to contend]," Mattingly said. "Obviously, J.T. was great for the organization. We love everything about J.T., but we move forward. Jorge is a guy we've seen from the other side. He's a guy who has extreme power. He's the kind of guy, you've got to get him to put it in play more. Obviously, strikeouts are one of the things you work on. Not necessarily cut the swing down, because his swing has been pretty efficient. It's just a matter of possibly the approach, things like that.
"Defensively, this guy was among the top prospects in baseball a few years ago. I don't know if anybody throws better. J.T. threw great, but this guy, he does throw better. It's a work in progress, continue to work with his catching, to get better and better."
He said it
"Expectation are just words. We believe in this group of guys we have here. We believe in each other. We're not setting any limit on the development of this team and players. We believe in ourselves. The underdog mentality is a dangerous mentality. I think it's something we're going to embrace, and is something that is going to fuel us moving foward this year." -- infielder Neil Walker