Shaw (calf) placed on DL; Almonte recalled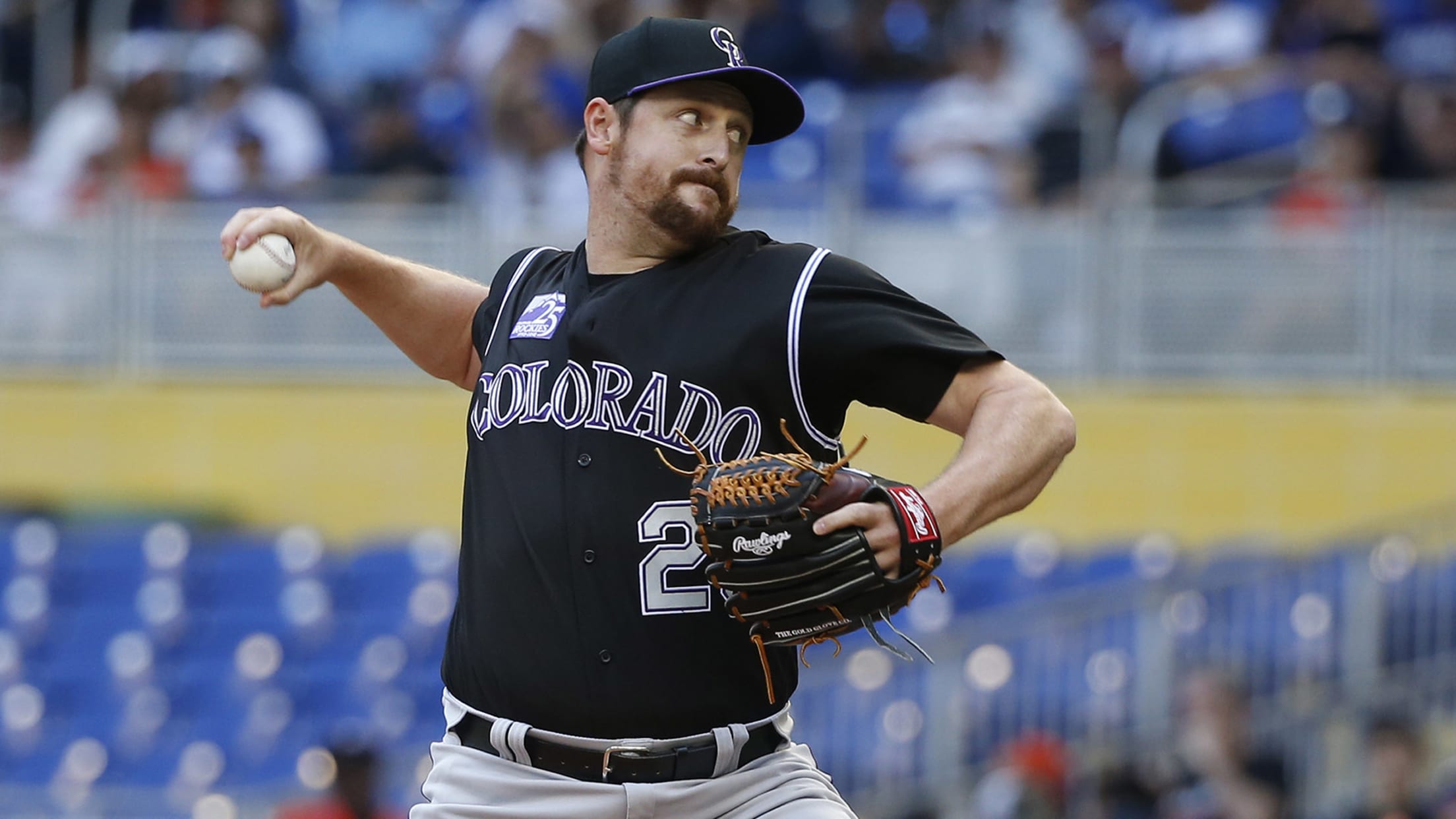 Colorado Rockies' Bryan Shaw delivers a pitch during the eighth inning of a baseball game against the Miami Marlins, Sunday, April 29, 2018, in Miami. The Marlins defeated the Rockies 3-0. (AP Photo/Wilfredo Lee) (Wilfredo Lee/AP)
DENVER -- The Rockies placed struggling right-handed reliever Bryan Shaw on the 10-day disabled list with a right calf strain on Sunday, a day after he gave up a grand slam to the Marlins' J.T. Realmuto in a 6-2 loss.The move came an hour before Sunday's game. The Rockies recalled rookie
DENVER -- The Rockies placed struggling right-handed reliever Bryan Shaw on the 10-day disabled list with a right calf strain on Sunday, a day after he gave up a grand slam to the Marlins' J.T. Realmuto in a 6-2 loss.
The move came an hour before Sunday's game. The Rockies recalled rookie righty Yency Almonte from Triple-A Albuquerque. Almonte made his Major League debut Thursday and pitched Friday before being optioned back to Albuquerque. Usually, optioned players can't return for 10 days, but the DL placement made Almonte's recall within the rules.
Shaw, 30, signed a three-year, $27 million contract in the offseason, but has struggled to a 7.57 ERA in a Majors-high 41 appearances. The homer upped Shaw's total this season to eight -- matching career highs of 2015 (74 appearances) and 2016 (in 75).
"To coincide with this little bit of calf tightness that he's been experiencing, hopefully we can get him on the mound to be able to do some things in the coming week as the calf subsides," Rockies manager Bud Black said after Colorado's 8-5 loss. "There are some mechanical things that we've tried to do over the early part of the season, but it's awful tough to incorporate mechanical changes and things when you're in the fire.
"Hopefully, this time will allow the pitching coaches and I and others to get with Bryan on some mechanical things. And also mentally, it's been a tough go for him. To exhale has always been a pretty good place for a player to be."
Consistency has not been his friend. His ERA in April (7.82), May (4.97) and June (12.96) have greatly fluctuated.
Rehab updates
• Left-handed reliever Mike Dunn (upper body back strain) and right-handed reliever Scott Oberg (lower back strain) each pitched a scoreless inning for Albuquerque on Saturday in the first game of their injury rehab assignments.
Dunn recorded three flyouts, and Oberg gave up two hits, but escaped.
• Righty Carlos Estevez, out with a right elbow strain, will begin his rehab assignment Monday at Albuquerque. Estevez said he is scheduled for three appearances with two-day breaks, then will throw with one-day breaks before being evaluated for return.