Snitker's long journey leads to postseason
After 4 decades as coach, Braves manager set for NLDS in 2nd full year at helm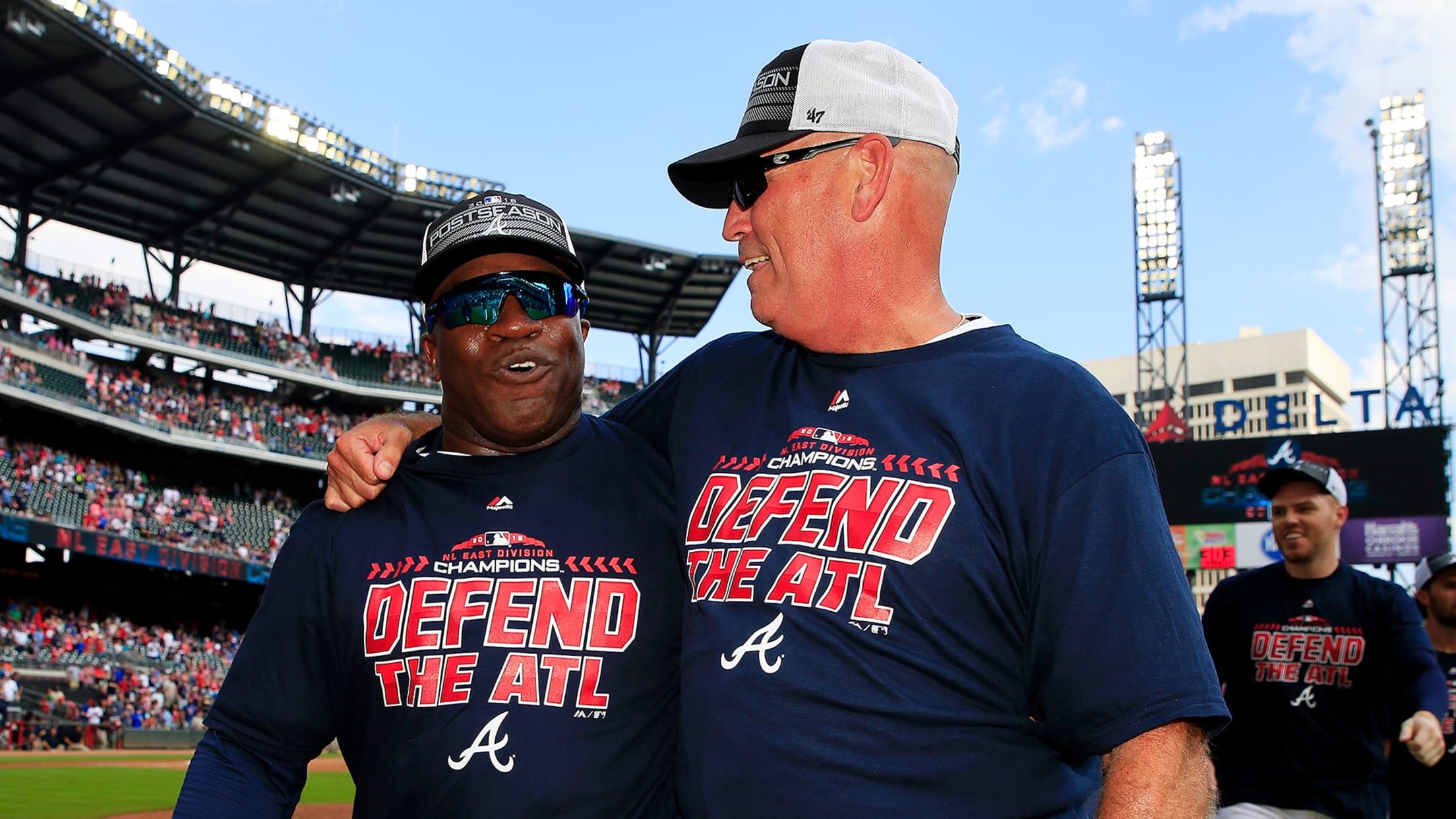 ATLANTA, GA - SEPTEMBER 22: First base coach Eric Young #2 and Brian Snitker #43 of the Atlanta Braves celebrate after clinching the NL East Division against the Philadelphia Phillies at SunTrust Park on September 22, 2018 in Atlanta, Georgia. (Photo by Daniel Shirey/Getty Images) (Daniel Shirey/Getty Images)
LOS ANGELES -- Brian Snitker spent nearly four decades as a coach before he got the chance to prove himself as a Major League manager. Yet, a little more than a year after getting this unexpected opportunity, he felt distraught enough to seriously contemplate walking away from the job and
LOS ANGELES -- Brian Snitker spent nearly four decades as a coach before he got the chance to prove himself as a Major League manager. Yet, a little more than a year after getting this unexpected opportunity, he felt distraught enough to seriously contemplate walking away from the job and possibly the only organization he has ever known.
"We're all comfortably miserable in this business," Snitker said.
As the Braves prepare to open the National League Division Series against the Dodgers on Thursday night, it's incredible to think about where Snitker was from a mental perspective just more than a year ago, when his battles with Atlanta's former general manager, John Coppolella, and former president of baseball operations, John Hart, had brought Snitker to the brink of giving up a once-in-a-lifetime opportunity.
"I didn't want to leave," Snitker said. "I thought for a while, 'Well, I might have to,' but I didn't want to. There are some times with your personal beliefs and who you are that you've got to stick up for yourself, too. I don't know if I've done that enough for me. But I knew it was about me and my family."
While Snitker sat in his Miami-area hotel room during the morning hours of Oct. 1, 2017, he was stewing about the night before. Coppolella was upset about the manager's decision to stick with Matt Kemp as a pinch-hitter, instead of inserting left-handed-hitting Matt Adams when the Marlins brought in right-hander Brad Ziegler with the bases loaded and one out in the ninth inning of a game that had no postseason implications.
:: NLDS schedule and results ::
Snitker called a clubhouse employee back in Atlanta. His instructions were simple: "Pack my things, I'm not coming back." There were only two games left to play, and he had no desire to continue working with Coppolella, who would have likely lobbied for a managerial change had his life not been turned upside down by the end of that same weekend.
One day after the regular-season finale, Coppolella was removed from his role because of the investigation that led to his banishment from MLB. This opened the door for the Braves to extend Snitker through this season and allow him to work with Alex Anthopoulos, who has dramatically altered the culture since being hired last November to run the Braves' baseball operations department.
"You could see how it ate at [Snitker] as the year and a half went by," Braves first baseman Freddie Freeman said. "I'm just happy he's still here. He didn't deserve to go anywhere else. He deserved to have this job. Things happen for a reason, and I'm glad they did."
Though they never knew each other before last winter, Anthopoulos and Snitker have developed a harmonious relationship that will almost certainly extend beyond the end of the manager's contract, which expires at the end of this season.
"He's an easy guy to play for as a player, and I mean that as a compliment," Anthopoulos said. "Who is ever going to complain about playing for Snit? He's fair and he's honest. No matter what manager you have, there are going to be times that fans are going to agree and disagree with moves. But that player part starts first. If they're not buying into you, you don't have a shot."
Influenced by Aaron, Cox
As Snitker fought back tears after the Braves clinched the National League East on Sept. 22, he thought about all Freeman and Nick Markakis did to influence a season enriched by Ronald Acuna Jr.'s arrival. Snitker also reminisced about how significantly he had been influenced by Hall of Famers Hank Aaron, Bobby Cox and the countless others who had guided him since he first joined the Braves as a 21-year-old catcher for Rookie League Kingsport (Tenn.).
"I think I got this [big league managerial job] at probably the best time of my life that I could," Snitker said. "I'm not 45 looking to blaze a trail or all that. I'm all about those guys in there. It's not about me. I don't need anything to validate my career and what I've done. So I think my focus is in the right place because it isn't about me."
The current Braves view Snitker as the doting grandfather, proud parent and loving husband to Ronnie, who has served as the family's rock over the past three decades. But Mark Lemke, Tom Glavine, John Smoltz and others who encountered Snitker decades earlier saw more of the guy who wanted to fight Jose Urena after the Marlins' pitcher threw at Acuna in August.
Told Smoltz considers him to be the most intimidating coach he encountered during his Minor League career, Snitker said, "I could see that. I talk to a lot of guys who say, 'I was kind of scared of you.'"
"He's mellow for the most part, but he's not afraid to call a guy on the carpet," Glavine said. "He's really similar to Bobby in that way, maybe not as vocal with the umpires. … One thing is certain, he lets the guys know he has their back."
What the baseball world has come to realize this year, Aaron and Cox foresaw nearly four decades ago.
As the Braves' director of player development in 1980, Aaron told Snitker he was a better fit for the organization as a coach than he was a player. The Hall of Famer also balked when Cox requested to bring Snitker to the big leagues to serve essentially as a bullpen catcher in '81.
Consequently, Snitker spent that summer at the Braves' facility in Bradenton, Fla. That was the summer he met his wife and developed a strong friendship with eventual World Series-winning manager Cito Gaston.
"I learned a lot from Cito," Snitker said. "We'd go to the park and then come home, drink beer and talk baseball every night."
Snitker filled a variety of coaching and managerial roles throughout the 1980s. Then, when John Schuerholz became Atlanta's GM after the 1990 season, Snitker got lost in the shuffle and spent a month without drawing a paycheck before being assigned to be an instructor.
Life-changing events
While filling this role in 1993, Snitker experienced a series of life-altering events within approximately two weeks. He spent a portion of the summer caring for an aunt after she developed a brain tumor. Then, upon returning from a road trip with Rookie League Danville, he learned his father had died from a massive heart attack.
While in Illinois for the funeral, Ronnie rolled over in bed, felt a lump and later learned she had breast cancer. The following months were spent in Atlanta waging what was a successful battle against this disease.
"Going through that whole thing and getting that perspective was the best thing that ever happened to me," Snitker said. "It's all horrible stuff, but in retrospect, it was good I could get out of the mix and detox and tell other people good things. It gave me a really good feel for what everybody goes through. It made me realize you can't take this stuff too serious, because life is too short to be banging on these guys."
When Snitker returned to managing in 1996, he still had the same fire, but he was not nearly as hard on his players.
One of Jeff Francoeur's favorite stories occurred after he homered a few times for Double-A Mississippi and then got drilled in the ribs against Montgomery. Snitker instructed a reliever to retaliate. When the pitcher simply buzzed a batter, Snitker blasted the pitcher in the dugout and told him to get out of his sight.
When one of Mississippi's pitchers retaliated the next inning, the benches cleared and the umpires halted the game.
"After we got back in the clubhouse, [Snitker] grabbed a beer and told us he had never been more proud of the way we came together as a team that day," Francoeur said. "If you play for him, you know he's always going to protect you and have your back."
Snitker became Atlanta's third-base coach in 2007 and remained in that role until former general manager Frank Wren reassigned him to be Triple-A Gwinnett's manager after the 2013 postseason.
Stunned and angry, Snitker waited a few days before accepting the assignment.
"I was like, 'I'm too old to go somewhere else,'" Snitker said. "I'm a Brave. Why would I want to go somewhere else and start over?"
Snitker counts this as one of those unwanted-but-necessary experiences that prepared him for the role he unexpectedly gained on May 21, 2016, when he replaced Fredi Gonzalez as Atlanta's manager. Snitker was a 60-year-old, first-time Major League manager challenged with the task of guiding a club through the most painful portion of a massive rebuilding process. He immediately drew the respect of the players and earned the right to have the interim tag removed from his title at the end of that season.
"When he came and gave a speech before his first game [in 2016], I felt like we were 28-9 instead of 9-28," Freeman said. "We all gave him a standing ovation. He was just awesome from Day One."
When Snitker prepares for Thursday night's game and whatever the remainder of the postseason may bring, he'll think about the strength his wife has provided while making countless sacrifices. He'll think about Cox, Gaston and the countless other friends who have influenced his journey. And he'll understand that the frustration he felt over the past few years has already made all of this year's accomplishments even sweeter.
"I didn't need this to validate my career," Snitker said. "It's cool that it happened because as tough as it was to get to this point, it's part of what this experience is all about."
Mark Bowman has covered the Braves for MLB.com since 2001.