Van Wagenen, Wilpon: Mets considered FA stars
Club not close with deGrom on extension; McNeil to see extensive time in outfield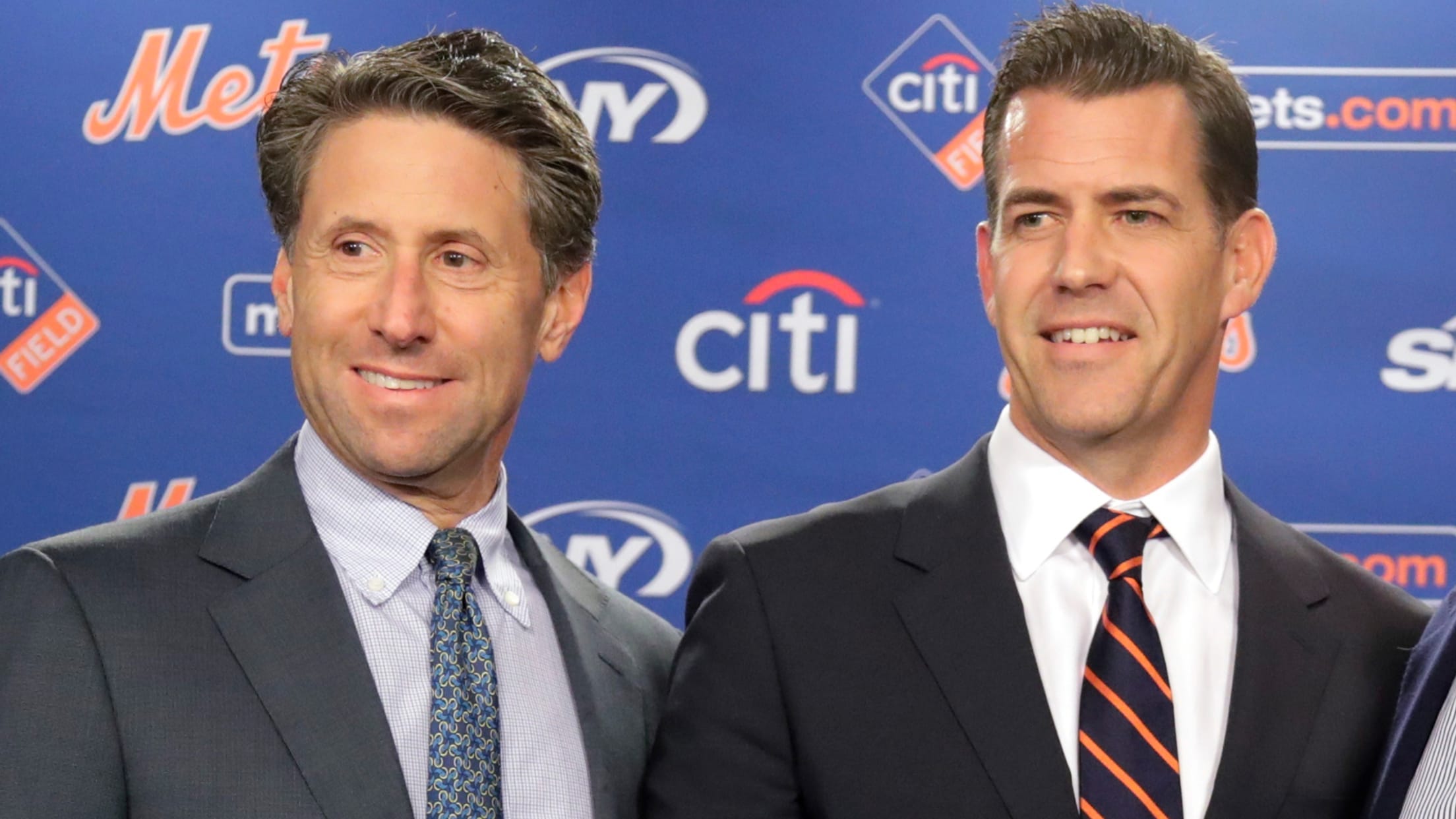 NEW YORK -- Despite acknowledging that the Mets discussed the possibility of adding Bryce Harper or Manny Machado this winter, general manager Brodie Van Wagenen and chief operating officer Jeff Wilpon essentially confirmed on Thursday that they will remain on the sidelines for those players -- or any other significant
NEW YORK -- Despite acknowledging that the Mets discussed the possibility of adding Bryce Harper or Manny Machado this winter, general manager Brodie Van Wagenen and chief operating officer Jeff Wilpon essentially confirmed on Thursday that they will remain on the sidelines for those players -- or any other significant acquisitions -- this offseason.
"We talked about every player that was available, both in terms of free agents and trade scenarios, early in this offseason and often throughout the offseason," Van Wagenen said. "We looked at our roster and we tried to build our plan. We recognized that we had multiple needs that needed to be addressed, and not just one area that we needed to address. I think our execution of our plan showed what our intentions were in trying to fill those multiple positions."
In particular, Van Wagenen said, the Mets entered the offseason hoping to add to their bullpen, increase their run production and lineup balance and add to their bench depth. With a flurry of acquisitions in December and January, he has undoubtedly achieved those goals.
The one thing Van Wagenen did not significantly increase was the Mets' payroll, which stands a shade higher than the roughly $150 million budget line they carried into last season. Asked why he did not spend more this offseason, Wilpon said: "I don't know how many teams have two $30 million players, so that's a bit of the answer."
The Mets' highest-paid player, Yoenis Cespedes, will make $29 million in 2019, though their insurance policy will cover a portion of that salary.
Wilpon went on to say that Van Wagenen "still has some room in there to do some things," which the GM acknowledged would likely fall under the umbrella of depth moves.
"He's working hard. That's all I can tell you," Wilpon said, "and the rest of the crew around him is working hard. It's coming together. There's a new feeling around the office that everyone is rowing in the same direction."
Added Van Wagenen: "We're very happy with the offseason."
Worth noting
• While the Mets are maintaining open dialogue with Jacob deGrom and his agents on a contract extension, Van Wagenen did not indicate that anything is close. deGrom recently agreed to terms on a $17 million deal to avoid arbitration, more than doubling his salary with a record-setting deal after winning the 2018 National League Cy Young Award. deGrom is under contract through the '20 season.
"We haven't put a timeline on contract discussions with Jacob, or any of the players on our roster, for that matter," Van Wagenen said. "But Jacob is clearly a guy that we value. Jacob is clearly a player that we hope will be with us for a long period of time. And we have ongoing dialogue with him and his representatives on a variety of things, including his status with us going forward."
• New York's acquisition of Jed Lowrie has essentially pushed Jeff McNeil to the outfield, Van Wagenen confirmed. While McNeil will continue to see reps at second and third base, the Mets plan to use him extensively in left, right and center this spring.
"We are going to make a commitment to developing him as an outfielder," Van Wagenen said.
New quality control coach Luis Rojas, who will double as the Mets' outfield instructor, plans to fly out to work with McNeil before the start of Spring Training.
"I'm really excited people think we have too many good players," Van Wagenen said in response to concerns that the Mets won't have enough playing time for McNeil. "I'm not concerned at all about finding playing time for the best 25 guys."
• Consider first base an open competition for the Mets. Van Wagenen hinted that Todd Frazier is a prime candidate to start there early in the season, but he also reiterated that prospect Peter Alonso could win the job in Spring Training.
• Mets' Top 30 prospects
"It's less a feel thing and more of our mission to take the best 25 players north with us," Van Wagenen said. "If he's one of the best 25, then we expect him to break camp."
If the Mets keep Alonso in the Minors for approximately two weeks at the start of the season, they will assure themselves an extra year of team control. But Van Wagenen has been consistent in saying that Alonso has a chance to make the Opening Day roster.