Scariest bat in bigs? Harper racking up walks
Nats star leading MLB with 35 free passes 6 years after debut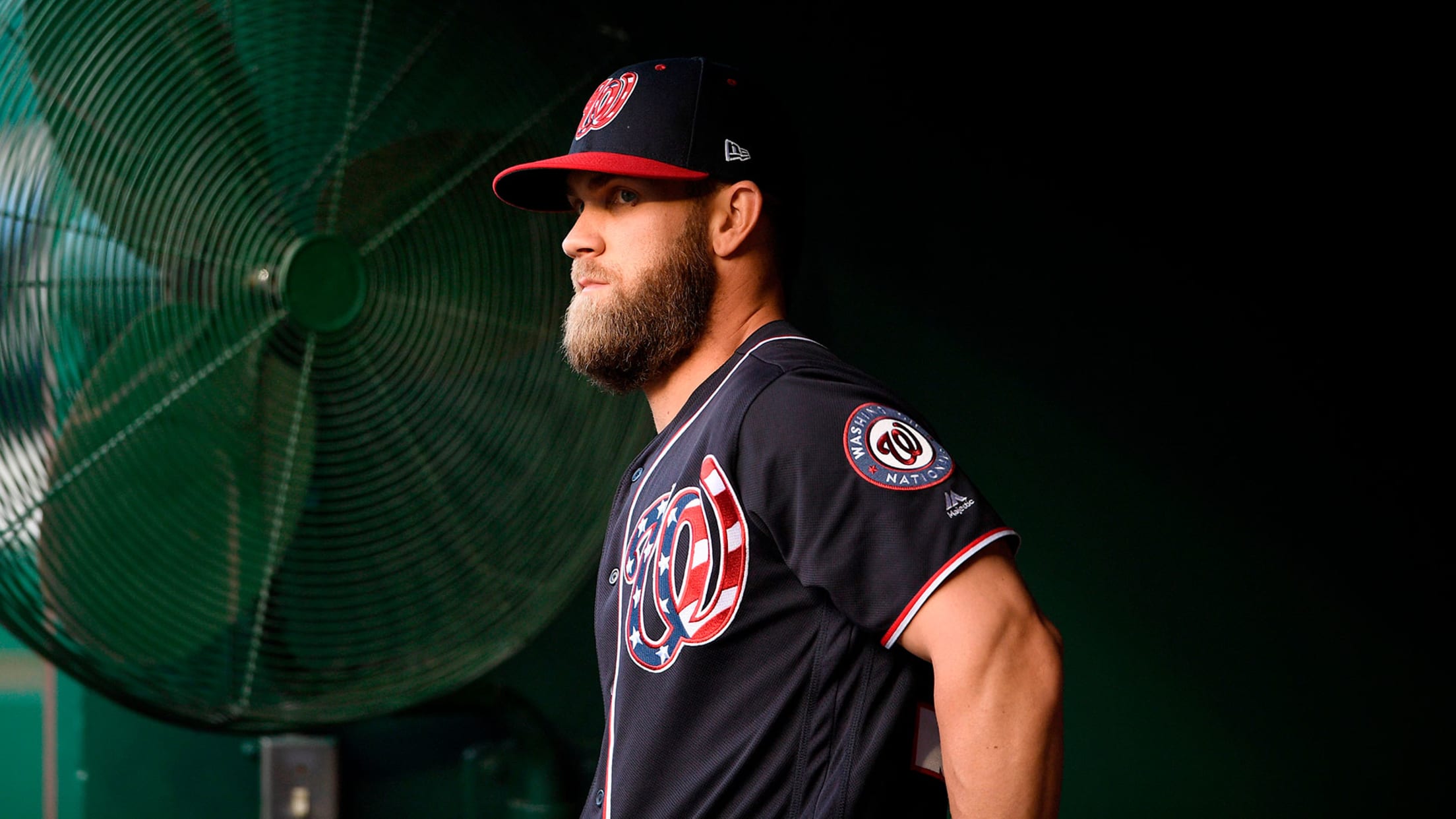 WASHINGTON -- Saturday marked the six-year anniversary of Bryce Harper's MLB debut. At this point in his career, Harper is both savvy at the plate and often feared by opposing pitchers, a combination that has made him the most walked man in baseball. He was walked intentionally Saturday by the
WASHINGTON -- Saturday marked the six-year anniversary of Bryce Harper's MLB debut. At this point in his career, Harper is both savvy at the plate and often feared by opposing pitchers, a combination that has made him the most walked man in baseball. He was walked intentionally Saturday by the D-backs and now has 35 walks, which led the Majors by 11.
Only Barry Bonds was walked more in the season's opening month, drawing 39 in 2004. At 35, Harper is already more than halfway to his 2017 total of 68 and drawing closer to his 2014 total of 38.
"He got off to such a good start," Nationals manager Dave Martinez said. "The buzz was you throw strikes early and then he'll chase late. But now he's not doing that. Now he's taking his walks, which is good. Just a matter of time before he gets back to hitting the pitches he's supposed to hit and not missing the one or two he gets."
6 years ago today!🙌🏻 #19to25 pic.twitter.com/cjt2C1cDzp

— Bryce Harper (@Bharper3407) April 28, 2018
Martinez is no stranger to the approach most teams are taking with Harper. When he was a bench coach with the Cubs in 2016, Chicago drew some attention by walking Harper six times in a game, three of them intentional.
"If you're smart, yeah, you tend not to pitch to him," Martinez said. "If I'm a pitcher, I'm going to make him chase, of course."
Harper entered Saturday batting .250/.458/.563 and tied for the National League lead with eight home runs.
As a team, the Nationals lead baseball in walks with 119. Behind Harper is Trea Turner with 16.
"For [Harper], I'm sure it's frustrating, but I think he's doing a great job taking these walks," Martinez said. "He'll get pitches to hit but when he gets them he just can't miss them."
Michael Errigo is a contributor to MLB.com based in Washington.