Harper gets first day off ahead of big matchups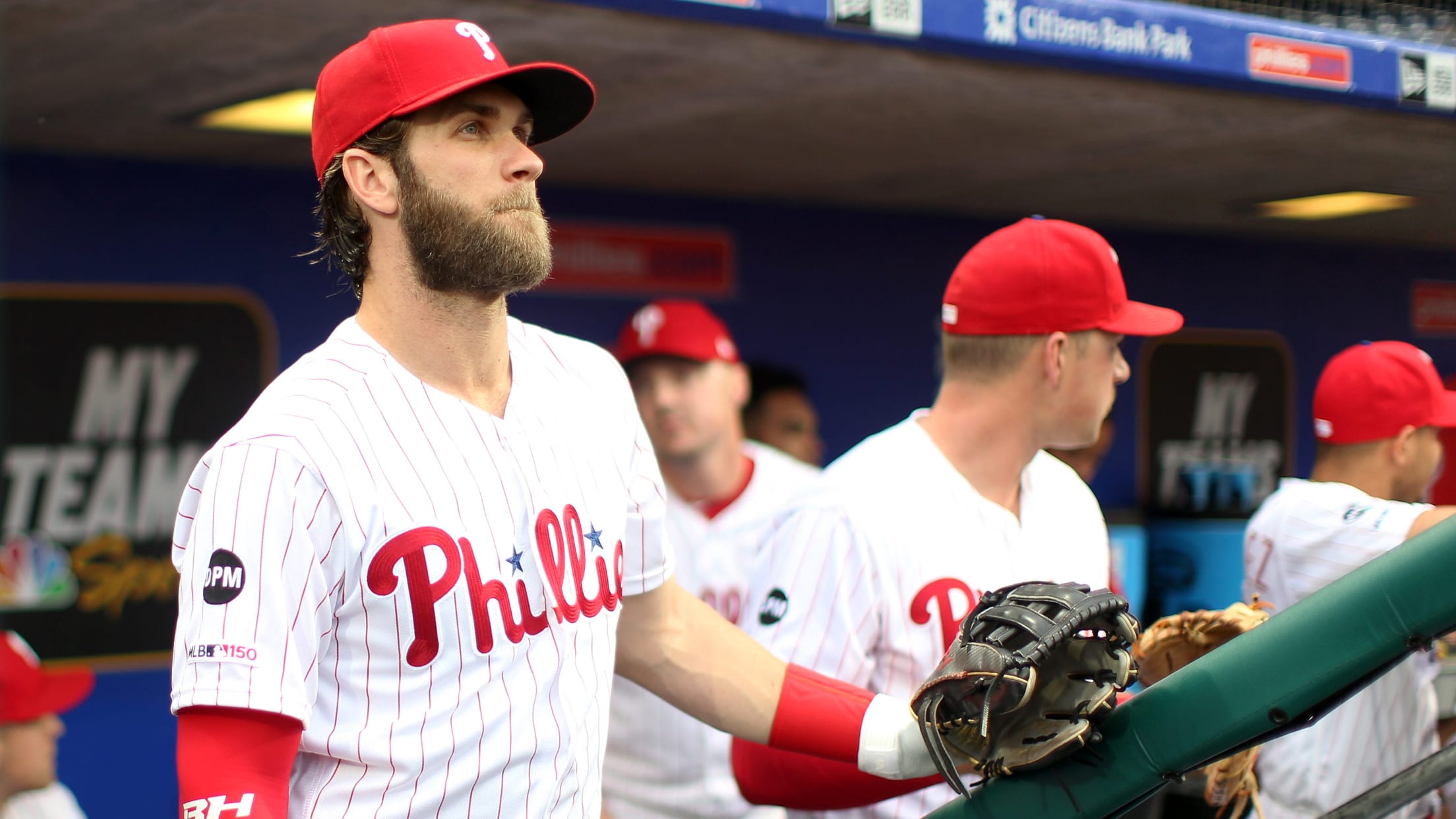 PHILADELPHIA -- Phillies manager Gabe Kapler said a few times this season that Bryce Harper could play 162 games. He still can. But he will not start 162. Kapler kept Harper out of the Phillies' starting lineup for Wednesday night's series finale against the D-backs at Citizens Bank Park. Harper
PHILADELPHIA -- Phillies manager Gabe Kapler said a few times this season that Bryce Harper could play 162 games.
He still can. But he will not start 162. Kapler kept Harper out of the Phillies' starting lineup for Wednesday night's series finale against the D-backs at Citizens Bank Park. Harper did make a pinch-hit appearance in the 2-0 loss to Arizona, lining out to center field in the eighth inning.
Kapler said with the Phillies playing 17 consecutive days against National League East rivals following Thursday's off-day, he wanted to give Harper two consecutive days to rest.
"It's what is best for the Phillies, it's what's best for Bryce Harper," Kapler said.
Harper has a seven-game hitting streak, batting .301 with nine doubles, four home runs, 19 RBIs and an .873 OPS in his past 23 games. He has struck out 27 times in 101 plate appearances in that stretch, a 26.7 percent strikeout rate. He had been striking out at a 31.1 percent rate through May 17.
"It's just an opportunity to get him off his feet with games that we really feel like we need to win," Kapler said, referring to an upcoming seven-game road trip through Atlanta and Washington. "Those games coming up felt really important."
Ramos is back, others on the way
• The Phillies activated right-hander Edubray Ramos from the 10-day injured list. They optioned left-hander Austin Davis to Triple-A.
• Right-hander Pat Neshek (strained right shoulder) will throw a bullpen Thursday. He could be activated Saturday or Sunday in Atlanta.
• Outfielder Roman Quinn (strained right groin) played another rehab game Wednesday. He could rejoin the team in the coming days.
• Left-hander Adam Morgan is scheduled to throw bullpen sessions Thursday and Sunday. If it goes well, he would begin a rehab assignment as early as Tuesday. He could be activated between June 20-22.
• Right-hander David Robertson (right elbow soreness) played catch. He could rejoin the team next month.
Keep an eye on this
The Phillies challenged a pickoff play in the first inning Tuesday, but lost, leaving them without a challenge the rest of the game. It did not hurt them Tuesday, but that possibility will not stop the Phillies from challenging calls early.
"Whenever we think that it's close, we are going to challenge the play," Kapler said. "We don't necessarily know that we're going to need a challenge later in the game. That early play can really change things dramatically. Our strategy is to err on the side of aggressiveness when it comes to challenges."
The Phillies have made 21 challenges this season, third most in baseball behind the Dodgers (23) and Rays (22). It means the Phillies have not used a challenge 68.7 percent of the time. It explains the Phillies' thinking.
"Oftentimes if you don't challenge a play that's close, you end up with a challenge in your pocket at the end of the game," Kapler said.
So if they think a play is a coin flip, do they still challenge it?
"Yes," Kapler said, before hedging a bit. "A straight coin flip? Maybe not."
Beginning in the eighth inning, a manager with no remaining challenges can appeal to the umpires for a crew-chief review of any reviewable play.
Down under
The Phillies signed Australian right-hander Josh Gessner, 18, this week for $850,000, according to MLB.com's Jesse Sanchez. He had committed to pitch at Tulane University. Harvard also recruited him. The Phillies added some international bonus pool this week when they traded right-hander Tom Eshelman to the Orioles.