Kapler shuffles lineup amid offensive slump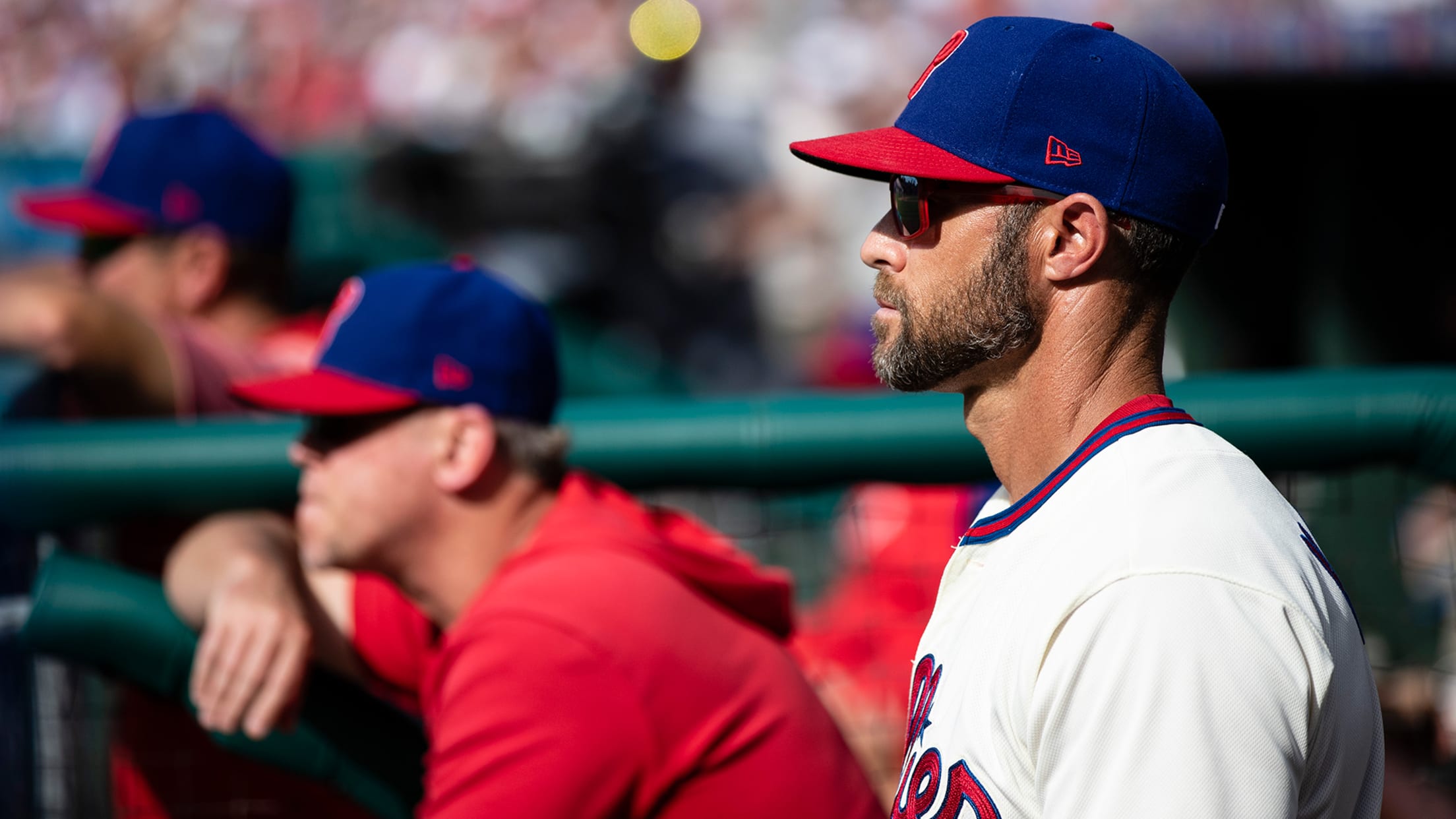 WASHINGTON -- Phillies manager Gabe Kapler shuffled his lineup Thursday at Nationals Park, hoping to spark an offense that has struggled since it lost Andrew McCutchen to a season-ending left knee injury on June 3. The Phils hit Bryce Harper first, Rhys Hoskins second, Jay Bruce third and J.T. Realmuto
WASHINGTON -- Phillies manager Gabe Kapler shuffled his lineup Thursday at Nationals Park, hoping to spark an offense that has struggled since it lost Andrew McCutchen to a season-ending left knee injury on June 3.
The Phils hit Bryce Harper first, Rhys Hoskins second, Jay Bruce third and J.T. Realmuto fourth. Jean Segura hit fifth.
Harper went 1-for-5 with an RBI single and three strikeouts, while Segura hit a solo homer in the fifth inning of a 7-4 loss. Bruce went 3-for-3 with a home run and a pair of RBIs, but it wasn't enough for a Phillies team that managed just six total runs in the three-game sweep.
Segura has been a topic of conversation since he did not reach second base on a flare single to left-center field in the first inning in Game 2 of Wednesday's doubleheader. Segura did not run hard out of the box, the second time he did not run hard this month on a notable play. He did the same thing on the play that McCutchen tore his ACL in San Diego.
Kapler said Thursday he never considered pulling Segura from Wednesday's game or benching him Thursday.
"Jean is one of our eight best players," Kapler said. "I don't think taking one of our eight best players, and our shortstop, out of the lineup is what's best for the Philadelphia Phillies."
Kapler and Segura met after Wednesday's game to discuss the play, watching the replay on video. They talked again about the play Thursday via FaceTime. Segura acknowledged his mistake, publicly and privately.
Kapler said he told Segura that he would discuss the effort levels with other players in the clubhouse, too. He does not want Segura to be singled out.
"We're going to talk about how we can't win every night, but we [can] win the game of give-a-[crap] and be undefeated in that category," Kapler said. "Then we protect the Phillies by putting the best lineup together on a nightly basis, and not think about making ourselves feel better by sending a message."
Kapler looked for examples in recent memory of Phillies managers benching players for a lack of hustle. Two or three could be immediately recalled. Former Phils manager Charlie Manuel benched Jimmy Rollins twice for not hustling -- once in June 2008 and once in August 2012. Former skipper Pete Mackanin benched Odubel Herrera for not hustling on three occasions in September 2015, May 2016 and July 2017.
Mets manager Mickey Callaway said earlier this season that he benched Robinson Cano for not running hard, but Cano said Callaway never told him that. The Nationals benched Trea Turner once for not hustling last season. The Pirates benched Starling Marte once last year, too. Of course, Mariners manager Scott Servais benched Segura for not hustling late last September.
The Phillies, however, feel that punitive action that hurts the entire team is not the best way to handle the situation.
"What I'm driving at here is the rarity of this incident, rather than what is commonly practiced -- which is kind of what happens in these situations," Kapler said. "A guy doesn't run hard, maybe he should be benched. We can go back 30 years or so, and we're having a hard time coming up with this being a regular practice."
Neshek to IL, Suarez recalled
The Phillies placed right-hander Pat Neshek on the 10-day injured list because of a strained left hamstring. They recalled left-hander Ranger Suarez from Triple-A Lehigh Valley to take his place on the roster.
Suarez might be in the bullpen only one day. Left-hander Adam Morgan pitched well in a rehab assignment Wednesday with Double-A Reading. He could be activated Friday.
Who's pitching this weekend? Who knows?
Right-hander Aaron Nola will start Friday against the Marlins at Citizens Bank Park, but the Phillies have made no announcements for Saturday and Sunday. It depends how they use their bullpen Thursday and Friday, but it is a smart bet to expect right-hander Vince Velasquez to start one of those games. The Phils do not have a set No. 5 starter, and they are short one more starter because of rainouts Monday and Tuesday.