Harper hoping to regain hitting stroke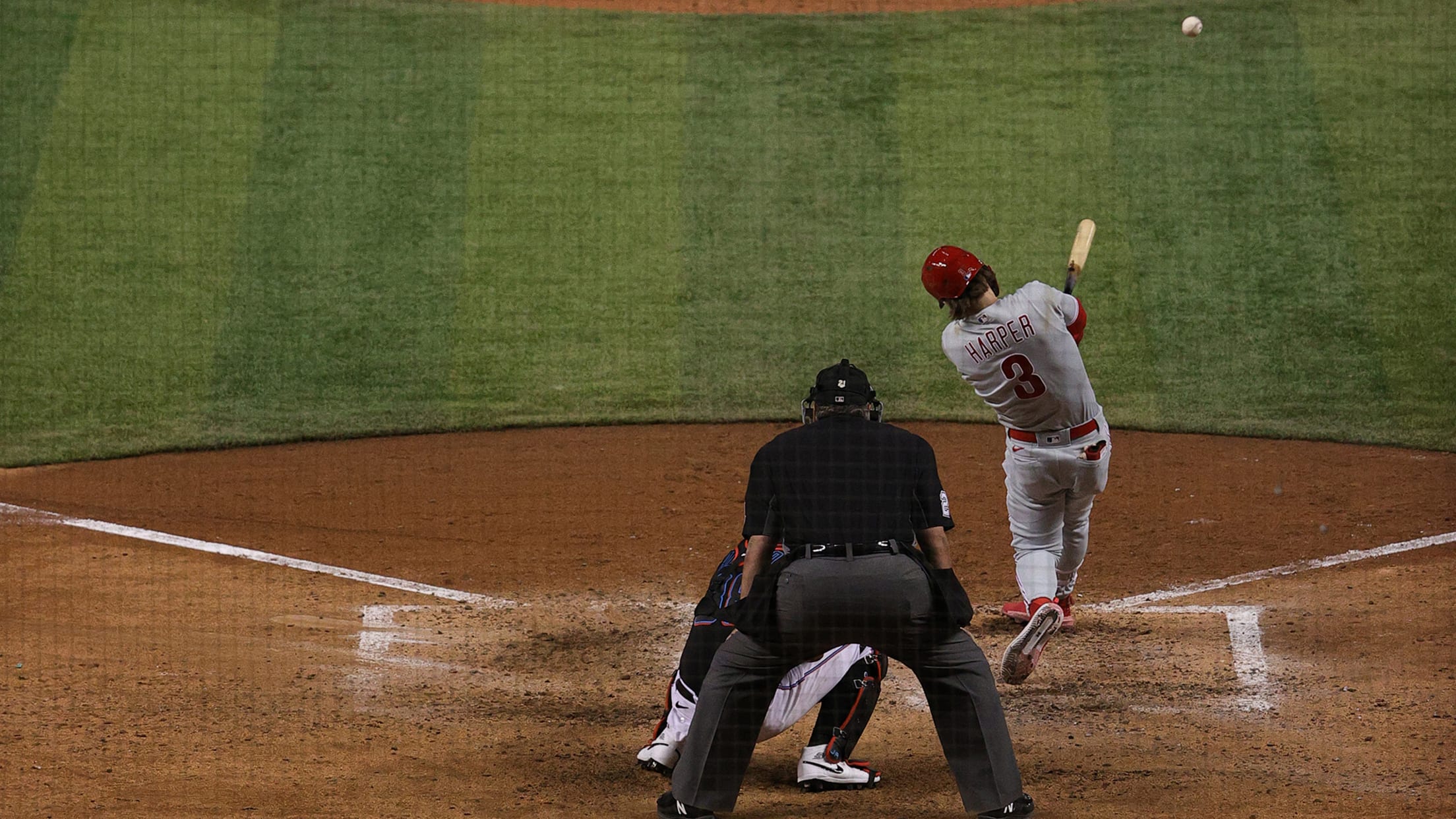 Maybe one hit changes everything for Bryce Harper. He hit a ground-rule double with two outs in the seventh inning in Game 2 of Friday's seven-inning doubleheader in Miami. He needed it. Harper hit .343 (24-for-70) with three doubles, one triple, seven home runs, 19 RBIs and a 1.192 OPS
Maybe one hit changes everything for Bryce Harper.
He hit a ground-rule double with two outs in the seventh inning in Game 2 of Friday's seven-inning doubleheader in Miami. He needed it. Harper hit .343 (24-for-70) with three doubles, one triple, seven home runs, 19 RBIs and a 1.192 OPS in 22 games through Aug. 22, but he is batting .136 (8-for-59) with two doubles, two RBIs and a .503 OPS in 18 games since.
Nobody is panicking. Good hitters hit. But with only 18 games to play, the Phillies need Harper to heat up.
"He feels like he lets the team down when we don't win and he doesn't produce," Phillies hitting coach Joe Dillon said Saturday. "He's had a string of that recently, which everybody goes through. I think he just wears it on his sleeve a little bit more because of how competitive he is and he really wants to contribute.
"He's so competitive and he wants to help out so bad that I think he pushes the issue and he expands the strike zone. I think that's what we've seen. I think it kind of compounded on him a little bit, where he's trying to do too much and expanded the strike zone. I don't care how talented you are, if you're swinging at balls in this league, you're not going to be very successful."
One reason for Harper's torrid start was him making more contact. His strikeout rate through Aug. 22 (15.4 percent) dropped significantly from last season (26.1 percent). His strikeout rate during the 18-game slump (20.5 percent) is in the middle.
There must be more to the struggles than striking out a little more.
Harper batted .385 (5-for-13) and slugged .462 against breaking balls through 22 games. Since then, he has batted just .050 (1-for-20) with a .050 slugging percentage against them.
For comparison's sake, Harper hit .195 with a .414 slugging against breaking balls in 2019.
Harper seemed to have success against breaking balls early because he was swinging at more of them in the zone (82 percent) and fewer out of the zone (29 percent) than last season (70 percent in the zone vs. 35 percent out of the zone). But Harper is not chasing breaking balls more during his slump. In fact, his chase rate (28 percent) is virtually the same. He is, however, swinging at fewer of them in the zone (64 percent).
Is there some bad luck at play? A little bit. Harper's numbers were true through 22 games. His actual batting average (.343) vs. expected batting average (.332), actual slugging percentage (.714) vs. expected slugging (.736) and wOBA (.478) vs. expected wOBA (.486) were close. The gaps between those actual vs. expected numbers are wider during the last 18: batting average (.136) vs. xBA (.243), slugging (.169) vs. xSLG (.416) and wOBA (.234) vs. xwOBA (.353).
"He's trying to make things happen, and when you try to make things happen, your swing can get a little big at times," Dillon said. "As anybody, your swing gets big, your barrel actually goes down, your decision-making goes down. It kind of spirals a little bit on you. … With this season, everything is so much more magnified because of the lack of games.
"When guys get off to slow starts like Rhys [Hoskins], everybody is panicked about Rhys the first two weeks and now look at him. Things are going to normalize. Whether they fully normalize or not because of the shortened season, I think Bryce the last couple games has been better. He's a couple feet away from a couple homers."
Injury updates
• Scott Kingery (lower back spasms) continues to progress at the team's alternate site in Allentown, Pa. He was scheduled to play again Saturday.
• Roman Quinn (concussion) was scheduled to take batting practice Saturday.
• Jay Bruce (strained left quadriceps) was scheduled to take BP and try some light running.
• Left-hander José Álvarez (testicular contusion) he has played catch. He is scheduled to see a doctor Tuesday. He is unlikely to pitch again in the regular season, but he could pitch in the postseason.