Harper returns 2 days after pitch bruises ankle
Slugger still seeking first spring hit, has 4 walks in 14 plate appearances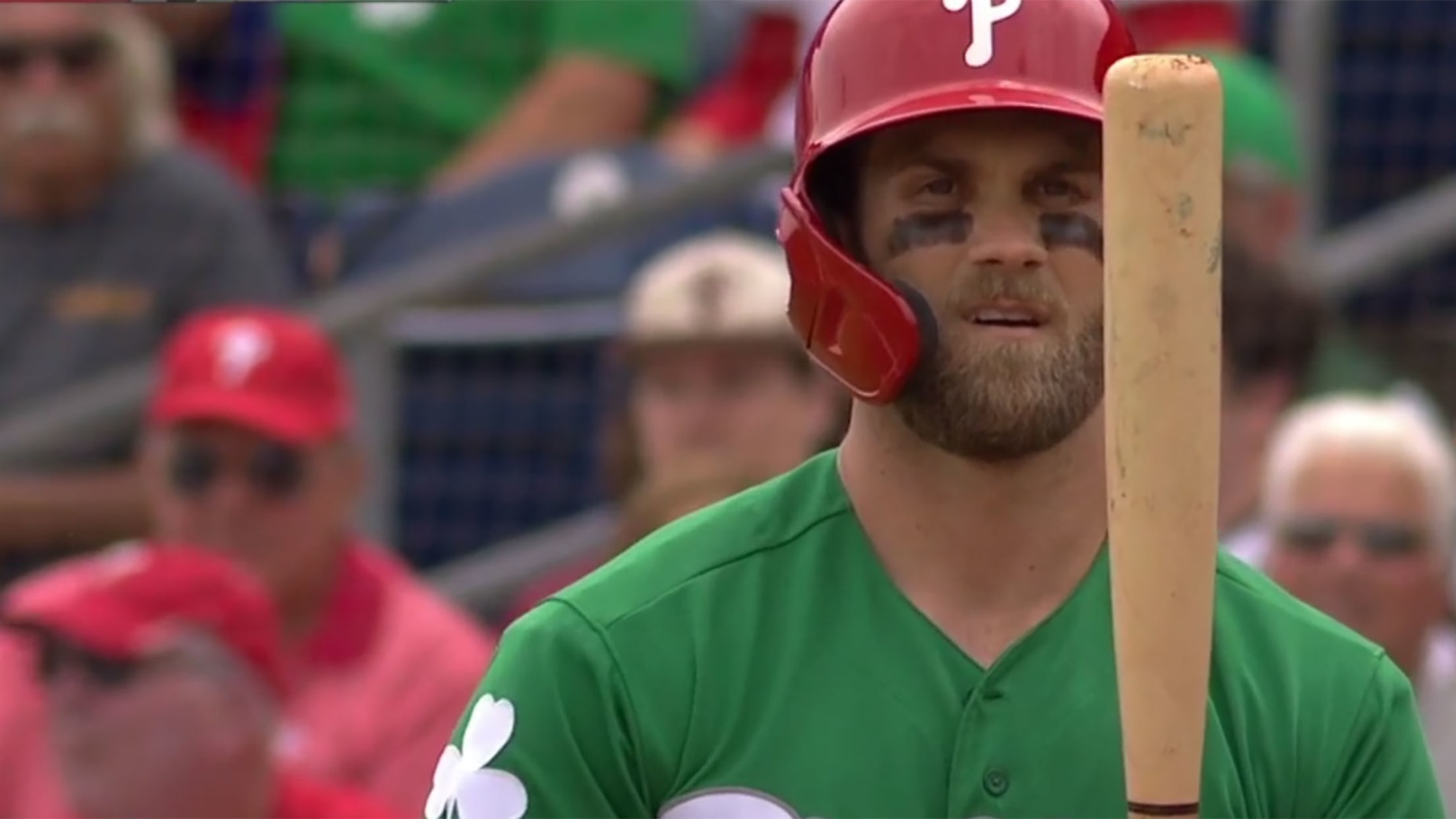 CLEARWATER, Fla. -- Whew. Bryce Harper returned to the Phillies' lineup as the designated hitter in Sunday's 7-3 loss to the Yankees at Spectrum Field, less than 48 hours after he got hit on the right ankle with a 96-mph fastball. Harper is scheduled to play in a Minor League
CLEARWATER, Fla. -- Whew.
Bryce Harper returned to the Phillies' lineup as the designated hitter in Sunday's 7-3 loss to the Yankees at Spectrum Field, less than 48 hours after he got hit on the right ankle with a 96-mph fastball. Harper is scheduled to play in a Minor League game on Monday at Carpenter Complex before returning to right field Wednesday against the Tigers.
"It felt good," Harper said. "It's shocking. I can't believe I came in yesterday and had not really any swelling or bruising. Glad I kept it out of there and felt better today. I was glad I was able to get out there and felt pretty normal."
Harper went 0-for-3 with one walk and two strikeouts. He is 0-for-8 in Grapefruit League play with four walks and five strikeouts.
Opening Day is only 11 days away, meaning Harper has a limited amount of time to get ready at the plate.
"The goal is definitely to get a couple knocks," Harper said. "I don't want to leave spring without a hit, but if that happens, then March 28 here we come. Timing is definitely a little behind right now. A little late on some of the pitches, especially against [James] Paxton today. Fouled some stuff straight back. Just trying to get that the best I can."
It is unclear if Harper will play in the field Monday. He is going to get in some fielding work and stand in some bullpen sessions Tuesday.
"Just trying to play as many in a row so the timing can get there," Harper said. "It's going to be a process."
Phillies manager Gabe Kapler said he does not know how many games Harper will play before Spring Training ends March 25.
"We don't feel like there's a big rush or a time crunch," Kapler said. "We feel like he's going to have his timing and rhythm down for Opening Day, and that's what's most important. We don't have to speed things up or force things."
So where is Harper on the ready-for-Opening-Day timeline?
"Right where he needs to be," Kapler said. "I think he's in the ideal spot. This is practice. These are reps. They're work. He's seeing pitches, working some deeper counts."
Eickhoff takes another step
Jerad Eickhoff is healthy and pitching, and that is the most important thing for him this spring.
But he enjoyed some positive results against the Yankees, allowing two hits and one walk and striking out five in three scoreless innings. Eickhoff is recovering from carpal tunnel surgery on his right hand in October. He is expected to open the season at Triple-A Lehigh Valley, but he continues to progress, and if there is a need, he could be the team's first call to the rotation.
"There's always tough decisions to make," Eickhoff said. "I come in here every year saying the same thing -- I'm trying to win a spot every year, every time I come out here. I prepare, I feel, as much as I can to the best of my ability and kind of see where it falls."
Eickhoff said he expects to make one more start this week before the team breaks camp following the March 25 Grapefruit League finale.
"Eick was great," Kapler said. "It's really interesting. You've got a 91-mph four-seam fastball. A slider at around 86-87. And a curveball that comes in at 76-77. There's an interesting speed mix there, and I think that's part of the reason you see all the swings and misses. Five strikeouts in a couple of innings, that's pretty impressive.
"It's really enticing. We haven't missed a whole lot of bats this spring, but he has and that's impressive."
Proud manager
Kapler said he loved the way Andrew McCutchen, Jean Segura, Harper and Rhys Hoskins ran hard down the line during their plate appearances. Kapler called it his proudest moment of the spring.
"All of those guys busted it out of the box," he said. "It's not often that you see the All-Star-caliber players on a team, former MVPs and MVP candidates, setting the tone by running the bases when it doesn't matter, and I was inspired by that."
Up next
Phillies right-hander Zach Eflin (1-0, 2.70 ERA) faces Cardinals right-hander Dakota Hudson (1-0, 2.53 ERA) on Monday at 1:05 p.m. ET in Jupiter, Fla.