Braves could break camp with prospect Wilson
Right-hander solid vs. Yankees, in mix for rotation/bullpen role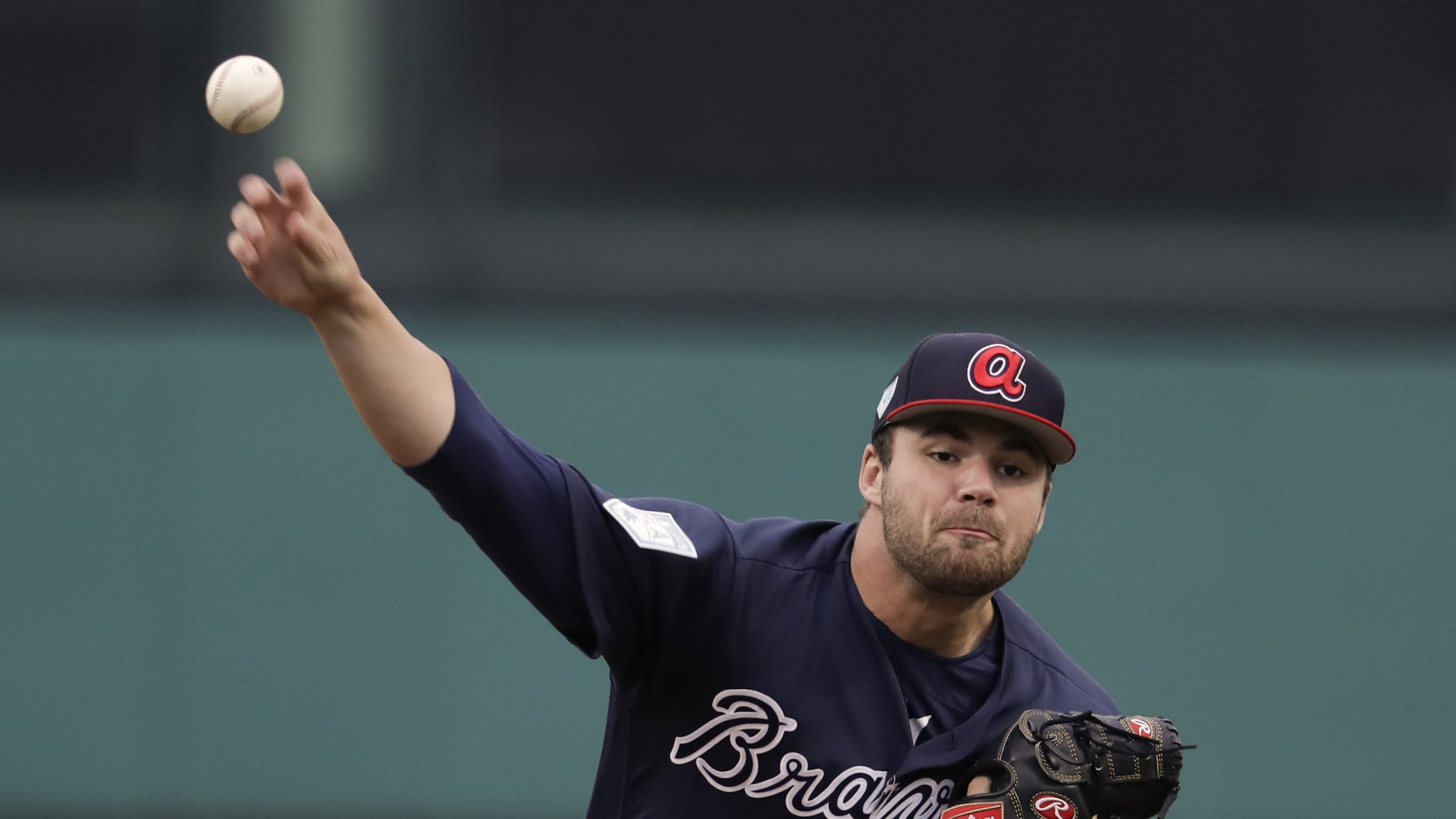 LAKE BUENA VISTA, Fla. -- As the Braves prepare to begin the season without their ace and two top relievers, they can take solace in the fact Kyle Wright and Bryse Wilson are providing indication they are ready for the Major League level. While Wright has possibly already secured an
LAKE BUENA VISTA, Fla. -- As the Braves prepare to begin the season without their ace and two top relievers, they can take solace in the fact Kyle Wright and Bryse Wilson are providing indication they are ready for the Major League level.
While Wright has possibly already secured an Opening Day roster spot, Wilson has positioned himself to potentially open the season with Atlanta as either a starter or reliever. The right-hander certainly didn't hurt his bid Monday night, when he skillfully handled Aaron Judge and Giancarlo Stanton during the Braves' 7-4 loss to the Yankees.
"We still have some decisions to make, but he's put himself right there," Braves manager Brian Snitker said. "He's had a heck of a spring. He's opened a lot of eyes. I like the stuff. The slider has improved the last couple games. He throws strikes. Overall, I really liked what I saw tonight."
Wilson surrendered three runs in the second but blanked the Yankees for the remainder of his four-inning stint. The 21-year-old prospect (rated Atlanta's 7th-best by MLB Pipeline) notched two of his four strikeouts when he set the Yankees' slugging duo down on strikes in a perfect first inning. He froze Judge with a 96-mph fastball and got Stanton to whiff at a 95-mph heater.
With Wright the most likely candidate to fill Mike Foltynewicz's rotation void, the strike-throwing Wilson might be asked to fill one of the bullpen spots earmarked for Darren O'Day and A.J. Minter, who will both begin the season on the injured list.
"I think he's a candidate for one of the starting spots," Snitker said of Wilson. "But he's a guy you can put in the bullpen. He's another of the young guys who has stuff. That plays. They're going to continue to get better with experience. We'll see. We're not locked into anything and I think all options are open."
Wilson, who has a 3.29 ERA with 13 strikeouts and just two walks over five Grapefruit League outings (13 2/3 innings), remains a candidate for a rotation spot if Kevin Gausman begins the season on the injured list.
"I've just come in and tried to throw my best every time and get better every day," Wilson said.
Back field work
Gausman will accelerate his preparations by attempting to complete five innings against a group of Minor Leaguers on Tuesday. Gausman's Grapefruit League innings total increased to two last Tuesday, when he recorded just two outs while allowing the Nationals three first-inning runs. He built his endurance by simulating two innings in the bullpen after exiting that rough outing.
Gausman has struggled in two starts, but he says he is no longer bothered by the right-shoulder discomfort he brought to camp. The veteran hurler could make an additional Grapefruit League start Sunday and then be in line to start the regular season's second game. But the Braves have not made any rotation plans beyond Julio Teheran starting on Opening Day.
Spring encouragement
Because Arodys Vizcaíno has had at least three days of rest between each of his appearances, the Braves do not have a sense of how durable his right shoulder might be for the regular season. But Snitker was still encouraged to see his closer touch 96 mph while recording a pair of strikeouts during a perfect sixth inning on Monday night.
Vizcaíno surrendered two earned runs while recording just one out against the Tigers on March 2. But he has not allowed a hit or a run in any of his other four appearances. The veteran reliever missed most of last season's final three months with right shoulder inflammation.
"Viz has been very encouraging," Snitker said. "He's making all the appearances that have been scheduled and hasn't gotten behind. He's done everything he's supposed to do. I like the way he's throwing the ball."
'Road Runner' arrives
Snitker loves the energy former Brave Ralph Garr brings as he constantly chats with players during batting practice and keeps things light on the bench. The 73-year-old Garr arrived in camp this week to serve as a guest instructor. He played for Atlanta from 1968-75 and was inducted into the team's Hall of Fame in 2006.
Up next
Left-hander Max Fried will be on the mound when the Braves host the Nationals on Tuesday at 1:05 p.m. ET. Fried's bid to be part of the Opening Day roster likely hinges on whether Gausman is deemed ready at the end of Spring Training.
Mark Bowman has covered the Braves for MLB.com since 2001.