Wilson turning heads in first big league camp
Braves send more players to Minors; Murphy and Furcal join staff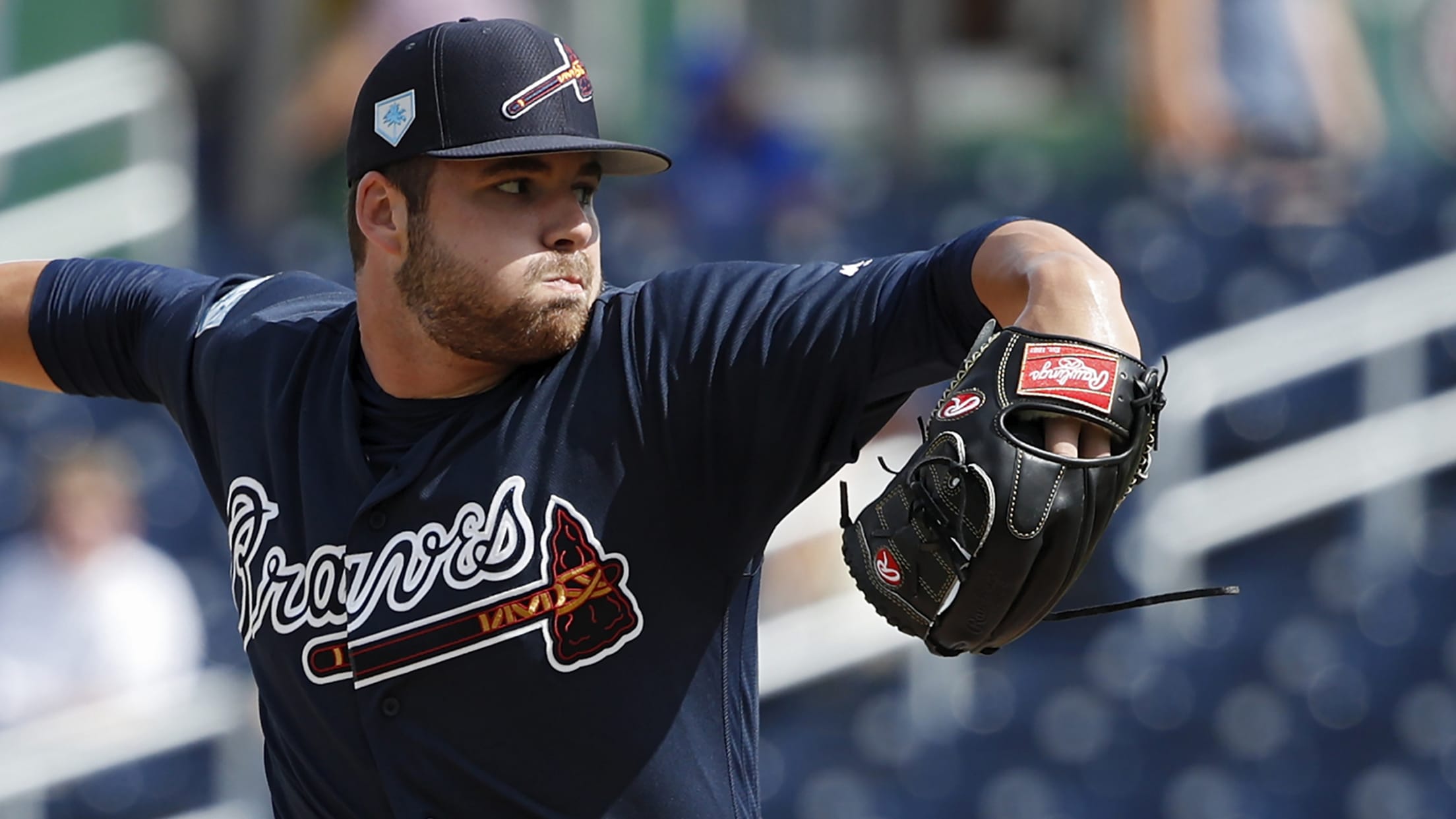 LAKE BUENA VISTA, Fla. -- Given MLB Pipeline ranks Bryse Wilson as baseball's 82nd-best prospect, and the No. 7 prospect in the Braves' system, you can't call him underrated. But because he's part of an organization that possesses seven other Top 100 prospects, it may be accurate to say he
LAKE BUENA VISTA, Fla. -- Given MLB Pipeline ranks Bryse Wilson as baseball's 82nd-best prospect, and the No. 7 prospect in the Braves' system, you can't call him underrated. But because he's part of an organization that possesses seven other Top 100 prospects, it may be accurate to say he has been occasionally overlooked.
Wilson has certainly taken advantage of his chance to shine as he's spent the past month experiencing his first big league camp. The 21-year-old right-hander further enriched his stock on Tuesday, when he notched five strikeouts and surrendered just one hit over four scoreless innings, in a 5-0 win over the Cardinals.
"I really liked Bryse's slider today," Braves bench coach Walt Weiss said. "He's a guy in the past who has really relied on a fastball-changeup mix. When you've got three weapons, it makes it really tough on hitters. I thought he cruised through the outing. He was in control the entire time."
A year ago, as Wilson prepped for his second full professional season, his confidence was restricted to the same fastball-slider mix he possessed when the Braves took him in the fourth round of the 2016 MLB Draft. But as he spent the next six months progressing from Class A Advanced Florida to the Majors, he found a feel for the changeup he now considers to be a primary weapon.
In fact, Wilson's confidence in the pitch is significant enough that he estimates he went against the book by throwing five right-on-right changeups during Tuesday's outing. The pitch helped him conclude the first inning, by getting Paul DeJong and Tyler O'Neill to look at called third strikes.
"The development [of the changeup] throughout the organization has been phenomenal, and it's become one of my better pitches," Wilson said.
Wilson tossed five scoreless innings while making his big league debut on Aug. 20 in Pittsburgh, and then concluded his memorable season with a pair of September relief appearances. He has notched nine strikeouts and issued just one walk, while allowing two runs over 9 2/3 Grapefruit League innings.
While Touki Toussaint, Max Fried and Kyle Wright seem to stand as the favorites to share Atlanta's fifth spot during the early part of the season, Wilson has positioned himself to be used within that mix, and possibly to soon become a fixture within the big league rotation.
"That starting pitching depth is one of the most valuable assets in this game," Weiss said. "Every one of those kids who has stepped out there to compete has done a nice job."
Second round roster moves
Former first-round pick Kolby Allard was optioned to Triple-A Gwinnett as the Braves made their second round of roster moves Tuesday. Allard's prospect value has declined significantly over the past year. He surrendered a pair of home runs and issued six walks over the 6 2/3 innings he completed in Grapefruit League action.
Other 40-man roster members optioned to Gwinnett included left-handed reliever Grant Dayton, catcher Alex Jackson and right-handed reliever Jacob Webb, who was fortunate to sustain just a bruised left hand after getting struck with a comebacker Sunday. Jackson has shown significant improvement behind the plate. His performance in camp gave the Braves reason to believe they may have internal insurance if Tyler Flowers or Brian McCann were to be sidelined this year.
Non-roster members reassigned to Minor League camp were infielder Luis Martes and left-handed relievers Thomas Burrows, Corbin Clouse and Tucker Davidson.
Guest instructors
Two-time National League MVP Dale Murphy and 2000 NL Rookie of the Year Rafael Furcal are currently serving as guest instructors in Braves camp.
Up next
Kevin Gausman will make his second Grapefruit League start when the Braves travel to West Palm Beach to play the Nationals Wednesday at 1:05 p.m. ET. The game will be broadcast live on MLB.TV.
Mark Bowman has covered the Braves for MLB.com since 2001.