Farmer figures to find role with Tigers
Righty gaining confidence, in mix for rotation or bullpen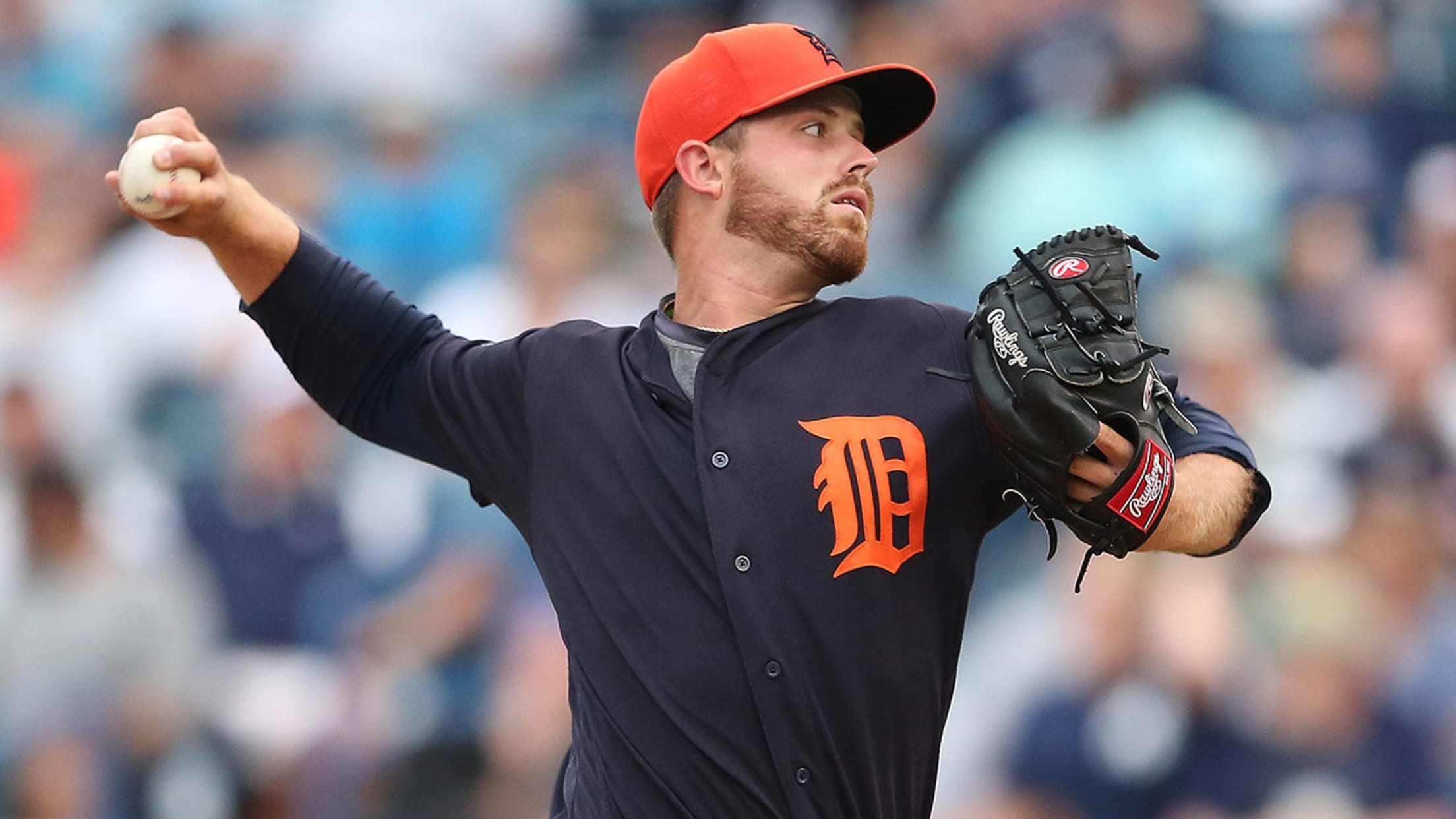 Buck Farmer tossed three shutout innings Monday, holding the Yankees to two hits and lowering his spring ERA to 2.25. (Getty Images)
TAMPA, Fla. -- Buck Farmer considers himself a different pitcher than he was at the end of last season. The Tigers right-hander is older, wiser and more confident that his talent will help him make an impact in the Major Leagues.His education continues, but growth has been made. Farmer's impressive
TAMPA, Fla. -- Buck Farmer considers himself a different pitcher than he was at the end of last season. The Tigers right-hander is older, wiser and more confident that his talent will help him make an impact in the Major Leagues.
His education continues, but growth has been made. Farmer's impressive development carried on Monday night in the Tigers' 3-2 loss to the Yankees at George M. Steinbrenner Field, where he allowed only two hits and a walk with one strikeout in three scoreless innings. He threw 40 pitches, 28 for strikes.
"I've grown a lot from the end of last year coming into this spring," Farmer said. "I learned I can get outs, that my stuff does work up here. It's just refining it and throwing strikes and keeping the ball down."
Farmer faced a tall task against most of the Yankees' regulars, save for Aaron Hicks in right field instead of Carlos Beltran. Still, Farmer's lone blemishes were singles to Brett Gardner in the first inning and Starlin Castro in the second. Farmer struck out Mark Teixeira in the first.
Farmer figures to fit within the Tigers' bullpen plans, though Detroit manager Brad Ausmus said, "Right now, we're in-between whether he's rotation or reliever. We've got kind of a split camp on that."
Farmer has a career 8.15 ERA in 18 Major League appearances (seven starts) since making his debut with the Tigers in 2014.
"Trying to make every opportunity count, especially even last year when I was up at the end of the season," said Farmer, who allowed 35 runs (33 earned) in 40 1/3 innings last year. "Just any opportunity I get, just trying to make it count."
Farmer, 25, has taken advantage of his chances this spring. He is 1-0 in six Grapefruit League appearances (two starts), allowing three runs, 10 hits and five walks with eight strikeouts in 12 innings. He said his fastball command was strong against New York and his off-speed pitches were "definitely working," though he views his cutter as a work in progress.
"I think he has become more confident -- just being around Major League players and the Major League atmosphere, facing Major League hitters," Ausmus said. "That experience, I think, has made him more confident. We brought him up -- he was really inexperienced and young, not far removed from the Draft. Quite frankly, we brought him up out of need. Probably rushed him. I think now some of the experiences are catching up. So he's trending in the right direction."
Farmer's results Monday were more proof of his upward trajectory. He's eager to see where his career could lead.
"It was good," he said, "to have success."
Worth noting
• Catcher Bryan Holaday was scratched from the lineup because of a left thumb injury sustained Saturday when catching against the Phillies. Jarrod Saltalamacchia started in his place and went 1-for-3. Ausmus didn't offer details about Holaday's status.
"We're double-checking the thumb on something," Ausmus said. "That's all I can say."
Andrew Astleford is a contributor to MLB.com.