Farmer thinking, looking like a reliever
Tigers righty sports new 'do while adjusting to setup role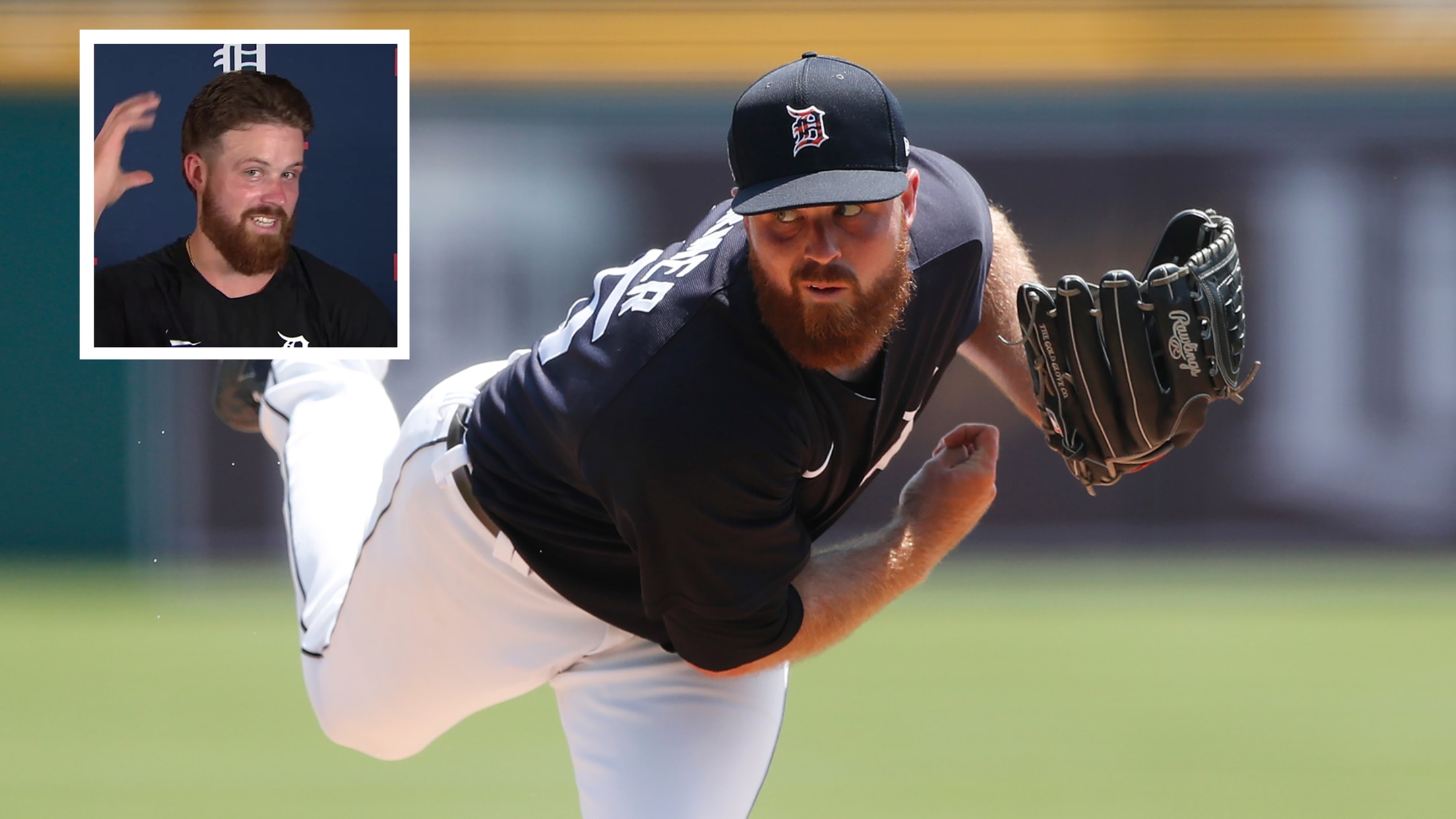 DETROIT -- Buck Farmer stared at his quarantine hair and was inspired to get creative. "The mullet is actually a childhood thing, believe it or not," the Tigers' right-hander said. "I was shuffling through some pictures and found a childhood picture. It was actually a Christmas picture. It was pretty
DETROIT -- Buck Farmer stared at his quarantine hair and was inspired to get creative.
"The mullet is actually a childhood thing, believe it or not," the Tigers' right-hander said. "I was shuffling through some pictures and found a childhood picture. It was actually a Christmas picture. It was pretty funny.
"Everybody asked where the hair, I guess inspiration, came from. And it was this, like a Christmas picture, when I was like five. And it's honestly like the same exact hairstyle, believe it or not. So I was like, 'Hey, I'm going to go back to that.'"
• Tigers' tech helps Burrows get back in sync
He did not have the beard when he was five. He has had that for the past couple of seasons. So he currently has party in the front and back, and business on top.
"I've definitely added a few degrees to my body temperature by having all the hair and the beard," he joked. "There's not much in-between anymore, face-wise."
If there was any question about Farmer's pitching future before this, it should be gone. He looks like a reliever now. That's good for the Tigers, because he might be the most important pitcher in their bullpen this year.
Farmer has made at least one start in each of his six Major League seasons, from when he was called up in his first full pro season in 2014 as an emergency starter for a taxed pitching staff to his two innings as an opener last summer. Barring something crazy, that will end this season. With last summer's trade of Shane Greene and ascension of Joe Jiménez to closer, Farmer is Detroit's unquestioned setup man. Manager Ron Gardenhire will spend this coming week putting together a relief corps around the late-inning duo.
Farmer is fine with that. Not only does he look like a reliever, he thinks like one, too. The shortened season and the added importance of each win only heightens that mentality for him.
"This year is going to be a sprint. There's no ifs, ands or buts about it," Farmer said. "It's 110 percent from Day One, and that's going to bring a lot of fun to the game, a lot of high-pressure situations, and those are going to mean a lot more this year – not that they didn't mean anything in a 162-game season. But in a 60-game season, every situation carries a lot more weight."
Farmer racked up nine holds in 10 chances from July 18 -- a few days before the Tigers traded Greene -- to the end of last season. He allowed 20 hits and a .697 OPS and struck out 24 batters over 26 innings. His strikeout rate before that was higher, as was his strike percentage, but his damage dropped down the stretch.
Farmer also reigned in his repertoire for shorter outings. His fastball usage rate rose from 43.8 percent in August to 55 percent in the final month, according to Statcast. His changeup rate plummeted, and his slider usage stayed about the same.
Farmer wants to maintain some level of a mix this season.
"Nowadays, unless you're throwing 100-plus mph, you can't really be [fastball-only]," Farmer said. "Especially in my situation, coming into pressure situations late in games and stuff, it's one of those things you kind of mix. Now, going based off scouting reports on some guys, you can be heavier in certain areas than others. But in this day and age, there's so many numbers available that, if you become 85 percent fastball, guys are going to know that going to the plate. And unless you're Jordan Hicks from the Cardinals that throws 103 [mph] with sink, you can't just sit there and pump fastballs in there."
Fortunately for him, he had a pro catcher in his neighborhood to throw to while baseball was shut down. Fellow Georgia Tech product Joey Bart, the former first-round Draft pick from 2018 now with the Giants, lives down the road.
"We live probably two miles from each other," Farmer said, "so it was just easy for us. I was like, 'Hey, you want to go throw in the backyard today? Sure, I'll be over in five minutes.' It was like asking my dad to go outside and play catch for five minutes. It was like I had to get permission or something. Can I go play in the backyard?"
Through two intrasquad outings so far, Farmer has gotten into his mix while delivering smooth innings. Now he has to take that into games along with, yeah, the hair.