Kansas City bridge renamed to honor O'Neil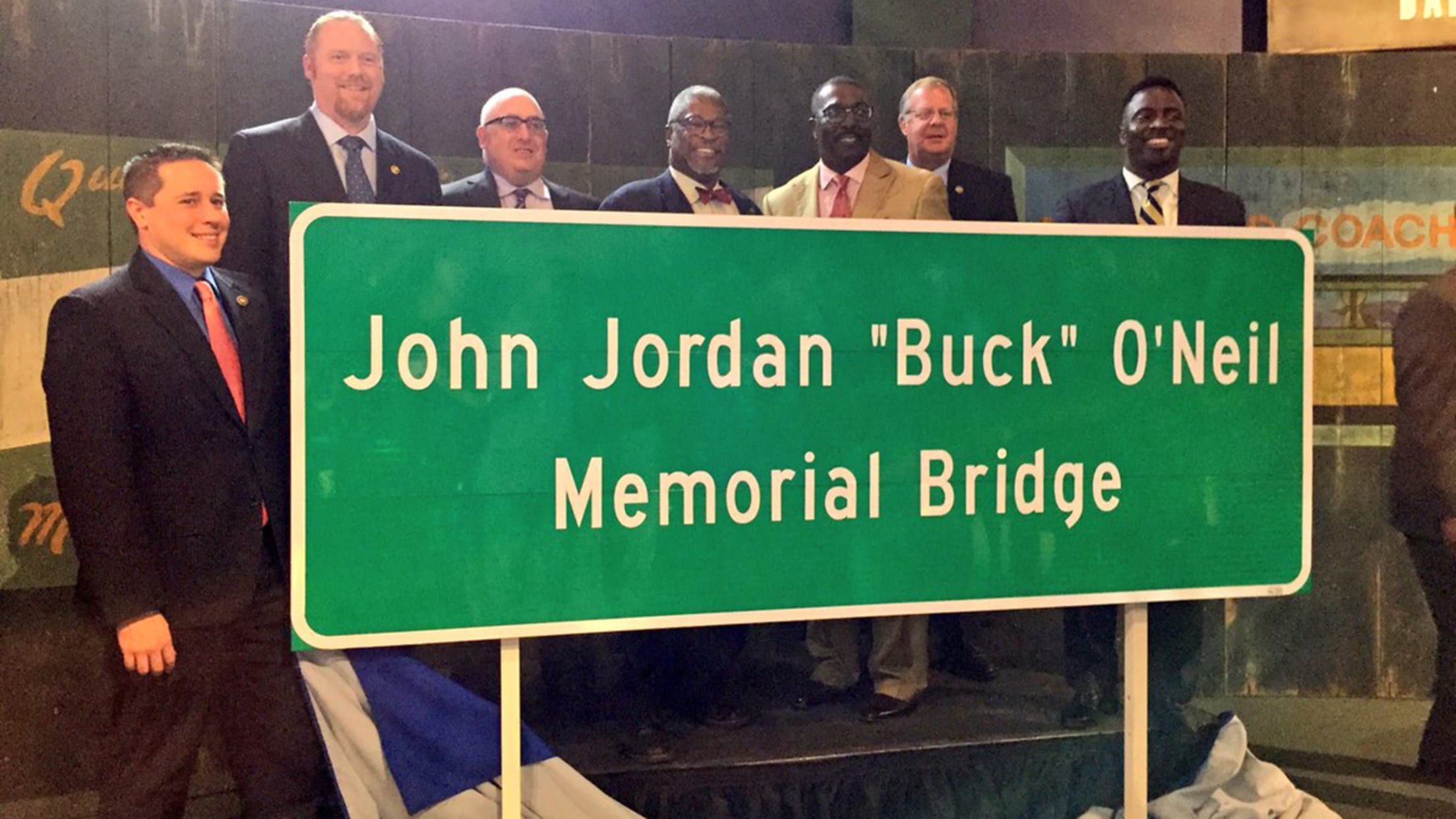 During a Thursday morning ceremony, Kansas City's Broadway Bridge was renamed in honor of Buck O'Neil. (Royals Twitter)
KANSAS CITY -- About 42,000 vehicles cross the Broadway Bridge each day. It is, by far, the busiest bridge in the area, as it connects one community to another.And as almost every speaker at the bridge renaming ceremony pointed out Thursday morning, it is so fitting that the bridge now
KANSAS CITY -- About 42,000 vehicles cross the Broadway Bridge each day. It is, by far, the busiest bridge in the area, as it connects one community to another.
And as almost every speaker at the bridge renaming ceremony pointed out Thursday morning, it is so fitting that the bridge now will be called the John Jordan 'Buck' O'Neil Memorial Bridge because Buck O'Neil made it his life's work to connect communities.
About 200 people packed inside the Negro Leagues Baseball Museum for the ceremony honoring the legendary O'Neil, a great ambassador to baseball and the NLBM who barnstormed with Satchel Paige with the Kansas City Monarchs. O'Neil was the first African-American coach in the Major Leagues.
Unveiling the sign! Broadway Bridge is now officially the John Jordan "Buck" O'Neil Memorial Bridge. pic.twitter.com/aTujKizNkm

— Kansas City Royals (@Royals) October 6, 2016
The ceremony came on the 10th anniversary of O'Neil's death at the age of 94.
Speakers included Kansas City Mayor Sly James, NLBM president Bob Kendrick, Missouri state senators Jason Holsman and Ryan Silvey, Royals Hall of Famer Frank White and author Joe Posnanski, who wrote "The Soul of Baseball: A Road Trip Through Buck O'Neil's America."
"First of all, Buck would never believe this [ceremony would happen]," Posnanski said. "Second, he'd say, 'They're not going to blame me for the traffic, are they?' ... It was never about the honors with Buck. It was always about the people."
One honor that eluded O'Neil was not getting into the Baseball Hall of Fame.
"Buck helped so many Negro League players get into the Hall," White said. "But when he didn't get in, he took the high road."
The idea to rename the bridge was spawned by Holsman and Silvey, who had the idea to rename it in someone's honor over a year ago. And while they attended a Royals playoff game last season, there was a rain delay. They sat and watched a video tribute to O'Neil on the scoreboard during the delay.
That's when they turned to each other and said, "It's gotta be Buck."
Kendrick, one of O'Neil's closest friends, helped push the idea as well.
"To have this come on the 10th anniversary of Buck's passing," Kendrick said, "… It was one of the most difficult days in all of our lives ... but today, we are honored to have this bridge renamed for him."