Showalter fondly recalls Machado's O's tenure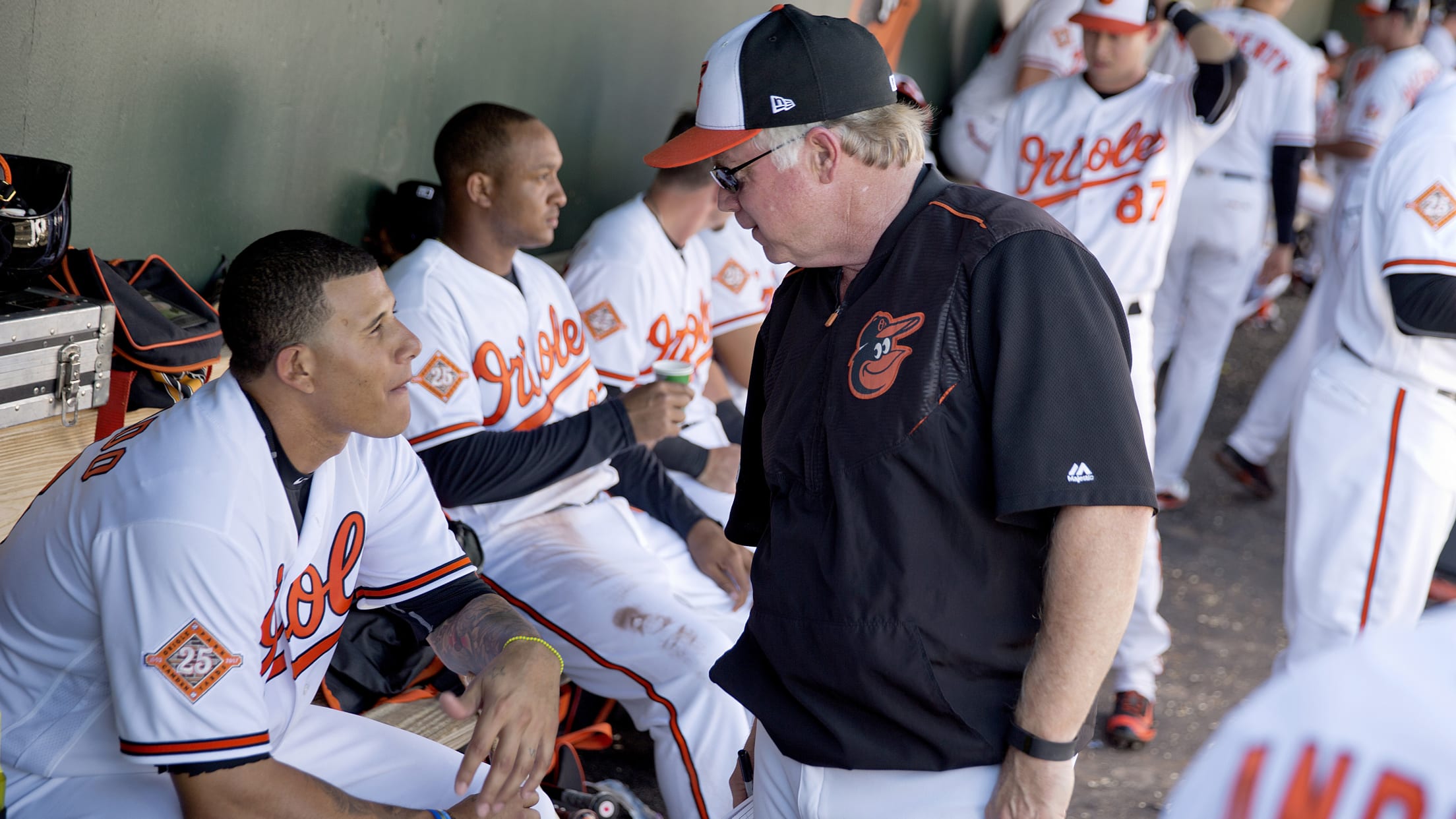 Baltimore Orioles manager Buck Showalter, right, talks with Manny Machado in the dugout during an exhibition spring training baseball game against the Pittsburgh Pirates in Sarasota, Fla., Sunday, Feb. 26, 2017. (AP Photo/David Goldman) (David Goldman/AP)
It was 10 minutes before last Sunday's game between the Orioles and the Rangers was about to resume after a rain delay. Manny Machado had already hit a home run on this day, his 24th. But while both teams were off the field, O's executive vice president of baseball operations
It was 10 minutes before last Sunday's game between the Orioles and the Rangers was about to resume after a rain delay. Manny Machado had already hit a home run on this day, his 24th. But while both teams were off the field, O's executive vice president of baseball operations Dan Duquette had asked his manager, Buck Showalter, not to put Machado back into the game on a wet field, even though it seems that the field at Camden Yards has been wet all season, a season that has been underwater in all ways.
And even though nothing had been finalized on the trade to the Dodgers that was about to end Machado's Orioles career, both people in the room knew Machado wasn't just on his way out of this game, but on his way out of town as soon as he played the All-Star Game in Washington.
On Wednesday night, Machado's trade to Los Angeles came to fruition. The O's will receive outfielder Yusniel Diaz, third baseman Rylan Bannon, right-hander Dean Kremer, righty Zach Pop and second baseman Breyvic Valera in return.
Ranked as Los Angeles' No. 4 prospect and the No. 84 prospect in the game by MLB Pipeline, Diaz is the most talented player in the group, with Bannon (No. 27) and Kremer (No. 28) also ranked among the club's Top 30.
"I gotta call him in," Showalter said. "Manny's got his spikes back on, the game's about to start back up. I tell him that I'm pulling him and then he gives me that look. And what the look says to me is: 'This is it.' And just like that, it got real emotional. I said, 'Manny, I've got to be honest with you. It looks like they must have something in place. And if they don't, they're close to having something in place. And they don't want to take a chance on you getting hurt.'
"Now he says, 'Where am I going? Buck, if you know, tell me where I'm going.' I told him the truth, because I didn't, but I said, 'If I knew, I would tell you.'"
Showalter paused now. He has seen every game Machado has played in the big leagues the way Mike Scioscia has seen every game Michael Trout has played in the big leagues. Showalter had managed Don Mattingly in New York, even though when he became the Yankees' manager, Mattingly wasn't the same hitter he'd been when he was young. He briefly managed Alex Rodriguez in Texas, when Rodriguez was young. And now Showalter had seen Machado grow up and grow into being one of the best baseball players in the world.
Players move. They get traded, the way Machado does now. They become free agents, which Machado has a right to become after this season. Managers move, mostly because most of them get fired eventually. Baltimore is Buck Showalter's fourth stop as a big league manager. Rules of the road.
Still, after Showalter had watched Machado play third base and shortstop for him, play 860 regular-season games across seven years -- seven more games in the postseason -- they both knew they were saying goodbye in Showalter's office Sunday afternoon, after all the rumors about Machado that have dominated the season in Baltimore as much as all the losing has.
"There's a part of me hoping that when we both find out now, it's with a phone call, that when it is official, we don't have to do it again in my office," Showalter said. "That would not be pretty."
He paused again and said, "Listen, I know how the industry operates. But there's a part of me that believes that he shouldn't be leaving Baltimore. I get why he is. But that doesn't mean I have to like it."
Then Showalter was talking about the last 96 games Machado played for the Orioles, with those 24 homers and 65 RBIs and a .315 batting average and a .387 on-base percentage and an OPS of .963, on a team that can't win.
"He's had such little protection," Showalter said. "If you had told me that he'd have 65 RBIs the way our offense has been, with all the focus on him, I wouldn't have believed you. There's been times when [O's bench coach] John Russell has said to me, 'Can you believe they're pitching to him?'"
Showalter remembered when Machado first came up to the big leagues as a third baseman, in 2012.
"We knew that he would impact the club defensively until he figured out the offensive part of it," Showalter said. "The biggest jump in all of professional sports is from the pitching you see in the Minors and the pitching you see in the big leagues."
Then everybody, starting with Machado's manager, watched him grow into his body, and into his immense talent for baseball.
"Have I had my moments with him?" Showalter said. "Of course we've had our moments. But I never lost sight of how pure he is, what I call the pureness of his baseball heart. And you could never lose sight of the competitor in him. You push him into a corner, he'll come out firing. You throw at him once too often, he will come at [you].
"He is as talented as they come. He has been focused this season, knowing that stakes for him, from the first pitch of Spring Training. And even over the last two weeks, with all the rumors swirling, he has played [well at] shortstop. To the end, he's done the thing he can do that not many can, which is play this game with imagination."
Showalter saw it all from Machado, from the time he got to Baltimore at the age of 20. Now he will watch him do it in Los Angeles. It's the industry. Buck gets it. Doesn't mean the guy who used to be the only guy to ever manage Manny Machado in the big leagues has to like it.
Mike Lupica is a columnist for MLB.com. He also writes for the New York Daily News.