Bucs shuffle 'pen, call up Boshers, Feliz
Right-handers Holmes, Sadler optioned to Triple-A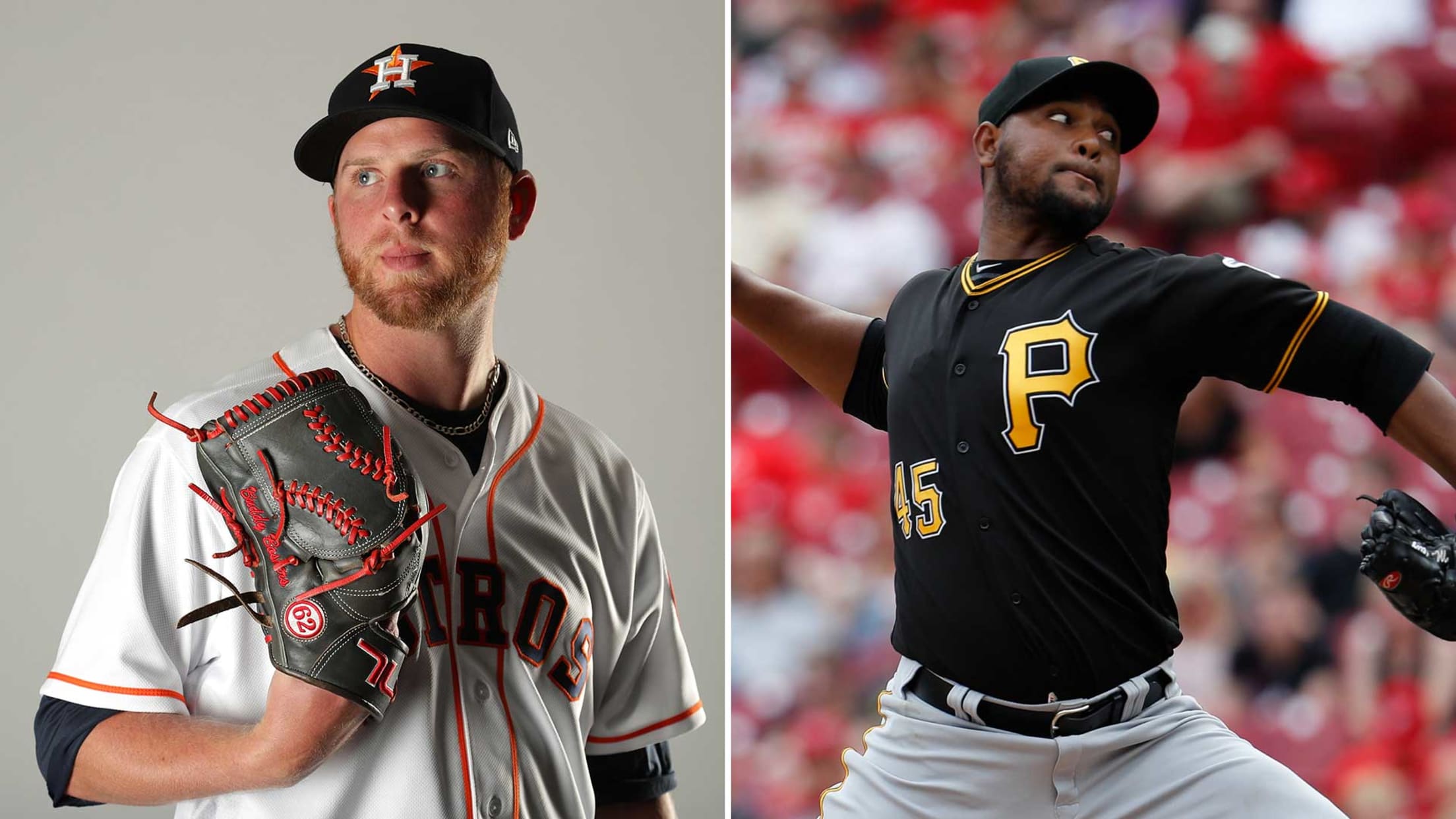 SAN FRANCISCO -- After a long night on Friday, the Pirates called up a new addition and a familiar face to bolster their bullpen on Saturday.Pittsburgh recalled recently acquired left-hander Player Page for Buddy Boshers and Opening Day setup man Michael Feliz before Saturday's game against the Giants at AT&T
SAN FRANCISCO -- After a long night on Friday, the Pirates called up a new addition and a familiar face to bolster their bullpen on Saturday.
Pittsburgh recalled recently acquired left-hander Player Page for Buddy Boshers and Opening Day setup man Michael Feliz before Saturday's game against the Giants at AT&T Park and optioned right-handers Clay Holmes and Casey Sadler to Triple-A Indianapolis.
The Pirates claimed Boshers, 30, off waivers from the Astros on Tuesday and optioned him to Indianapolis. He has posted a 4.59 ERA and 1.27 WHIP over parts of three seasons in the Majors, most recently in Minnesota last year. He's put together a 3.12 ERA with 55 strikeouts in 52 innings over 42 appearances in Triple-A this season.
"It's been a very turned-around four days for him," manager Clint Hurdle said, "getting claimed, then going back to California, packing stuff, flying to Indy, pitching a game, then having an off-day, then getting a call in the middle of the night to come back to the West Coast."
In Boshers, the Pirates have another reliever capable of pitching multiple innings as well as another left-hander in front of closer Felipe Vazquez, something they've lacked since sending out Steven Brault on Aug. 3.
Feliz, acquired in January as part of the Gerrit Cole trade, bounced back from a rough Opening Day outing with a strong stretch to begin the season. Feliz owned a 2.70 ERA and 1.15 WHIP after working a scoreless inning on May 20 then gave up at least one run in 12 of his next 17 appearances. The Pirates tried to work with Feliz through his struggles, encouraging him to implement a splitter into his arsenal, but finally optioned him to Triple-A on July 27.
Feliz allowed six runs on eight hits and a walk with three strikeouts in five innings over four appearances for Indianapolis.
The Pirates called up Holmes to start Friday's 13-10 loss at AT&T Park in an effort to rest the three starters -- Joe Musgrove, Jameson Taillon and Chris Archer -- who pitched at Coors Field earlier this week. But Holmes lacked his usual stuff and command as he surrendered seven runs and couldn't finish the third inning.
Holmes' short outing forced Sadler into action. After pitching an inning on Thursday, Sadler worked 3 1/3 innings on Friday and gave up four runs.
Welcome back
Right-hander Kyle Crick, drafted and developed by the Giants, made his first appearance as a visitor at AT&T Park on Friday night. The Pirates acquired Crick in January, along with outfield prospect Bryan Reynolds, in exchange for Andrew McCutchen. Crick said he felt "mixed emotions" as he faced his former team.
"Those are all my boys over there, but you've got to lock it in and stay focused on the task at hand," Crick said. "I want to do well here, for certain, but you do what you do. … It's just different, wild being back on the mound. It's fun."
The Giants appeared to take issue with Crick hitting Evan Longoria to lead off the seventh inning, but Crick insisted there was no intent behind the 97.1-mph fastball that nailed Longoria. Crick admitted he was overthrowing, which affected his command as he threw only 11 of his 23 pitches for strikes.
"Someone gets hit with two strikes on him, it's probably not intentional. Someone gets hit with no strikes on him, it might be," Crick said. "I was just trying to strike [Longoria] out. That was my problem. I ended up letting one loose."