Bulging disk sidelines Dickerson for 3-4 weeks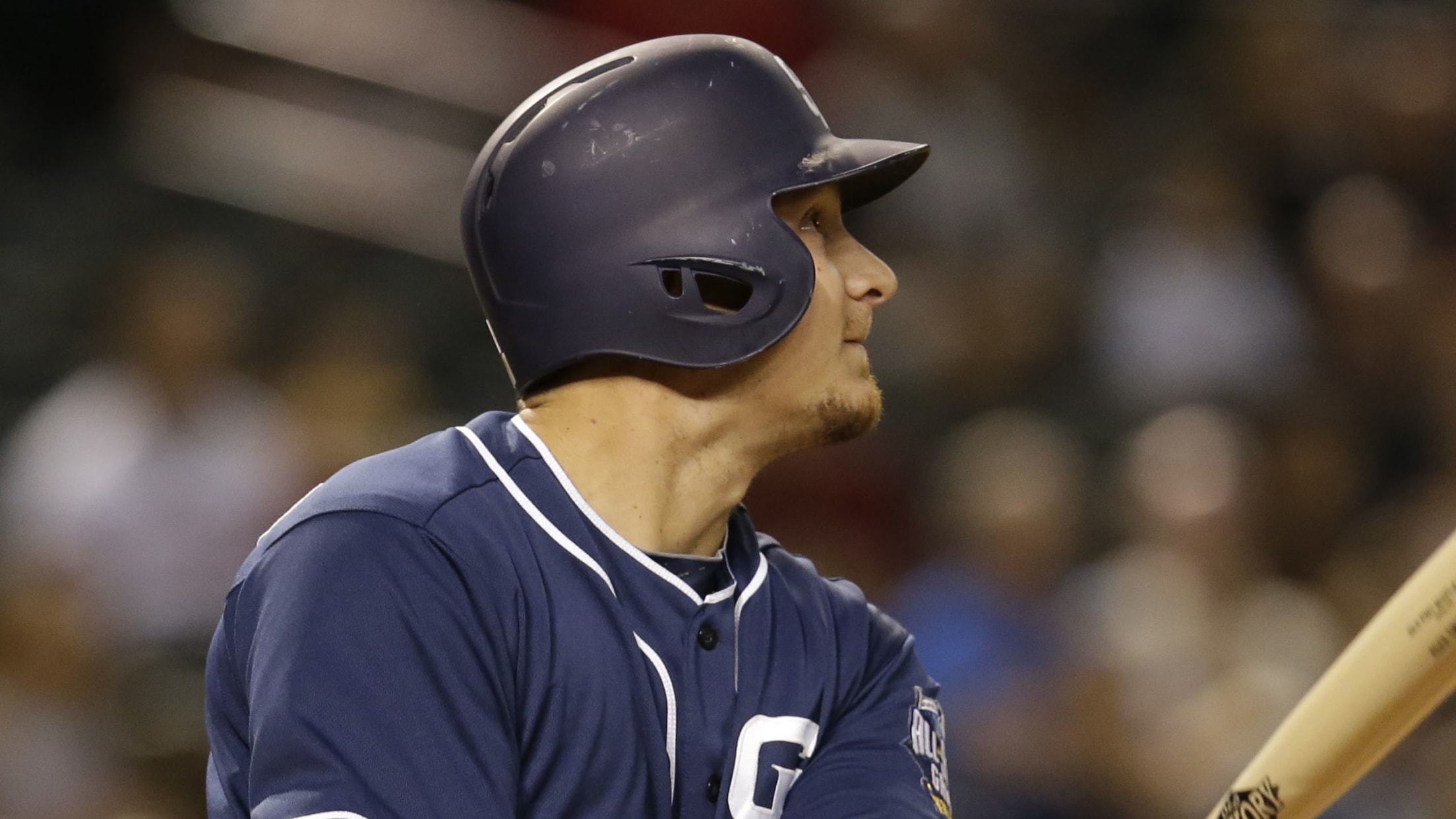 Outfielder Alex Dickerson has been diagnosed with a bulging disk in his back and will be out 3-4 weeks. (AP) (Rick Scuteri/AP)
PEORIA, Ariz. -- The news could have been worse but it wasn't good for Padres outfielder Alex Dickerson, who has been diagnosed with a bulging disk in his back and will be out 3-4 weeks.Padres manager Andy Green said the good news was that Dickerson won't need surgery but acknowledged
PEORIA, Ariz. -- The news could have been worse but it wasn't good for Padres outfielder Alex Dickerson, who has been diagnosed with a bulging disk in his back and will be out 3-4 weeks.
Padres manager Andy Green said the good news was that Dickerson won't need surgery but acknowledged that it's a significant setback for the second-year player who showed strong offensive promise last year as a rookie.
"He won't be breaking [camp] to start the season with us, and then at 3-4 weeks, it'll take time to get back after that," Green said. "So he's kind of rest and active rest for the next few weeks. From the good side of things, we're happy it's not surgery."
Green said Dickerson received an epidural injection from the spinal specialist he visited while back in San Diego, and Dickerson is expected back in camp Thursday. Dickerson had been held out of game action with the injury before playing in a game last Saturday, but the injury recurred, setting in motion the series of events that led to his diagnosis.
Dickerson batted .257/.333/.455 with 10 homers in 84 games as a rookie last season. He struggled after sustaining a hip injury from a warning-track collision with Travis Jankowski on July 29. It's unclear whether this injury is related at all to that one.
With Dickerson out, other outfielders in camp have a window of opportunity to get into the starting mix come Opening Day, and the Padres might think outside the box for other options.
"Obviously, it opens up opportunity for Jabari [Blash] and it opens up opportunity where we'll look at Allen Cordoba in the outfield a little bit more -- he's playing shortstop today," Green said Thursday morning. "We might start entertaining the idea to start hitting fly balls to [infielder] Cory Spangenberg to check his versatility level at this point in time, and we'll try to give ourselves as many options as possible going into the season."
John Schlegel is a national reporter for MLB.com. You can follow him on Twitter at @JohnSchlegelMLB.