Journeyman Smith called up for pitching depth
Brewers send down Williams after 'heroic' effort as roster juggling continues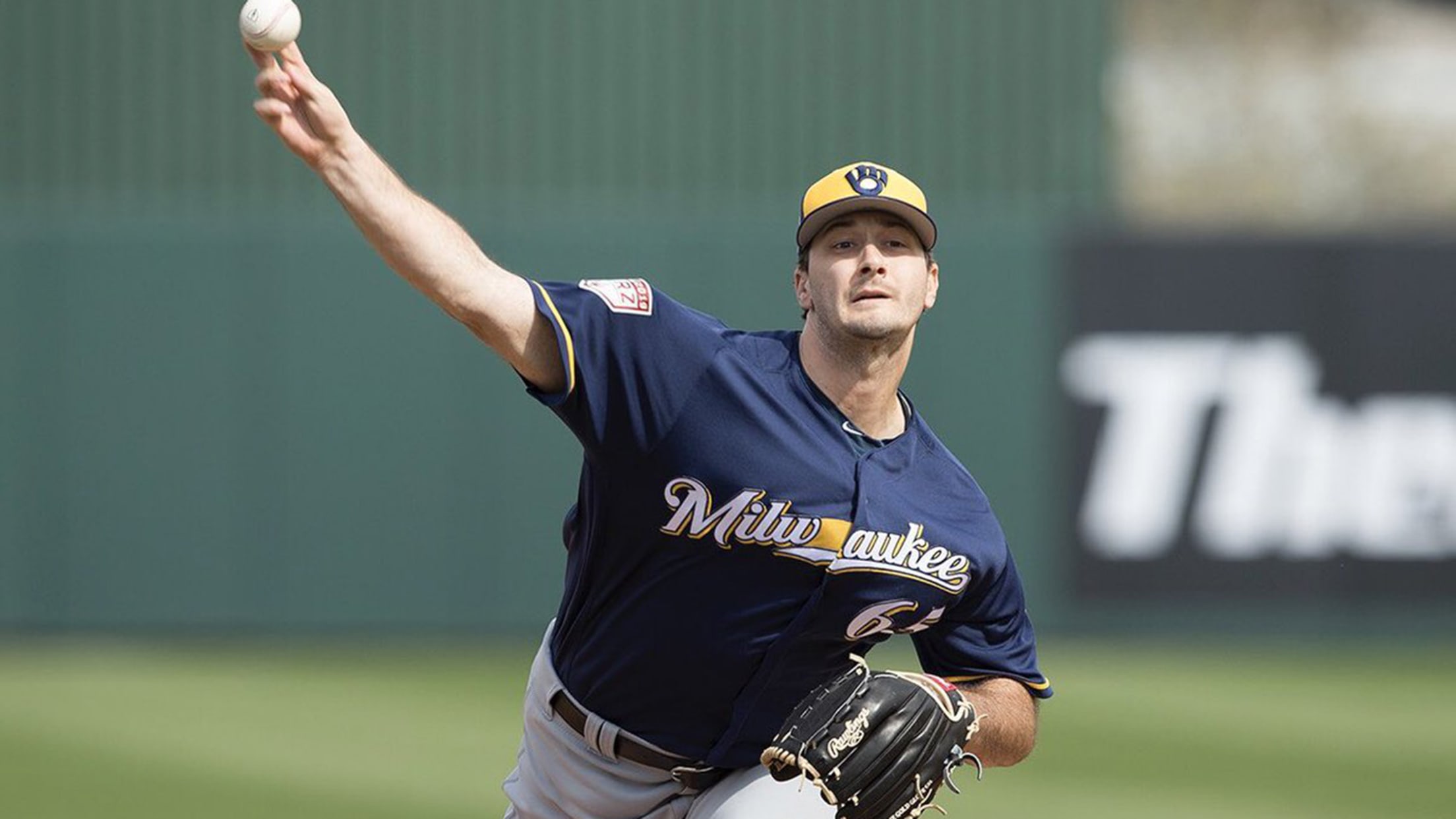 MILWAUKEE -- Facing an acute need for pitching in the wake of Chase Anderson's aborted start Wednesday and an 18-inning marathon Saturday, and with most of their 40-man roster options unavailable, the Brewers brought in someone new on Sunday morning: Burch Smith, the journeyman right-hander who was off to a
MILWAUKEE -- Facing an acute need for pitching in the wake of Chase Anderson's aborted start Wednesday and an 18-inning marathon Saturday, and with most of their 40-man roster options unavailable, the Brewers brought in someone new on Sunday morning: Burch Smith, the journeyman right-hander who was off to a solid start for Triple-A San Antonio.
Smith was 3-1 with a 1.37 ERA in five starts for the Missions and arrived reasonably rested after last pitching on Wednesday. He joined a Brewers bullpen that covered 12 2/3 innings of Saturday's 4-3 win over the Mets, the final four innings by Taylor Williams, who was rewarded for his valiant effort with a demotion to clear a 25-man roster spot for Smith. To clear a 40-man roster spot, the Brewers designated Jay Jackson for assignment.
"He's pitched well," said Brewers manager Craig Counsell of Smith, "but there's no question that 'length' was a factor in who we recalled today. He's three days off after a start."
Smith, 29, was a non-roster invitee to the Brewers' Spring Training camp. He pitched 38 times for the Royals last season, including six starts, with a 6.92 ERA. He also pitched briefly in the Majors for the Padres in 2013.
The Brewers have liberally made use of roster moves for several years, but circumstances have demanded a new level of activity in the past nine days. In that span alone, the Brewers have formally signed Gio Gonzalez; reinstated Junior Guerra from the bereavement list; sent Freddy Peralta on a rehab assignment and brought him back; placed Anderson and Aaron Wilkerson on the 10-day injured list; called up Jackson, Donnie Hart, Corbin Burnes, Adrian Houser and Smith; sent down Jackson, Hart, Williams and Jacob Barnes; and designated for assignment Jake Petricka, Alex Wilson and Jackson.
That's all in the past week and a half.
"We're actively managing the roster, and it's for health a lot of times," Counsell said. "It's to protect players' health. And some of the players with the options definitely get a little see-sawed and yo-yoed, but we're actually protecting everyone's health. That's why we're doing it."
The Brewers had to go to Smith because the Major League-ready relievers already on the 40-man roster like Barnes and Hart had not spent the required 10 days in the Minor Leagues before they are eligible for recall.
Williams departs on high note
Counsell referred to Williams' four-inning, 51-pitch effort in Saturday's win as "heroic," just like Hart's extended, three-inning stint against the Rockies last week helped prevent a bullpen disaster after Anderson was scratched at the last minute because of a cut on his finger. Because each player has options, Hart and Williams both found themselves headed to the Minors the next day.
"Taylor did a great job. But he's unable to pitch for the next several days, so you have to do it," Counsell said.
Williams said he felt surprisingly good on Sunday morning after the longest outing of his Major League career by innings and pitches. He was the Brewers' last available reliever.
"When it's a tie game like that, you just try to be as locked in as possible and throw every pitch to the best of your ability," Williams said before departing. "I knew Houser could give a little more length than I could, so when he went in, I was like, 'I hope he goes a little while.' Then when his spot came up in the order and we hit for him, it was like, 'Alright, here we go. I'm going to have to give us a little bit of length.' …
"I felt pretty good, honestly. I think you get lost in the moment of the game [even though] you know you're the only guy left."
Last call
• Jimmy Nelson was scheduled to make his first rehab "start" on Sunday at Triple-A San Antonio, though it won't be reflected that way in the box score. Nelson took over in the resumption of a game that was suspended Friday in the bottom of the fourth inning.
• Wilkerson, sidelined by a bruised left foot, is scheduled to make a rehab start for San Antonio on Tuesday. Since he just hit the injured list last week, Wilkerson could be ready to return to active duty after that one outing.
• By issuing only one walk in 18 innings on Saturday, the Brewers became the first team to not walk multiple batters in a game of at least 18 innings since the 1989 Expos, who didn't issue a single free pass in a 1-0, 22-inning loss against the Dodgers on Aug. 23 of that season.