These are Buster's 10 Giant moments
The backbone of three championship teams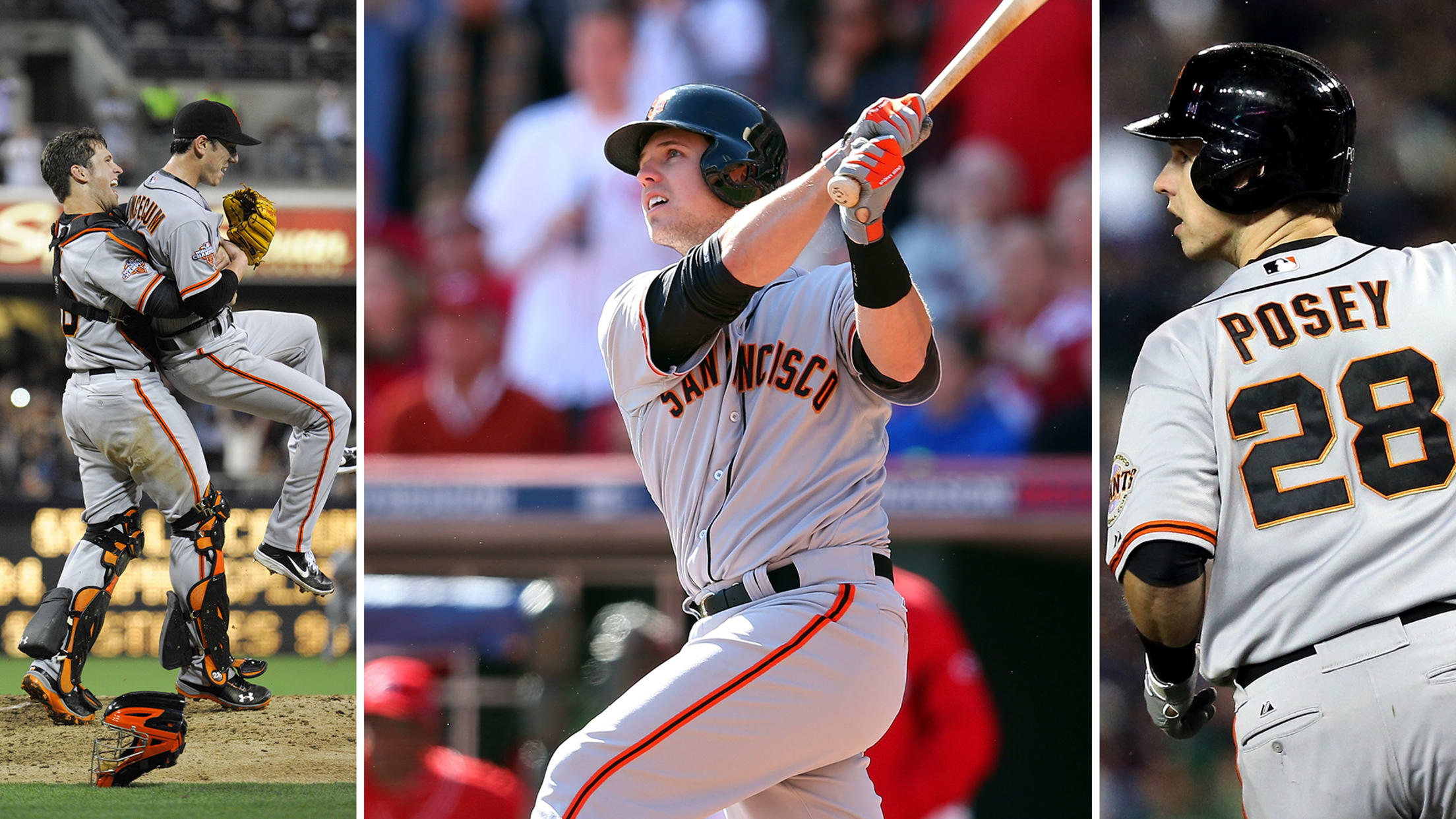 SAN FRANCISCO -- On May 29, 2010, the Giants called up a top catching prospect from Triple-A Fresno named Buster Posey for good. The move proved to be one of the most impactful transactions in franchise history. Over the next decade, Posey emerged as the fulcrum of the Giants' three
SAN FRANCISCO -- On May 29, 2010, the Giants called up a top catching prospect from Triple-A Fresno named Buster Posey for good. The move proved to be one of the most impactful transactions in franchise history.
Over the next decade, Posey emerged as the fulcrum of the Giants' three World Series-winning teams, developing into a National League Rookie of the Year Award winner in 2010, an NL MVP Award winner in '12, a six-time All-Star and a four-time Silver Slugger Award winner.
To mark the 10th anniversary of Posey's permanent arrival, MLB.com is taking a look back at 10 of his best moments with the Giants:
1) The slam that silenced Great American Ball Park
Oct. 11, 2012, at Reds in Game 5 of the NL Division Series
The Giants made history en route to their second World Series title in three years, becoming the first team to clinch a best-of-five postseason series by winning three consecutive road games after dropping the first two at home. Posey, the soon-to-be NL MVP, delivered the biggest blow in the decisive game at Great American Ball Park, launching a towering grand slam off Mat Latos to break the game open for the Giants in the fifth inning.
"It was a weird feeling because I don't think I've heard a place get that quiet," Posey said afterward. "So it's kind of weird running around the bases and you didn't really hear a sound. But I was just fortunate to get a good pitch to hit and got the barrel on it, and it left the park."
2) The marathon-ending walk-off homer
May 12, 2017, vs. Reds
A 17-inning staredown between the Giants and Reds finally came to an end when Posey belted a 431-foot shot off Robert Stephenson at 12:43 a.m. ET on May 13. After five hours and 28 minutes of baseball, Posey simply dropped his bat and breathed a sigh of relief as he began his trot around the bases.
"I was just glad it was over," said Posey, who caught the entire game. "It gets to the point when you're playing this many extra innings that your body hurts. There's no way around it. It just hurts."
3) The prescient 2010 debut
May 29, 2010, vs. D-backs
Posey was a September callup with the Giants in 2009, but he had to wait a couple months before receiving another shot in the Majors. When veterans Mark DeRosa and Édgar Rentería went down with injuries, the Giants saw a window to promote a 23-year-old Posey and give him big league at-bats. He ended up providing an instant jolt to the club's struggling offense, going 3-for-4 with three RBIs in a 12-1 rout of Arizona.
Posey never returned to the Minors. He batted .305/.357/.505 with 18 home runs and 67 RBIs over 108 games on his way to earning the NL Rookie of the Year Award in 2010.
4) The walk-off shot that beat L.A.
May 3, 2013, vs. Dodgers
Bruce Bochy had it all sketched out. If Posey led off the bottom of the ninth by reaching base, the Giants manager would deploy the speedier Gregor Blanco as a pinch-runner to improve the odds of snapping the 1-1 tie. Posey soon rendered Bochy's plans moot, though, when he crushed a 3-2 fastball from Dodgers reliever Ronald Belisario out to left field for his first career walk-off hit.
5) The Buster Hug following Tim Lincecum's first no-hitter
July 13, 2013, at Padres
Posey was behind the plate for each of Lincecum's 148 pitches at Petco Park that afternoon. When Blanco secured the 27th out in left field, Posey rushed to the mound and hoisted his stunned batterymate in a trademark Buster Hug. Posey has dished out plenty of celebratory embraces over his career -- he also caught Matt Cain's perfect game in 2012 and Chris Heston's no-no in '15 -- but this one provided an indelible snapshot of the pure joy of Lincecum's feat.
6) The Fall Classic blast
Oct. 28, 2012, at Tigers in Game 4 of the World Series
The Tigers took their first lead of the World Series on Miguel Cabrera's two-run homer off Cain in the third inning, but it didn't last. In the sixth, Posey deposited a hanging changeup from Max Scherzer just inside the left-field foul pole for a two-run shot that put the Giants back in front, 3-2. Detroit came back to tie the game and force extra innings, but San Francisco went on to complete its sweep behind Marco Scutaro's game-winning single in the 10th.
"To get two in three years, it's unbelievable," Posey said at the time. "I think this time around, I appreciate it even more because I understand the difficulty of doing it."
7) The 21-game hitting streak
July 4-28, 2010
On July 1, 2010, the Giants traded veteran Bengie Molina to the Rangers and installed Posey as their primary catcher. Three days later, Posey responded with a career-high 21-game hitting streak, batting .440 with six home runs and 23 RBIs. It marked the second-longest hitting streak by a San Francisco rookie, trailing only Willie McCovey's 22-game stretch in 1959.
"I had fun with the streak," Posey said afterward. "But I concentrated on winning games as much as possible. In a way, it's nice the attention will go back to that instead of the streak."
8) The two great throws against Dee Gordon
Aug. 8, 2016, at Marlins
Posey won his first Gold Glove Award in 2016, and he showcased his defensive excellence with a pair of incredible throws against the fleet-footed Gordon, who has three stolen base crowns to his name. In the first inning, Gordon took off on a bounced pitch from Johnny Cueto, but Posey went around Christian Yelich and whipped a one-hop throw to Brandon Crawford at second base. Gordon was initially ruled out, though the call was overturned following a replay review.
Still, Posey came back to nab Gordon when it counted most, throwing out the speedster in the bottom of the ninth to preserve a 7-7 tie. The Giants ultimately won, 8-7, after Crawford produced an RBI single in the 14th to cap his seven-hit game.
9) The 10th-inning slam that downed the Crew
July 12, 2019, at Brewers
All-Star closer Will Smith blew his first save of the season after Yelich tripled and scored in the bottom of the ninth to force extra innings, but the Giants staged the decisive rally in the 10th when Posey launched a go-ahead grand slam off Matt Albers to lift San Francisco to a 10-7 win. The shot traveled an estimated 435 feet, marking Posey's longest home run since Statcast began in 2015.
10) The clutch defense against L.A.
April 24, 2017, vs. Dodgers
Posey has gotten the best of the Dodgers with both his bat and his arm. In yet another showing of his defensive savvy, Posey threw out the potential tying run at second base twice to thwart a pair of late-inning rallies by Los Angeles. After nailing Chris Taylor in the eighth, Posey caught Justin Turner wandering too far off the bag in the ninth and threw behind the runner to pick him off for the final out of the game.
Maria Guardado covers the Giants for MLB.com. She previously covered the Angels from 2017-18. Follow her on Twitter.