Hard contact shows Posey finding his form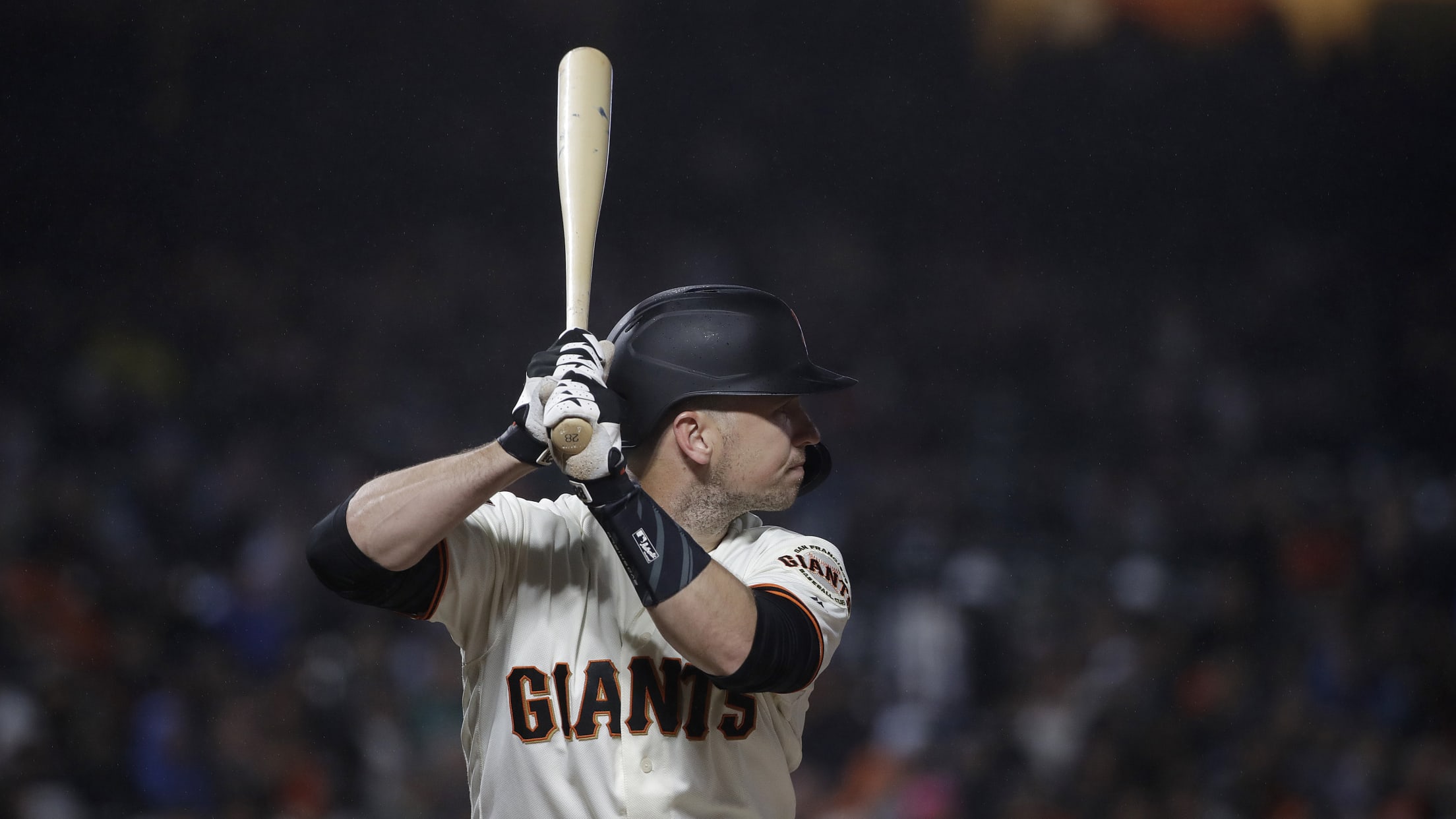 SAN FRANCISCO -- Buster Posey entered Tuesday hitting .207 (6-for-29) with no home runs or RBIs through his first eight games of the season, but the Giants believe his at-bats in Monday night's 6-5 loss against the Padres showed that he's close to finding his rhythm at the plate. Posey
SAN FRANCISCO -- Buster Posey entered Tuesday hitting .207 (6-for-29) with no home runs or RBIs through his first eight games of the season, but the Giants believe his at-bats in Monday night's 6-5 loss against the Padres showed that he's close to finding his rhythm at the plate.
Posey ripped a leadoff double off San Diego reliever Craig Stammen in the eighth inning that flew off his bat at 107 mph. It was his second-hardest-hit ball of the season, behind only his 107.3 mph groundout in the fifth. That type of hard contact eluded Posey as he played through a right hip injury that robbed him of his power last season. He hit only six balls harder than 107 mph between 2017 and '18.
"It's only going to get better, too," manager Bruce Bochy said. "You can see he's adjusting to his hip being fixed and the ability for him to release those hips when he swings. He's going to get more comfortable with it."
Posey, who underwent surgery to repair a hip impingement and a torn labrum in August, has had no significant setbacks thus far, but he received fewer at-bats this spring as the Giants slowly eased him back to action. Bochy has said he believes that may have contributed to Posey's slow start this year.
"I've always said it takes time when you've had a surgery," Bochy said. "Subconsciously, you're still a little hesitant maybe, even though you don't want to be. Your brain is telling you, 'Hey, I don't know if I'm ready to do this.' And you can see it getting better. I think you'll see more and more of that."
A productive Posey would be a much-needed boon to the Giants' lineup, which has batted just .203 with a .577 OPS over their 3-8 start to the season.
"It's up to your core players," Bochy said recently. "We can't lean on the other guys. They'll get it going. If you look around the league, there are some other guys that haven't found their rhythm either. That's going to happen. Meanwhile, you've got to scratch and claw for runs."
Duggar, Panik get days off
Steven Duggar received his first day off of the season Tuesday against Padres left-hander Joey Lucchesi. Duggar was the lone Giants regular to start each of thr club's first 11 games of the season.
"He finally gets his day off," Bochy said. "I knew it would be one game in this series, so I decided to give him tonight off; that way, he could have the day game [Wednesday]."
Gerardo Parra started in right field in Duggar's place, with Brandon Belt making his second consecutive start in left to free up first base for Tyler Austin. Parra suffered a cut lip in Monday's series opener after a 93 mph fastball struck his shoulder and ricocheted off his face, but he didn't require stitches and said he was fine.
Joe Panik also sat against Lucchesi, who has held left-handed hitters to a .629 OPS over his career. Yangervis Solarte, who has been swinging well from the right side, started at second base in Panik's place.
Austin acclimating to outfield
Austin shagged balls in left field Tuesday to begin the process of reacquainting himself with the outfield, where he hasn't played since 2017. Bochy said he expects Austin to be ready to play left field by the time the Giants open their next road trip in Washington, D.C., on Monday.
Maria Guardado covers the Giants for MLB.com. She previously covered the Angels from 2017-18. Follow her on Twitter.