Buxton, Donaldson status remains up in air
MINNEAPOLIS -- As various Twins players and coaches meandered onto the field for Monday afternoon's on-field workout, Byron Buxton also emerged from the dugout onto the light blue tarp around the batting practice cage. He joked around with some teammates, laughed at something and jogged out to center field to
MINNEAPOLIS -- As various Twins players and coaches meandered onto the field for Monday afternoon's on-field workout, Byron Buxton also emerged from the dugout onto the light blue tarp around the batting practice cage. He joked around with some teammates, laughed at something and jogged out to center field to shag some fly balls.
After a brief rain shower brought practice to a halt, Josh Donaldson emerged with the next group and started launching line drives to the opposite field.
• AL Wild Card Series presented by Hankook Tire, Game 1: Today, 2 p.m. ET/1 CT on ABC
The active participation of both Buxton and Donaldson is a step in the right direction for the Twins one day before the start of the three-game Wild Card Series against the Astros. After the pair of stars missed the final two games of the regular season with injuries sustained during Friday's game against the Reds, their return to the starting lineup would be a needed boost for the Bomba Squad.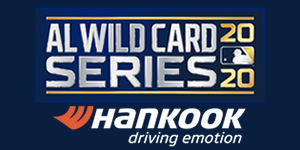 "We just want to learn as much as we can before we move forward and put anything in stone, but it was a relatively good day for both guys," manager Rocco Baldelli said.
Buxton also took some swings in the cage, Baldelli said, in addition to the shagging he did in the outfield. Donaldson's real test came later in the workout, when he went down the first-base line and to shallow right field with head athletic trainer Michael Salazar and strength and conditioning director Ian Kadish to play catch and test the mobility in his legs for the first time since his injury.
Buxton was removed from Friday's game after getting hit by a pitch in the helmet and suffering a head contusion and light concussion symptoms as a result. Donaldson was pulled after his right calf cramped up, the same muscle he strained earlier in the year.
Still, Baldelli cautioned, no firm decisions had yet been made regarding the club's roster for the Wild Card Series ahead of Tuesday's 10 a.m. CT deadline. The Twins will likely use all of that time to make last-second determinations about the roster.
• Twins-Astros Wild Card Series FAQ
"We're not going to be able to get into anything, because frankly, we're still going to be learning more over the second half of today and possibly in the morning," Baldelli said.
The recent injury histories of Donaldson, Buxton and Luis Arraez (left knee tendinitis, left ankle sprain) could force the Twins to include more infield depth on their roster for the Wild Card Series. Jake Cave could serve as Buxton insurance, and Marwin Gonzalez can fill in at both third and second base, but the absence of LaMonte Wade Jr., who was optioned to the alternate training site on Saturday, could also coax Gonzalez into backup outfield duty.
That would leave Ehire Adrianza as the Twins' only true infield depth, which could lead to the addition of either Willians Astudillo or Travis Blankenhorn.
It all depends on what the Twins are looking at on Tuesday morning.
Twins tuning out 2017 Astros history
The Twins have two prominent members of the 2017 Dodgers team that dropped the controversial World Series to the Astros in Rich Hill and Game 1 starter Kenta Maeda. Much of that Houston core is still intact on the 2020 club that will face Maeda in today's opener.
But Maeda and the rest of the Twins don't care about that at all. Their focus isn't on the history; it's on the opportunity in front of them.
"Not really," Maeda said. "I try not to let anything in the past affect what's going on right now. I'm no longer with the Dodgers. I'm a Twin now. I think my main focus right now is to go out there and pitch well to contribute to my team win."
Baldelli noted that he hadn't thought about it in any way in his preparation for the Wild Card Series, and he added that he hadn't heard his players discussing it in the clubhouse. The 2017 Astros aren't nearly as important to them as the '20 group taking the field in Minneapolis.
"It is what it is at this point," Tyler Duffey said. "We can't worry about that. We can't go out there and try and drill guys in a postseason game. We've got to play baseball. We've got to win games. That's what it's going to come down to. I think everyone in our locker room -- I can't say it enough -- we've stayed within ourselves and kept each other going."