Giants Wall of Fame adds 3 with more to come
Cain, Wilson, Vogelsong honored; World Series champions gain eligibility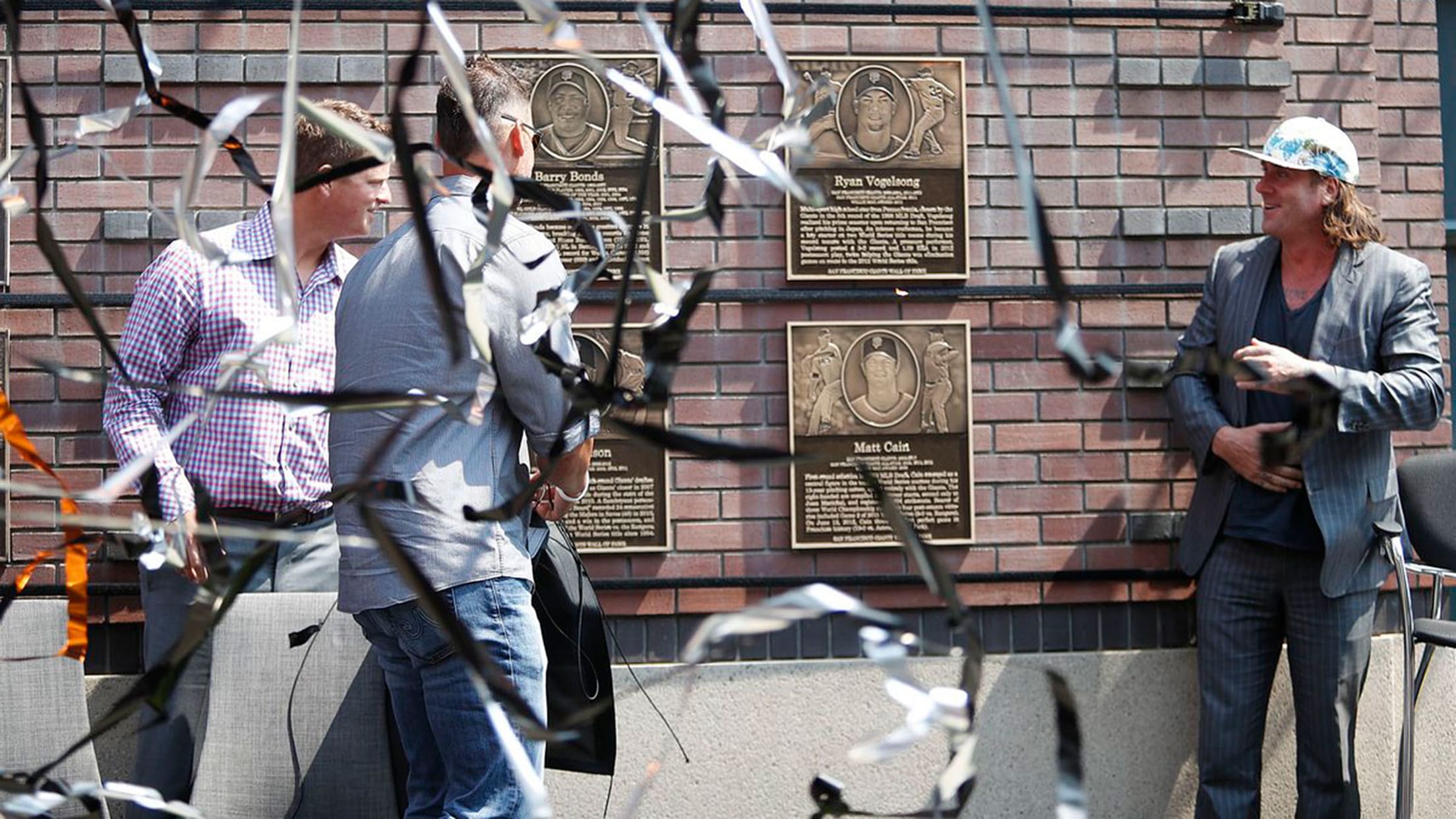 SAN FRANCISCO -- With Saturday's induction ceremony, right-handers Player Page for Matt Cain, Ryan Vogelsong and Brian Wilson became the first members of the Giants' Wall of Fame to hail from the franchise's stretch of three World Series champions in five seasons (2010, 2012 and 2014).They'll be far from the
SAN FRANCISCO -- With Saturday's induction ceremony, right-handers Player Page for Matt Cain, Ryan Vogelsong and Brian Wilson became the first members of the Giants' Wall of Fame to hail from the franchise's stretch of three World Series champions in five seasons (2010, 2012 and 2014).
They'll be far from the last, too.
The club announced Saturday that players to collect at least three World Series rings as Giants will be eligible for inclusion on the Wall. This was a not-so-subtle way of clearing spots on the King Street side of the ballpark exterior, where players' plaques are featured, to honor Jeremy Affeldt, Santiago Casilla and Javier Lopez, who formed most of the "Core Four" of relievers who stabilized the Series-winning pitching staffs.
"They're the reason we had the success that we did," Cain said. "It's hard to get to some of that criteria as a reliever. I think it's well-deserved."
3.....2....1.....

WELCOME to the Wall of Fame: Matt Cain, Ryan Vogelsong & Brian Wilson 🎉#ForeverGiant | #SFGiants pic.twitter.com/6HgAmACIRo

— San Francisco Giants (@SFGiants) July 28, 2018
The criteria for induction that Cain referred to had been limited to players who spent nine seasons with the Giants or earning at least one National League All-Star selection in five years or more with the club.
Right-hander Sergio Romo, the other "Core Four" member, qualified for the Wall according to the latter standard.
Other Giants who already have met standards for climbing onto the Wall include first baseman Brandon Belt, second baseman Joe Panik, shortstop Brandon Crawford, third baseman Pablo Sandoval and right-hander Timothy Lincecum.
As previous Wall inductees, team legends and Hall of Famers such as Willie Mays, Willie McCovey, Orlando Cepeda, Chris Speier and Dave Dravecky watched, Cain, Vogelsong and Wilson swapped anecdotes and exchanged sincere expressions of praise about each other as they increased the number of Wall honorees to 52. Giants manager Bruce Bochy and catcher Buster Posey also spoke.
Buster's got jokes 🤣#SFGiants pic.twitter.com/gnW7SyD6gt

— San Francisco Giants (@SFGiants) July 28, 2018
Highlights included:
• Vogelsong's tale of Cain depositing hundreds of clothes hangers in his locker at random times -- then receiving a box stuffed with 250 hangers several months ago. "He would get so many that his locker wasn't organized," Cain said.
• Wilson's salute to the fans, hundreds of whom formed a cluster of adulation on King Street. "We're not here today without you," said Wilson, who's currently developing homes in Southern Californina. "It's so good to be here. This is home!"
• Vogelsong on the inspiration that Wilson provided: "Brian had the knack of saying things to me that would make me go, 'Yes, I can do it.'"
Saturday afternoon ceremony success.#ForeverGiant | #SFGiants pic.twitter.com/rB3JDku4jv

— San Francisco Giants (@SFGiants) July 28, 2018
• Cain reminisced about meeting Lee Elder, San Francisco's scout who drafted him out of Houston High School in Germantown, Tenn., and sensing immediately that he wanted to remain a Giant for life. "That never left me," said Cain, who indeed spent his entire Major League career (2005-17) with the Giants.