'Bedrock' nickname runs in family for Bedrosian
Shoemaker throws sim game; Halos heading to Mexico; Trout nears return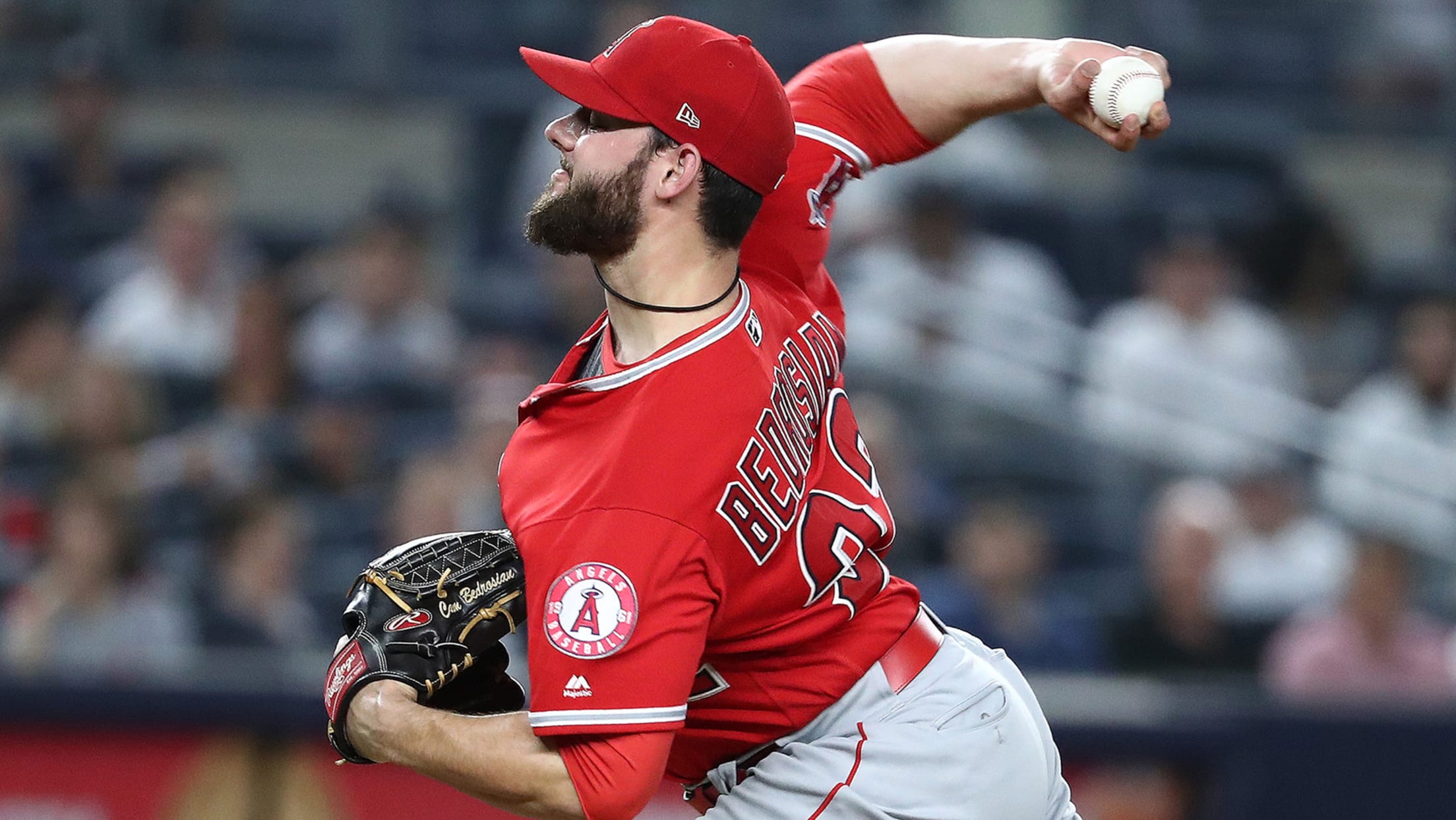 NEW YORK, NY - MAY 25: Cam Bedrosian #32 of the Los Angeles Angels pitches against the New York Yankees during their game at Yankee Stadium on May 25, 2018 in New York City. (Photo by Al Bello/Getty Images) (Al Bello/Getty Images)
PHOENIX -- Angels right-hander Cam Bedrosian will take the field this weekend with "Bedrock" proudly emblazoned on his back as part of Players' Weekend.Family traditions mean a lot."Growing up, people always called us 'Bedrock' or 'Bedrock Jr.,'" Bedrosian said. "It's always been a part of what we are, and people
PHOENIX -- Angels right-hander Cam Bedrosian will take the field this weekend with "Bedrock" proudly emblazoned on his back as part of Players' Weekend.
Family traditions mean a lot.
"Growing up, people always called us 'Bedrock' or 'Bedrock Jr.,'" Bedrosian said. "It's always been a part of what we are, and people have always called us that.
:: Players' Weekend presented by Valspar Stain ::
"I thought for Players' Weekend it would be a good tribute to my dad. It's a cool nickname, and I take a lot of pride in it."
Steve Bedrosian was first called "Rocky" in the Minor Leagues before one of his coaches added "bed," and "Bedrock" was born. Steve had an 18-year professional career, 14 of which were in the Majors, mostly with Atlanta and Philadelphia. He retired with 184 saves.
• Shop for Players Weekend gear
Steve grew so fond of the name that Cam's middle name is Rock.
The Angels play a three-game home series against the Astros during Players' Weekend.
• 2018 Players Weekend nicknames
Shoemaker confident he'll return
Confident that his right arm is sound again after forearm surgery, right-hander Matthew Shoemaker threw a 30-pitch bullpen session at Chase Field on Wednesday afternoon and came away believing he could pitch in a Major League game before the season ends.
"We don't have anything planned, but definitely the hope is, if everything keeps progressing and feels great, we'll be ready for September," Shoemaker said.
Shoemaker threw to hitters in a simulated game at the Angels' Spring Training complex in Tempe, Ariz., on Sunday and is to throw another one Friday, the plan being to extend to 45-50 pitches.
Shoemaker made one start this season before undergoing surgery in May to repair a split pronator tendon in his right forearm, an injury that was discovered in an exploratory procedure after a handful of MRIs could not detect the issue.
Shoemaker said he felt the same symptoms last season, but his surgery that time only widened a compressed nerve tunnel. This time, he believes the issue has been corrected.
"That's why it's been all so frustrating, because I've been dealing with the same thing since last year," Shoemaker said. "Nobody had ever seen this before. It never showed up on any image. And that sucks, but we did everything."
Shoemaker tried to return three times last season, but the pain persisted.
"It feels different this time," Shoemaker said. "I feel completely normal. I feel strong."
Angels set to head to Mexico
The Angels are one of four teams scheduled to play regular-season games in Monterrey, Mexico in 2019. They will play Houston on May 4-5 at Estadio de Beisbol Monterrey.
"I think it's exciting," said Shoemaker, the Angels' Players Association representative.
The Angels have off-days on both side of the series, mitigating the travel issues that present themselves on trips East.
"I know MLB is doing a good job of growing the game, and we all want to grow the game together," Shoemaker said. "Doing these international games, I think it really does help and contribute to that."
Trout nearing return
Center fielder Michael Trout is expected to return to the team and be activated for the three-game series against Houston this weekend after missing nearly three weeks with a right wrist contusion.
"He's going to obviously have to come out and get some workouts in, but we hope so," manager Mike Scioscia said about Trout's activation.
Jack Magruder is a contributor to MLB.com based in Phoenix.