Camden Finney inspired by past, Dan Dugdale
Mariners' senior marketing manager relative of PNW baseball legend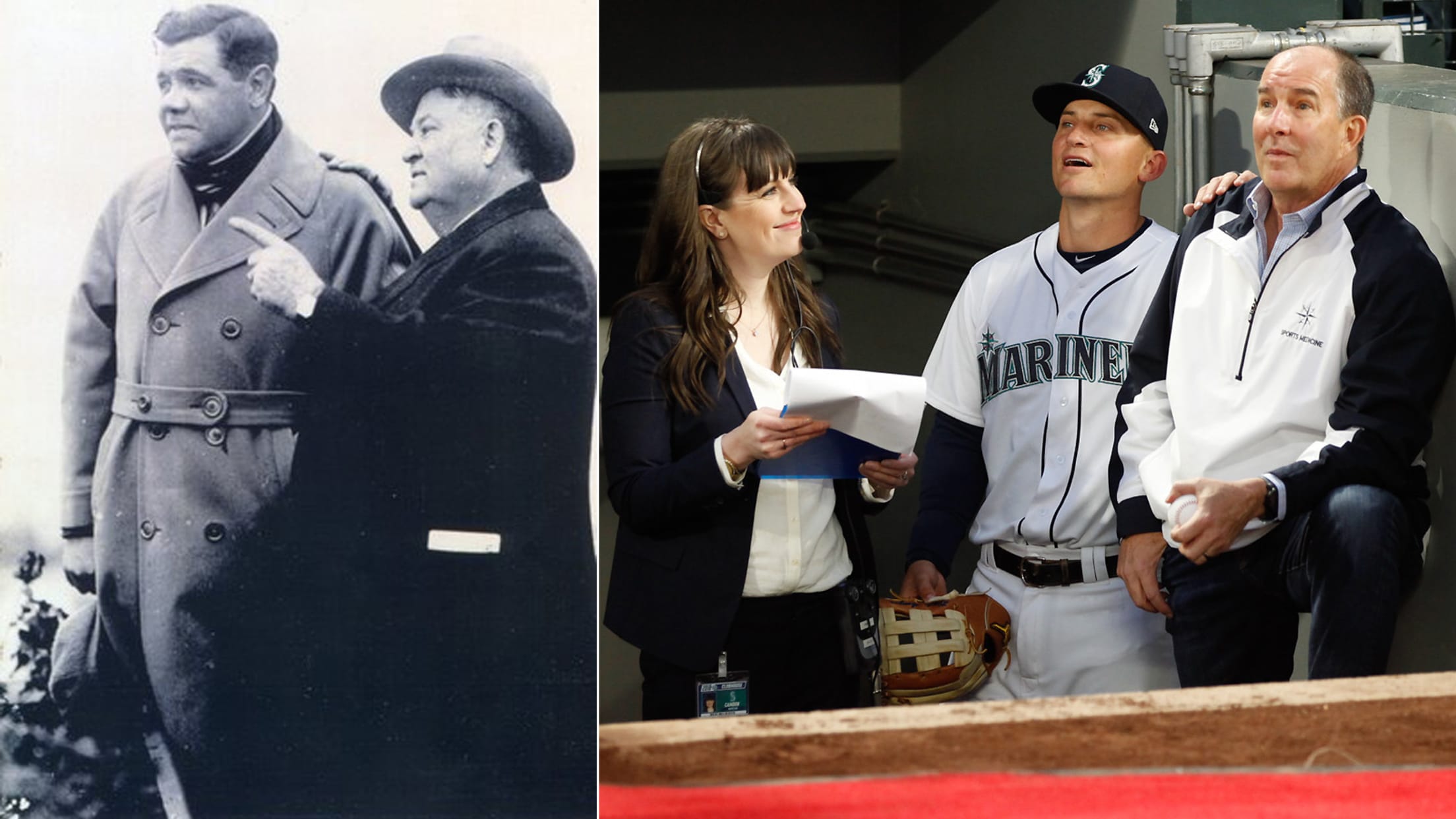 "Great-great-great-niece of the Father of Seattle Baseball" is one title for Camden Finney, but her email signature reads, "Sr. Marketing Manager, Seattle Mariners."Finney holds a distant family tie to the late Dan Dugdale, a man who received a lot of the credit for bringing baseball to the Pacific Northwest."I found
"Great-great-great-niece of the Father of Seattle Baseball" is one title for Camden Finney, but her email signature reads, "Sr. Marketing Manager, Seattle Mariners."
Finney holds a distant family tie to the late Dan Dugdale, a man who received a lot of the credit for bringing baseball to the Pacific Northwest.
"I found out maybe middle school or high school that we had this family history of baseball," Finney said. "My parents had always brought us to Mariners games when we were young, and that's where my love for baseball developed."
Dugdale -- a recent inductee into the Washington Sports Hall of Fame -- was a catcher in the Major Leagues the 1880s, but would end up having a much larger impact off the field. His move west was originally intended to take him to the Klondike Gold Rush, but he instead became a central behind-the-scenes figure in baseball's development in the state of Washington.
"That entrepreneurial state of mind -- he just wanted to make money and make it quickly -- and the gold rush, at the time, that's how you did it," Finney said. "So many people came out to the Pacific Northwest because they were seeking gold, and a lot of them never made it to Alaska and settled and ended up doing something else."
Dugdale's something else involved building the first double-decker stadium on the West Coast, organizing parades to promote his teams and even bringing Babe Ruth to an exhibition game.
As it turns out, Finney would be faced with a similar task nearly a century later: sending Jean Segura to the All-Star Game. The Mariners' shortstop was a Camping World MLB Final Vote candidate after not making the American League All-Star team initially, despite a .329 batting average when rosters were announced.
"That was definitely an all-hands-on-deck campaign," Finney said. "We had to make people aware of what was going on, and our fans took it from there."
Finney remembers initially texting with her boss to brainstorm ideas of how to make sure Segura beat out the other four American League Final Vote candidates.
"I was like, 'What more can we do? We need to do something. We need an event,'" Finney said. "My idea was something smaller, and once people started talking it became this bigger thing."
The result was a voting event at Safeco Field where about 1,000 fans came during their lunch hour to stuff the virtual ballot boxes for Segura. On the whole, the campaign was a massive success, with Segura winning the Final Vote and having one of the best offensive performances at the All-Star Game, going 2-for-2 with a home run, three RBIs and two runs scored.
"It was such an incredible and fun experience," Finney said. "All the hard work of everyone here actually paid off."
Although Finney and Dugdale were both marketing baseball in the Pacific Northwest, they did so in entirely different settings. One key difference: the presence of women in sports. Finney recently attended a Mariners pregame event called Celebrating Women in Baseball -- an event she agreed could not have existed in the days of Dugdale.
"Females are definitely playing a bigger and bigger role," Finney said. "Sports is still very male-dominated, but I think we're making great strides to bring that a little more level, if you will. So this is one way that we can showcase that and some of the work that great people in our organization do."