Red Sox sign top Draft pick Cannon, seven more
Updates on Brasier, Pedroia, Wright from Cora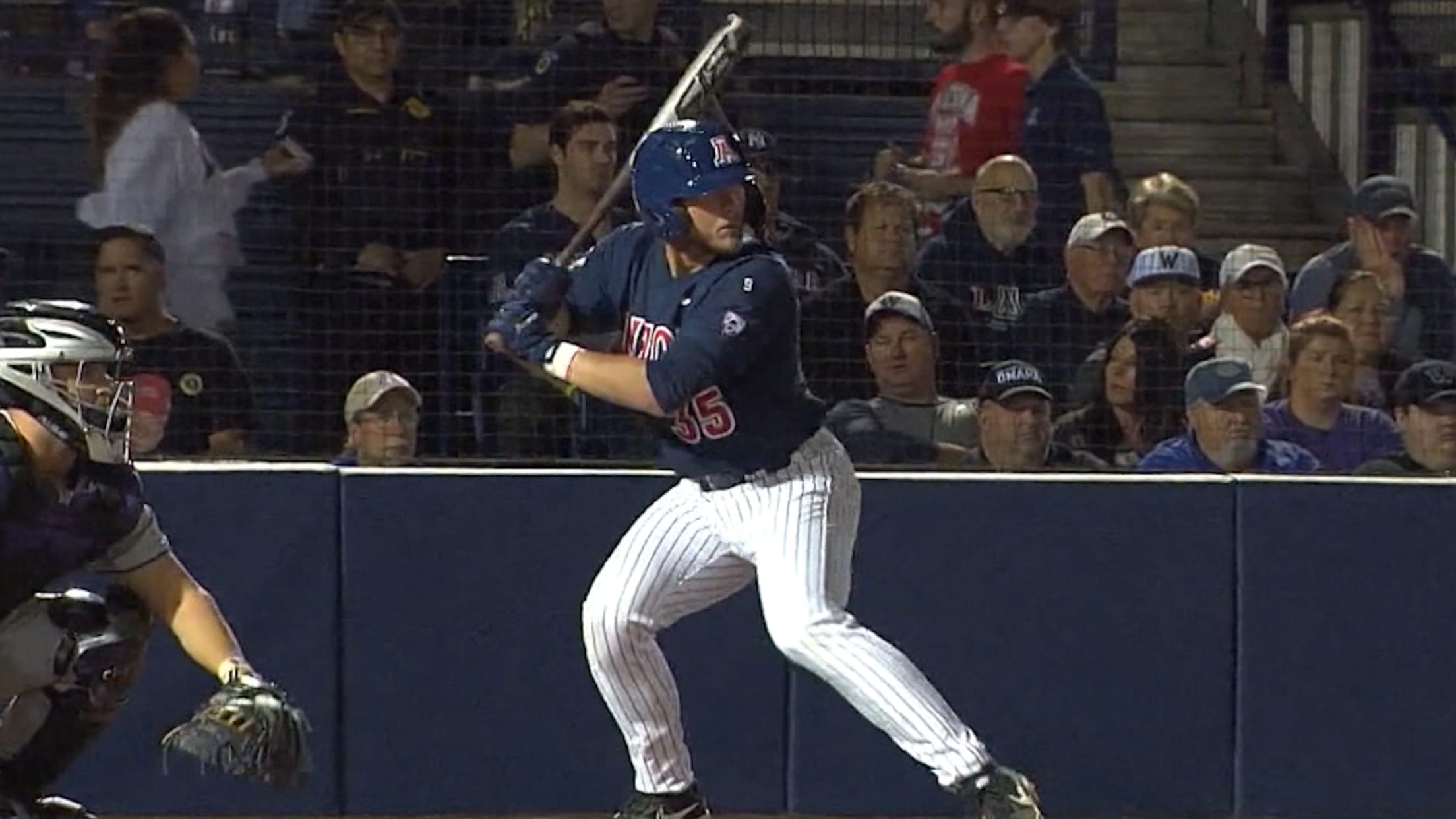 BALTIMORE -- The Red Sox announced Saturday that they have agreed to terms with Cameron Cannon, a second rounder who was their top pick in the 2019 Draft, as well as seven additional Draft picks. Cannon's deal is worth $1.3 million, according to MLB Pipeline's Jim Callis. The signing of
BALTIMORE -- The Red Sox announced Saturday that they have agreed to terms with Cameron Cannon, a second rounder who was their top pick in the 2019 Draft, as well as seven additional Draft picks. Cannon's deal is worth $1.3 million, according to MLB Pipeline's Jim Callis.
The signing of the University of Arizona shortstop at that amount, which is well under the slot value of $1.73 million at 43rd overall, gives Boston some additional flexibility with its remaining unsigned picks. The deal also comes a day after the club made six other Draft signings official, including its third-, fifth-, seventh- and eighth-round picks, among others.
Boston's first pick was moved 10 spots down in this year's Draft after going $40 million over the luxury tax threshold in 2018.
With a deal now in place, the Red Sox have secured themselves a middle-infield prospect known for having an astute ability to control the strike zone and secure consistently hard contact on line drives.
On defense, Cannon is seen by scouts to be reliable with his hands, but he projects to perhaps one day make a move to second base given his average arm from the left side of the infield. Cannon has been stretched around the infield during his amateur career, including spending time at both short and second for Arizona.
Cannon will report to Boston's training facilities in Fort Myers, Fla., before joining Class A Short-Season Lowell.
"We like a lot about him," Red Sox vice president of amateur scouting Mike Rikard said of Cannon after drafting him. "He's a very good hitter. We like his swing path. He does things as far as controlling the strike zone and limiting his strikeouts that we value. He's got good power now and we think there may be more evolving power he has a chance to grow into as he continues to mature as a hitter.
"One of the real pluses for him in that regard is he's very versatile," Rikard added. "He's played quite a bit of shortstop at the University of Arizona, but he's also played some second base as well as playing some third base last summer at the Cape [Cod League]. Not exactly sure what's going to be the best fit for him, but we do like the fact that he's been able to move around throughout his career. We'll give him an opportunity to kind of prove himself at shortstop. But we do know that he's got a chance to fit at some other spots as well."
Cannon's most recent amateur season was not too shabby. An Arizona native, Cannon had a big junior campaign, when he hit .397 with 29 doubles, three triples, eight homers, 56 RBIs and a 1.129 OPS in 56 games. His 29 doubles were the most in the NCAA this season.
Cannon's junior season came after a summer that earned him All-Star honors in the Cape Cod League. During that summer, he took part in a workout at Fenway Park that planted the seed of what it might be like homering over the Green Monster one day.
"I think it's going to translate great," Cannon said June 4, when asked how his swing could play at Fenway. "I'm excited to get out there. I actually did a workout there last summer playing in the Cape Cod League. I got a good feel for playing on the field. I'm excited to get out there, work those gaps, and pepper the Green Monster out in left."
As far as the seven additional signings, the Red Sox announced they have come to terms with catcher Jacob Herbert (18th round), right-handed pitcher Dylan Spacke (21st round), first baseman Dom D'Alessandro (22nd round), center fielder Leon Paulino (23rd round), outfielder Dean Miller (24th round), left-hander Brandon Walter (26th round) and right-handed pitcher Devon Roedahl (27th round).
All seven will report to the Gulf Coast League Red Sox.
Brasier expected back Monday
Reliever Ryan Brasier is expected to re-join the Red Sox Monday after being placed on the bereavement list on Tuesday, manager Alex Cora said Saturday. He'll help bolster a bullpen that was heavily relied on entering the series in Baltimore.
Cora speaks with Pedroia
Cora said Saturday that he's been in touch with ailing second baseman Dustin Pedroia and said the former MVP is "separating himself" from the madness of a Major League season but still keeping tabs on the squad.
"He's paying attention," Cora said. "I think the other day in one of the hitter's meetings he FaceTimed the guys. He's in a good place with [his wife] Kelli and the kids … and just relaxing, which is good."
Worth noting
Steven Wright will pitch two innings with Triple-A Pawtucket Sunday, Cora said. The pitcher is still awaiting the expiration of his 80-game suspension for PED use, and when he's back Cora is eyeing the knuckleballer as a middle-of-the-inning, runners-on-base reliever.
"To bring him on with second and third with two outs with the knuckleball, sometimes you have to think about it," Cora said. "For him it will be good, but at the end we have to do it here, at the big league level."
First baseman Steve Pearce went 1-for-3 with an RBI double in his first rehab game with Class A Short-Season Lowell since landing on the injured list with a lower back strain. Next for the reigning World Series MVP is five to six innings at first base, Cora said.
"We are in a good place," the manager said overall.