Ruppapalooza to benefit Pa. SPCA chapter
Phillies catcher and dog lover hosting event Thursday at Morgan's Pier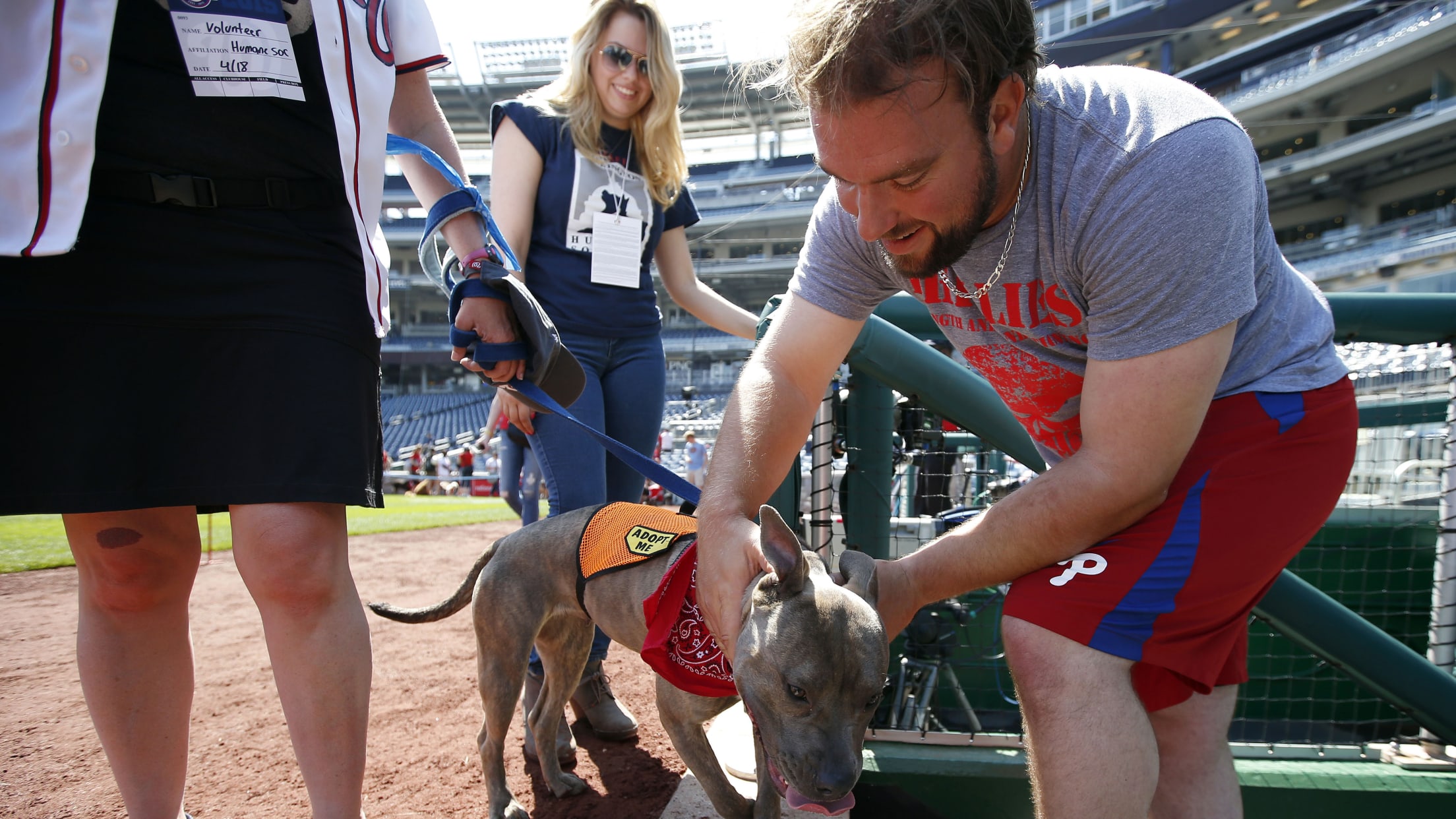 Cameron Rupp wants people to meet dogs, get past the stigmas many breeds receive and adopt them. (Alex Brandon/AP)
PHILADELPHIA -- Ten years ago as a sophomore in college, Phillies catcher Cameron Rupp adopted a dog from the Society for the Prevention of Animal Cruelty (SPCA). On Thursday, he's hosting the first Ruppapalooza to benefit the Pennsylvania chapter of the SPCA.Ruppapaloza will be held at Morgan's Pier on Thursday
PHILADELPHIA -- Ten years ago as a sophomore in college, Phillies catcher Cameron Rupp adopted a dog from the Society for the Prevention of Animal Cruelty (SPCA). On Thursday, he's hosting the first Ruppapalooza to benefit the Pennsylvania chapter of the SPCA.
Ruppapaloza will be held at Morgan's Pier on Thursday from 6-9 p.m. ET. Former Phillies will serve as bartenders in addition to participating in games and more aimed to raise money for Pennsylvania SPCA.
A SPCA rep saw Rupp playing with the puppies during the Phillies' Bark in the Park in May and approached him.
"That opened the door and boom, here we go," Rupp said playing with a pair of dogs in the Phillies' dugout Monday afternoon. "I talked to people at my agency who do the marketing and my agent as well and they thought it would be a great idea. I'm excited. I wish I could take all these dogs home."
When the opportunity presented itself, Rupp pounced.
"It's something that you don't really think about when you adopt. When I went, I went on the website and said I want that dog," Rupp said. "I went in and took her home that day. Ten years later, here I am helping support these little puppies and helping them find a home. Everyone needs a home. It's a man's best friend."
Getting people in front of the puppies, past the stigmas many breeds receive, and getting them adopted is Rupp's goal.
"There's so many different breeds and a lot of breeds are looked at in certain ways," he said. "You don't know a dog until you get up and meet it firsthand. ... You hear 'Oh, well he's a mean dog.' Go and spend some time with it and find out if he's mean or not.
"They all deserve a home just like any animal and an owner that loves them and takes care of them and wants to be around them. Because all these guys want is someone to play with."
Pups have always been a part of his life. He has three dogs at home: Frito, an adopted boxer-pitbull mix, Chief, an Italian mastiff, and Beaux, a lab. Rupp has even had his own dog ear-wearing fan group at Citizens Bank Park called Ruppies Puppies.
"My goal is to make Ruppapalooza an annual event, in which we take on a wide variety of animal-related issues and hopefully figure out a way to make a significant difference," Rupp said in a press release.
Ben Harris is a reporter for MLB.com based in Philadelphia.