Six players on Cards' 2019 Hall of Fame ballot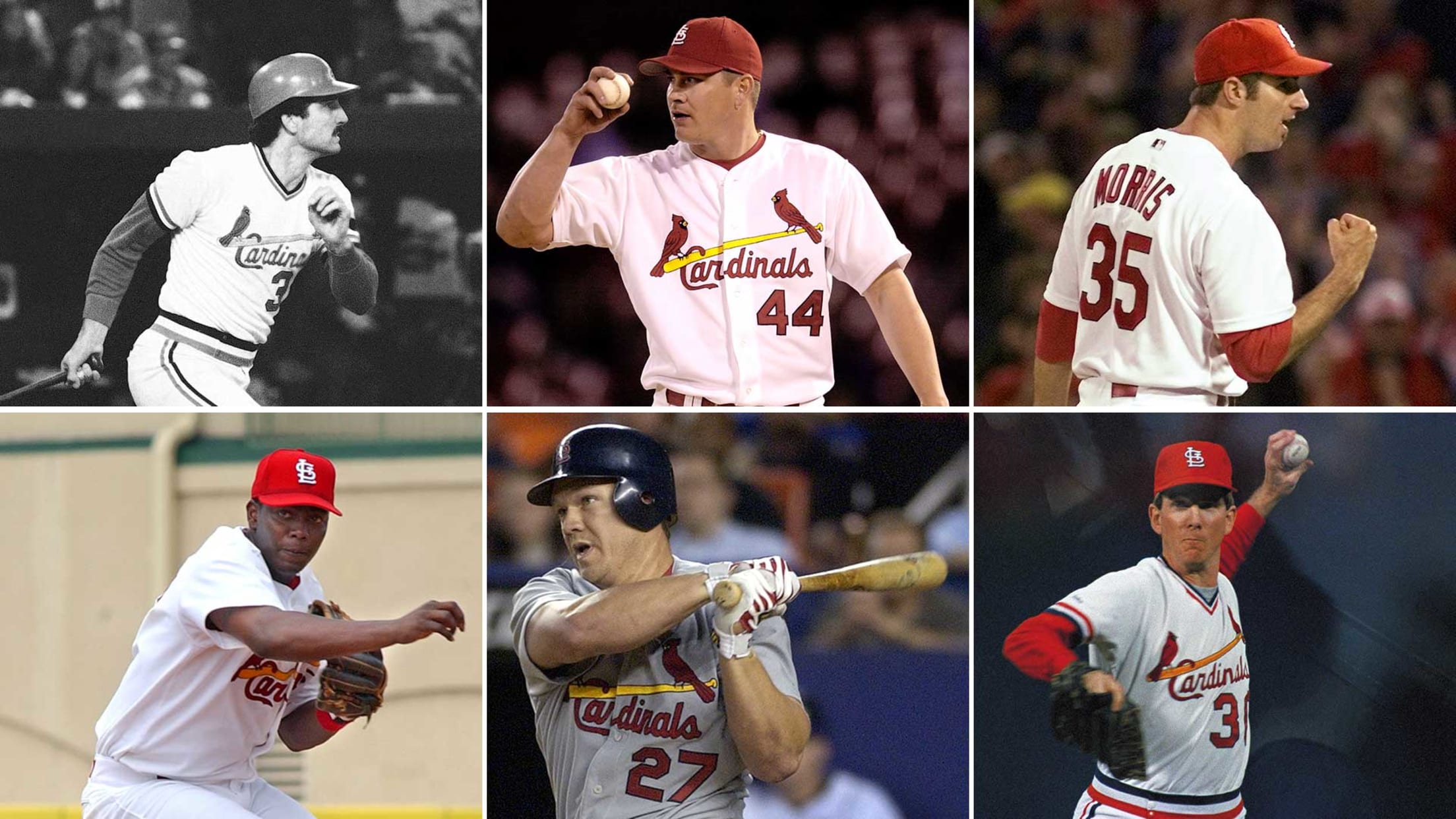 ST. LOUIS -- Six players representing four decades of Cardinals baseball will soon be considered by fans for election into the Cardinals Hall of Fame this summer.Team president Bill DeWitt III unveiled the ballot Wednesday evening during an appearance on KMOX's "Countdown to Opening Day" show. It includes four holdovers
ST. LOUIS -- Six players representing four decades of Cardinals baseball will soon be considered by fans for election into the Cardinals Hall of Fame this summer.
Team president Bill DeWitt III unveiled the ballot Wednesday evening during an appearance on KMOX's "Countdown to Opening Day" show. It includes four holdovers from last year -- Keith Hernandez, Scott Rolen, Jason Isringhausen, and John Tudor -- as well as Edgar Renteria and Matt Morris.
The nominees were chosen by a Red Ribbon committee of media members and former Cardinals managers. From here, the process now goes to the fans, who will decide which two players will be enshrined into the organization's Hall of Fame during an Aug. 24 ceremony at Ballpark Village.
Voting will open on March 1 and continue through April 12 at cardinals.com/HOF. The top two vote-getters will be announced prior to the Cardinals' game against the Reds on April 26. At that time, the Cardinals will also reveal which veteran player -- defined as someone who has been retired for at least 40 years -- the Red Ribbon committee chose for induction through a separate balloting process.
The club can also choose to select a fourth inductee, such as a coach, broadcaster or front office member. To be considered for induction as either a veteran or modern-day player, an individual had to have played at least three seasons in St. Louis.
This group of modern-day candidates represent multiple eras of Cardinals history, dating back to 1974. Here is a closer look at each of their Cardinals careers:
Keith Hernandez
This marks the 40th anniversary of Hernandez's co-MVP season. It marked the peak of his 10-year tenure in St. Louis, where Hernandez won six straight Gold Gloves, made two All-Star teams and helped the franchise to a World Series championship in 1982.
Jason Isringhausen
Isringhausen still holds the franchise record with 217 career saves, which he accrued over seven seasons with the Cardinals. He was a member of four division-winning clubs and the 2006 World Series championship team. In '04, Isringhausen led the National League with 47 saves, tying a then-club record held by Lee Smith.
Matt Morris
Morris ranks sixth on the Cardinals' all-time list with 986 strikeouts. In eight seasons with the team, Morris won at least 11 games six times -- including a Major League-most 22 in '01 -- and was an All-Star twice. He pitched for four division-winning teams and started 11 playoff games.
Edgar Renteria
Renteria spent six seasons with the Cardinals and was an All-Star in three of them. He set franchise records for batting average (.330) and doubles (47) by a shortstop in 2003, while also driving in 100 runs. During his time in St. Louis, Renteria won two Gold Gloves and three Silver Sluggers.
Scott Rolen
Rolen won four Gold Gloves and a Silver Slugger award during his five-plus seasons with the Cardinals. He, too, played on four division-champion teams, and he capped the Cardinals' championship run in 2006 by hitting safely in the final 10 games of the postseason. Rolen was a four-time All-Star with the Cardinals and finished fourth in the '04 MVP vote.
John Tudor
Tudor still holds the Cardinals' record for winning percentage (.705) and ERA (2.52) among pitchers with a minimum of 750 innings. He finished second in the NL Cy Young voting after posting a 1.93 ERA in 1985 and was a member of two NL pennant-winning teams.