Potential managerial candidates for Cardinals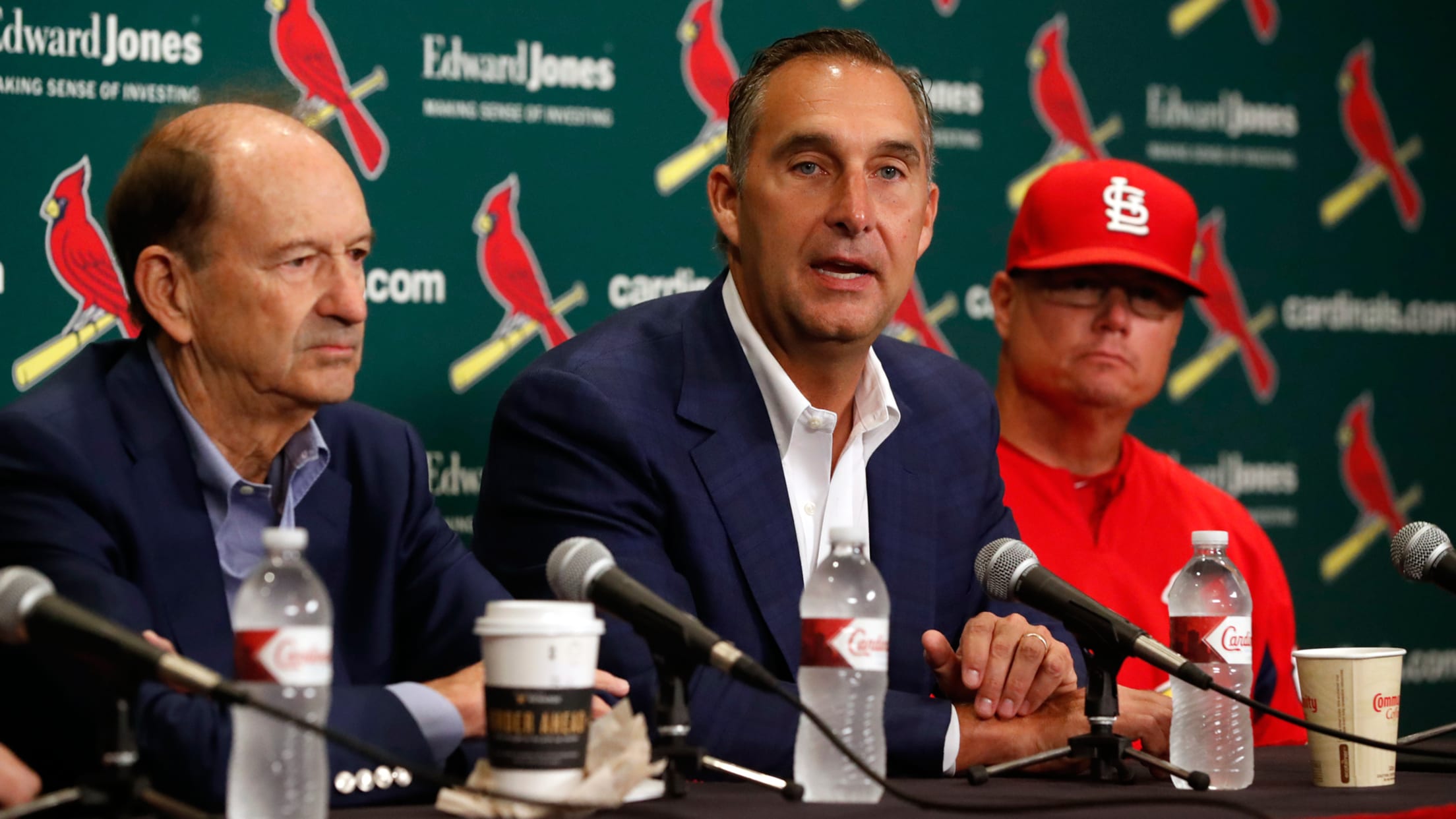 ST. LOUIS -- While the Cardinals intend to keep Mike Shildt on as interim manager through the remainder of this season, internal conversations about who might fit best as a permanent replacement for Mike Matheny will begin long before the offseason arrives."The St. Louis Cardinals will do their due diligence
ST. LOUIS -- While the Cardinals intend to keep Mike Shildt on as interim manager through the remainder of this season, internal conversations about who might fit best as a permanent replacement for Mike Matheny will begin long before the offseason arrives.
"The St. Louis Cardinals will do their due diligence and understand what that landscape looks like in terms of the who," president of baseball operations John Mozeliak said on Sunday. "In terms of what we're specifically looking for, I think a lot of the characteristics you're seeing in today's modern manager would be something we'd be interested in."
Upon hiring Matheny to succeed Tony La Russa following the 2011 club's World Series championship run, the Cardinals were ahead of the curve in handing the reins over to a manager who had no previous coaching or managerial experience. Mozeliak wasn't yet ready to forecast whether this next search would take the organization down a different path. Finding a manager open to analytics will be a priority.
As the Cardinals prepare to start looking, here are a few candidates who could catch their eye:
External candidates
Dusty Baker: The veteran skipper has expressed a desire to manage again, following stints with the Giants, Cubs, Reds and Nationals. He has guided clubs to division titles seven times, but Baker has had little to show as far as postseason success. Baker, 69, does not have a natural connection to the Cardinals, though the organization watched him manage up close for years in the National League Central.
David Bell: The son of former big league manager Buddy Bell has expressed interest in following his father's footsteps. Bell played parts of four seasons for the Cardinals and he returned in 2013 as assistant hitting coach. Bell then served as Matheny's bench coach for three seasons before departing last offseason to take a job in the Giants' front office. He had been offered the opportunity to return the Cardinals' coaching staff this season and he would have been a front-runner for the interim manager position had he done so.
Carlos Beltran: Almost immediately after announcing his retirement as a player, Beltran was invited to interview for the Yankees' open managerial job last offseason. That position ultimately went to Aaron Boone, though Beltran was said to have impressed while making his pitch. Beltran starred for the Cardinals from 2012-13.
Mark DeRosa: The former Major League player has been considered an up-and-coming managerial candidate for a few years now and he interviewed for openings with the Marlins and Mets in recent years. He is also a former Cardinal, having played in St. Louis in 2009. If the Cards are looking for someone with a different pesonality than Matheny, DeRosa would offer that contrast.
Joe Girardi: It's easy to connect the dots to Girardi, who has not latched on to another club since being dismissed by the Yankees last year. He's from central Illinois and has a relationship with Mozeliak dating to their days in Colorado. But it's unknown whether Girardi is interested in another managerial position, and there could be concerns that his demeanor would be too similar to Matheny's. But his credentials speak for themselves: In 10 seasons with the Yankees, Girardi never had a club finish below .500.
Mark McGwire: The former Cardinals slugger has thrived since returning to the Majors in a coaching capacity. He returned to the Cards as a hitting coach under La Russa and won a World Series championship ring while serving in that capacity in 2011. Family reasons prompted McGwire to leave for an opportunity with the Dodgers and he later became bench coach for the Padres. McGwire has expressed managerial aspirations, and his connection to this franchise is obvious. Whether he'd be willing to move away from southern California for this opportunity is unclear.
Jim Riggleman: Riggleman has done an admirable job helping the Reds resurrect their season since taking over for Bryan Price. But the club hasn't removed the interim tag just yet, meaning there is a chance Cincinnati goes in a different direction after the season. If so, Riggleman does have ties to the Cardinals. He served as the organization's Minor League field coordinator from 2005-07.
Internal candidates
Stubby Clapp: After leading Triple-A Memphis to the Pacific Coast League title as a rookie manager last year, Clapp has the Redbirds out to a 59-35 start this season. Clapp, who toiled in the Cardinals' farm system for years before enjoying a brief callup in 2011, served as a hitting coach for multiple organizations before returning to this one.
Jose Oquendo: Oquendo interviewed for this job in 2011 and he was someone Mozeliak considered for the interim managerial position before settling on Shildt. Oquendo once had aspirations of becoming a Major League manager, though those softened in recent years when he had to turn his attention to health-related matters. There may be no more respected teacher in the organization than Oquendo.
Shildt: His interview will come over the next 68 games as he shows the Cardinals his capabilities as a Major League manager. He walks into the interim position with the support of his players, many of whom played under Shildt in the Minors. The organization appreciates Shildt's commitment to carrying on the legacies of past coaches and how astute he is on the analytical side.