Opening Day FAQ: Cardinals vs. Brewers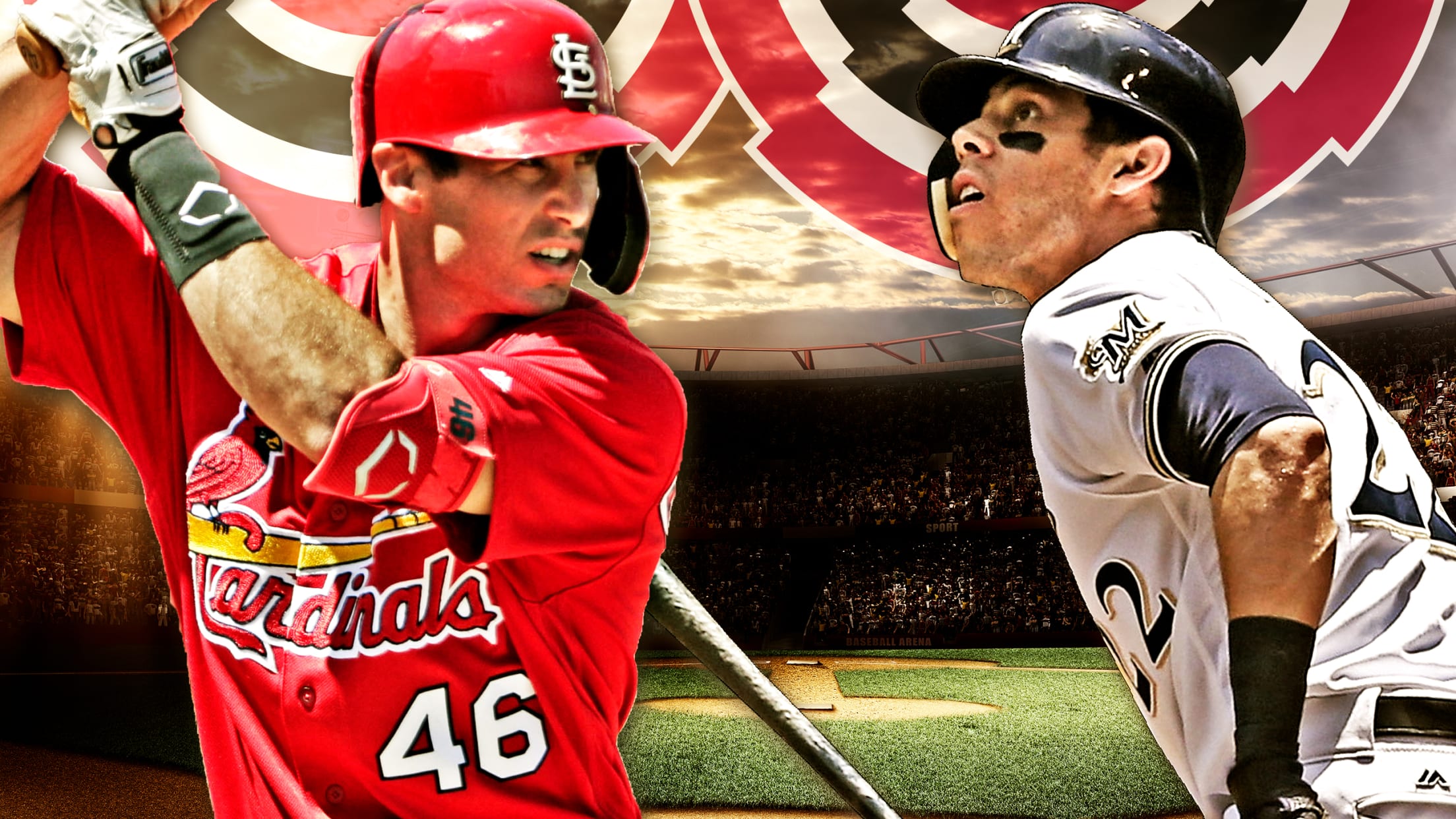 MILWAUKEE -- The Brewers needed a Game 163 to win the National League Central last season, and they know the bid to repeat will not be any easier. The two division rivals meet Thursday at Miller Park, where the Cardinals and Brewers begin a four-game series and the battle for
MILWAUKEE -- The Brewers needed a Game 163 to win the National League Central last season, and they know the bid to repeat will not be any easier.
The two division rivals meet Thursday at Miller Park, where the Cardinals and Brewers begin a four-game series and the battle for what is arguably Major League Baseball's most competitive division top to bottom. The Brewers and Cubs are returning the cores of teams that went all the way to the postseason, and anything short of winning the division this year would be a disappointment. The Cardinals and Reds are markedly improved, particularly St. Louis with the addition of perennial NL Most Valuable Player Award contender Paul Goldschmidt. And while the Pirates were not quite as aggressive over the offseason, they remain a threat if things go right.
"I think we understand what we've got ahead of us," said Brewers infielder Mike Moustakas. "We're hungry to get back to that postseason October baseball, which is why we all play this game. It's just so much fun playing baseball down the stretch. The crowd's going wild. ... I think everybody got a glimpse and a taste of that, and I don't think anybody can wait to get back."
The fortified Cardinals, coming off an 88-74 finish, are bidding to end what qualifies for them as a postseason drought. They haven't made the playoffs for three straight seasons, and haven't missed the cut in four straight years since the early 1990s.
The Brewers, with that division-clinching win at Wrigley Field in Game 163, surged down the stretch behind eventual NL MVP Award winner Christian Yelich to finish 96-67 in the regular season. They set an all-time club record with 102 wins in all, sweeping the Rockies in the NL Division Series before falling to the Dodgers in a seven-game NL Championship Series. This year's aim is simple: Take at least one more step.
When is the game and how can I watch it?
1:10 p.m. CT on Fox Sports Midwest and Fox Sports Wisconsin. Parking lots open at 10:10 a.m. CT and stadium gates open at 11:10 a.m. CT.
The starting lineups
Cardinals: After experimenting with various orders throughout spring, the Cardinals settled on this one before departing Florida. It includes Goldschmidt in the No. 2 hole, a spot where he has a 1.095 career OPS in 48 games, and Paul DeJong hitting behind him. Manager Mike Shildt opted to drop Dexter Fowler into the sixth spot, where he'll hit in front of two players capable of stealing 20-plus bases in a season.
Projected lineup
1) Matt Carpenter, 3B
2) Paul Goldschmidt, 1B
3) Paul DeJong, SS
4) Marcell Ozuna, LF
5) Yadier Molina, C
6) Dexter Fowler, RF
7) Kolten Wong, 2B
8) Harrison Bader, CF
9) Miles Mikolas, RHP
Brewers: The Brewers' offense starts with Lorenzo Cain and Yelich, who begin their second season together after giving Milwaukee a pair of top-10 finishers in the NL MVP Award race. The new additions are nearer towards the bottom of the order, where switch-hitting catcher Yasmani Grandal represents a significant upgrade at the position, and a surprising one, considering he went into the offseason widely expected to land a multiyear contract. The Brewers scooped him up on a one-year deal. Ditto Moustakas, who finished last season in Milwaukee and re-signed for one year, this time to play second base. With Yelich, Travis Shaw, Grandal, Moustakas and reserves Ben Gamel and Eric Thames all available to hit left-handed with some power, the Brewers look like they will be extremely potent against right-handed pitchers.
Projected lineup
1) Lorenzo Cain, CF
2) Christian Yelich, RF
3) Ryan Braun, LF
4) Travis Shaw, 3B
5) Jesús Aguilar, 1B
6) Yasmani Grandal, C
7) Mike Moustakas, 2B
8) Orlando Arcia, SS
9) Jhoulys Chacín, RHP
Who are the starting pitchers?
Cardinals: Mikolas draws his first career Opening Day start on the heels of a breakout season. The right-hander finished sixth in NL Cy Young Award voting after finishing 18-4 with a 2.83 ERA and 1.07 WHIP in his first season with St. Louis. Mikolas projects to be the rotation's veteran anchor for several years, too, after agreeing to a four-year, $68 million extension during Spring Training.
Brewers: Chacin was an easy choice for manager Craig Counsell after going 15-8 with a 3.50 ERA and leading Brewers starters across the board last season in the first season of a two-year contract. Chacin got the ball for the pivotal Game 163 and delivered a gem against the Cubs, allowing a lone run on Anthony Rizzo's homer while pitching into the sixth inning of a victory that gave the Brewers their third division title in 50 seasons as a franchise. This is his third Opening Day start, but the first time he'll be pitching for the home team. He started Opening Day for the Rockies at Miller Park in 2013 and took a no-decision in Milwaukee's come-from-behind win.
How will the bullpens line up after the starter?
Cardinals: Gone are the days of a paint-by-numbers bullpen where relievers have defined roles and purposes. The Cardinals haven't designated a closer and are willing to go to Jordan Hicks, Andrew Miller or Alex Reyes in a save situation. Miller, as the only lefty in the 'pen, could be key in this series as the Cards look to neutralize Yelich, Moustakas and Shaw. With so many of the Cardinals' relievers able to pitch multiple innings, look for some creativity in how they are deployed.
Brewers: Counsell has been clear that he won't be able to manage from March through August as aggressively as he did last September and October, when he made the most of expanded rosters and off-days to squeeze every out he could from a fantastic bullpen. The Brewers are entering the season at significantly less than full strength, since Jeremy Jeffress is still a couple of weeks away from being game-ready because of some arm weakness early in Spring Training, and Corey Knebel is sidelined indefinitely while setting a plan of action for a damaged UCL in his right elbow. The Brewers prefer to use electric left-hander Josh Hader in a flexible, multi-inning role, but he might have to serve as the closer while the rest of the bullpen sorts itself out. Veteran Alex Wilson signed a one-year deal late in camp to help out.
Any injuries of note?
Cardinals: The Cardinals made it through spring without any notable injuries to their starting position players, though they will be without utility infielder Jedd Gyorko to begin the year. Gyorko remains sidelined by a right calf injury. An early spring injury to Carlos Martinez also means the Brewers will get to face starter Dakota Hudson, who will fill Martinez's rotation spot. Hudson will make his first Major League start in Game 3.
Brewers: See above. Jeffress and Knebel were Milwaukee's two best right-handed relievers last season, and they're out to open the year.
Who is hot and who is not?
Cardinals: Goldschmidt closed the Grapefruit League with four extra-base hits in his final eight at-bats, all while finalizing his contract extension. Bench players Tyler O'Neill and Drew Robinson also had strong finishes. On the mound, Miller stumbled late in Grapefruit League play and wasn't able to complete his scheduled inning of work in either of his final two appearances. He walked four, hit two and allowed four runs in those games.
Brewers: Yelich had a huge Cactus League, belting four home runs, including a two-run shot over the batter's eye in the Brewers' final game at renovated American Family Fields of Phoenix. Moustakas, who was somewhat disappointing with the bat after the Brewers acquired him last July, also had a big spring, batting .341 with four doubles and three home runs entering the team's exhibition finale in Montreal.
Anything else fans might want to know?
• Goldschmidt will have his official welcome to the NL Central in a ballpark that hasn't been able to contain him. His 1.307 OPS is the highest of any player (min. 100 plate appearances) in the history of Miller Park.
• If Reyes appears in a game during the opening series, it will bring his return from lat surgery full circle. It was at Miller Park last May that Reyes took the mound for the first time since undergoing Tommy John surgery. The return lasted only four innings, however, and marked Reyes' lone appearance before it was determined that he needed another season-ending surgery.
• Moustakas adapted quickly to second base, but didn't have to take a feed and turn a single double play in the Cactus League. That's somewhat remarkable, and a sign of the trend away from putting balls in play. The Brewers think he'll be just fine there this season.