Brebbia thrilled after long-awaited callup
Cards designate Socolovich for assignment in corresponding move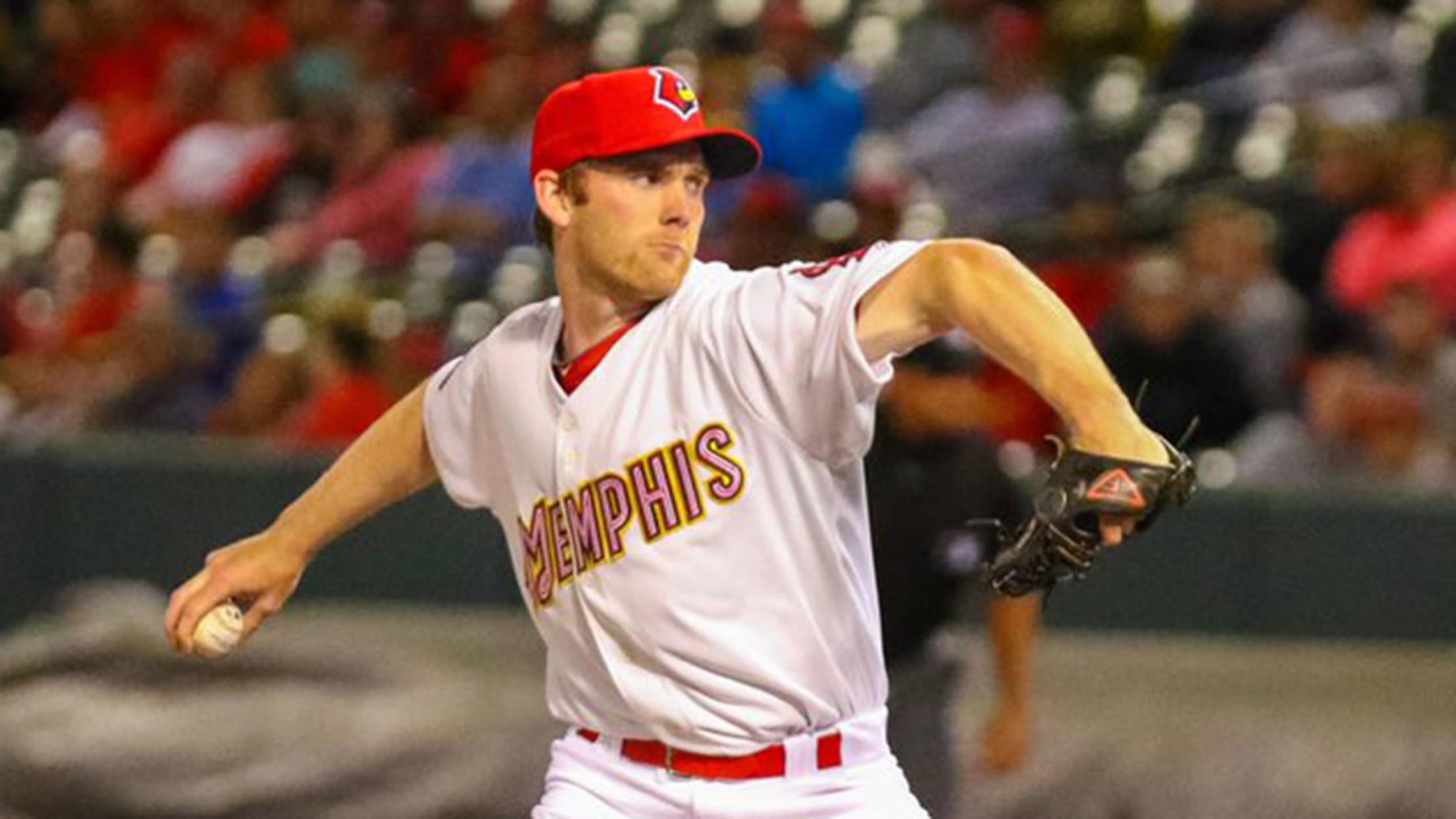 John Brebbia had a 1.69 ERA over 15 games with Triple-A Memphis this season. (Redbirds)
DENVER -- There's always a little anxiety about being called into the office at work. For pitcher John Brebbia, a visit to the manager's office resulted in a dream come true.Friday night after a Triple-A game in Sacramento, Memphis Redbirds manager Stubby Clapp brought Brebbia into his office to give
DENVER -- There's always a little anxiety about being called into the office at work. For pitcher John Brebbia, a visit to the manager's office resulted in a dream come true.
Friday night after a Triple-A game in Sacramento, Memphis Redbirds manager Stubby Clapp brought Brebbia into his office to give him the news that the Cardinals were purchasing his contract and he was poised to make his Major League debut working out of the bullpen. On Saturday morning, Brebbia was on a plane to Denver, and by early afternoon he was soaking in the moment from the visiting dugout at Coors Field, hours before the Cardinals' middle game in a three-game set with the Rockies.
"The best," Brebbia said to describe the moment. "It was awesome, being called into the coach's office and being there with coaches and mentors, and having them tell me that it was time to go on to the next level. It was indescribable, at best."
The moment was a long time coming. He was initially drafted by the Yankees in 2011 at the age of 21. After three years in their Minor League system, he played a couple years of independent league baseball before making his way to the Cardinals organization in December 2015.
"Amazing," Cardinals manager Mike Matheny said of his journey before Saturday's game. "Stubby told me that last night they saw that he was called into the office, the whole Memphis team was kind of waiting outside. I guess the guys had a little celebration for him.
"He's the kind of guy that's always looking to have an impact on other people. Players appreciate the road that he's taken to get here, the story that he has."
The Cardinals designated Miguel Socolovich for assignment to make room for Brebbia. Socolovich was 0-1 with an 8.68 ERA in 15 games spanning 18 2/3 innings.
"He's just having one of those starts of the season where you got to do something different," Matheny said.
Brebbia was dominating Triple-A hitters this season, going 1-1 with three saves and a 1.69 ERA in 15 games spanning 26 2/3 innings. He struck out 29 and walked five and hadn't allowed a run in his last nine appearances.
"I've done my best listening so far this year," Brebbia said. "I definitely tried to open my ears and learn as much as I could from guys with experience at these levels, catchers and coaches and people who've been there and seen success, and I've tried to adapt my game as much as I could to those principals so I can get myself as much success as I possibly can."
Matheny likes his versatility -- he's closed games this year and even started one end of a doubleheader in Colorado Springs.
"He shows the ability to do a little bit of everything, and he's doing it all well," Matheny said. "Take a guy with a good arm who's had some success, it's a great opportunity to throw him in the mix."
With a mid-90s fastball, a breaking ball, and a changeup, Brebbia came to Colorado ready for anything.
"I like pitching," Brebbia said. "Whether it's in the first or the ninth or anywhere in between, I really like pitching. Whatever the managers want, I'm game for."
Worth noting
Cardinals second baseman Kolten Wong was a late scratch from the lineup Saturday night with left elbow stiffness. Wong missed three games last week with discomfort in the elbow. Greg Garcia took his place at second and in the eight-hole.
Owen Perkins is a contributor to MLB.com based in Denver. He covered the Cardinals on Saturday.