Mayers set to make big league debut
Cardinals option Socolovich to Triple-A Memphis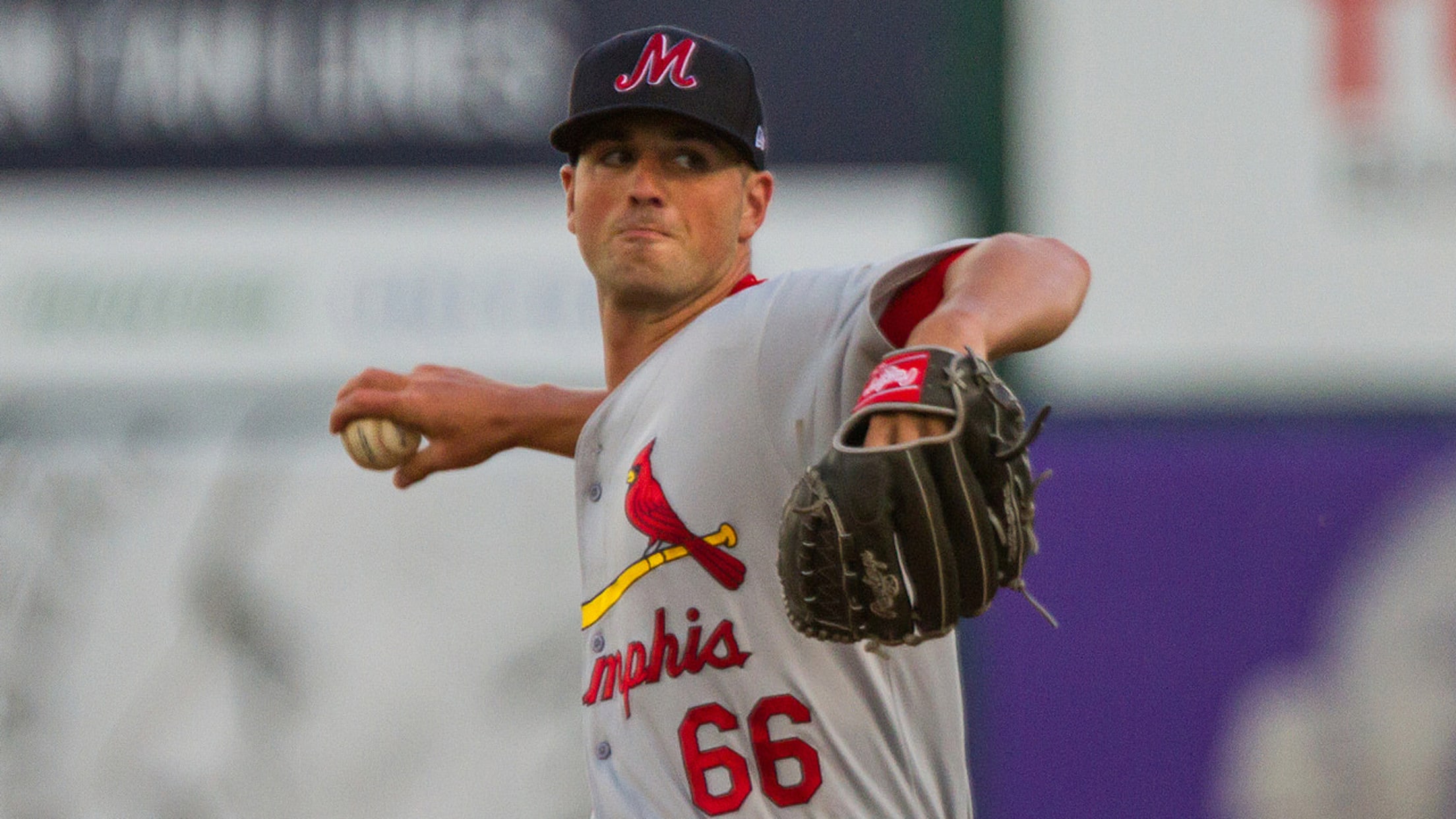 Mike Mayers is 3-3 with a 2.94 ERA in nine starts for Triple-A Memphis. (MiLB)
ST. LOUIS -- A day after it took Mike Mayers and his Triple-A teammates approximately 17 hours to complete their journey from El Paso to Memphis, the right-hander woke up to a phone call that added another unexpected detour to his itinerary.Mayers, who was scheduled to start for Memphis on
ST. LOUIS -- A day after it took Mike Mayers and his Triple-A teammates approximately 17 hours to complete their journey from El Paso to Memphis, the right-hander woke up to a phone call that added another unexpected detour to his itinerary.
Mayers, who was scheduled to start for Memphis on Saturday, was instead summoned to St. Louis, where he will make his Major League debut a day later as a spot-starter for the Cardinals. He learned of the assignment around 7 a.m. and arrived at Busch Stadium in time to settle in a day before his debut.
"There are a lot of great players in the organization, and to be the guy that they called up, to be able to pitch tomorrow night is quite an honor," Mayers said. "I'm looking to pitch well, and whatever happens after that is out of my control. But hopefully I can make a good impression that will stick in their head a little bit."
The Cardinals added Mayers to both their 25- and 40-man rosters ahead of Sunday's series finale against the Dodgers. In a corresponding move, St. Louis optioned right-hander Miguel Socolovich to Memphis. Socolovich made two appearances for the big league club this season, allowing one run over 3 2/3 innings and striking out five.
The Cards will be the last team in the Majors to employ a sixth starting pitcher this season when Mayers takes the mound in the nationally televised game Sunday. The need to find a fill-in starter was the result of the Cardinals having to play a doubleheader on Wednesday.
Plans to fill Sunday's start with someone from the bullpen were foiled by Friday night's 16-inning game. Tyler Lyons, a strong candidate to draw the spot-start, covered 4 2/3 innings in the win over the Dodgers.
"I think it was really going to come down to Tyler's usage, and we needed Tyler last night," manager Mike Matheny said before Saturday night's matchup vs. the Dodgers. "We had an opportunity to go for it, and Tyler did a terrific job, which unfortunately ruled him out for the start but gave us an opportunity to win a game."
And so the Cardinals will turn to Mayers, a third-round pick in the 2013 Draft. Mayers, 24, opened the season with Double-A Springfield, where he went 5-2 with a 2.30 ERA, 43 strikeouts and 17 walks in 54 2/3 innings. That earned him a promotion to Memphis, where Mayers is 3-3 with a 2.94 ERA in nine starts.
He's had this success, too, after recovering from thoracic outlet surgery, which ended Mayers' 2015 season in late July.
"There was a lot of unknown," said Mayers, a University of Mississippi product. "That was my first ever arm injury in baseball. I went through all of college, didn't miss a start. My whole first year [professionally], didn't miss a start. It's one of those things that makes you nervous any time you get injured. But I learned a lot about myself as a person and a pitcher."
Worth noting
• Second baseman Matt Carpenter (right oblique strain) has been cleared to take controlled swings again. Carpenter, who has been on the disabled list since July 7, had resumed running, throwing and fielding earlier this week.
• Catcher Brayan Peña (left knee inflammation) is working through his rehab program at the Cardinals' complex in Florida. He did some catching on Friday, Matheny said, but the club has not provided an estimated time frame for Pena's return.