Cards eye left-handed relief help ahead of 2019
Mozeliak: Biggest Achilles' heel in bullpen is left side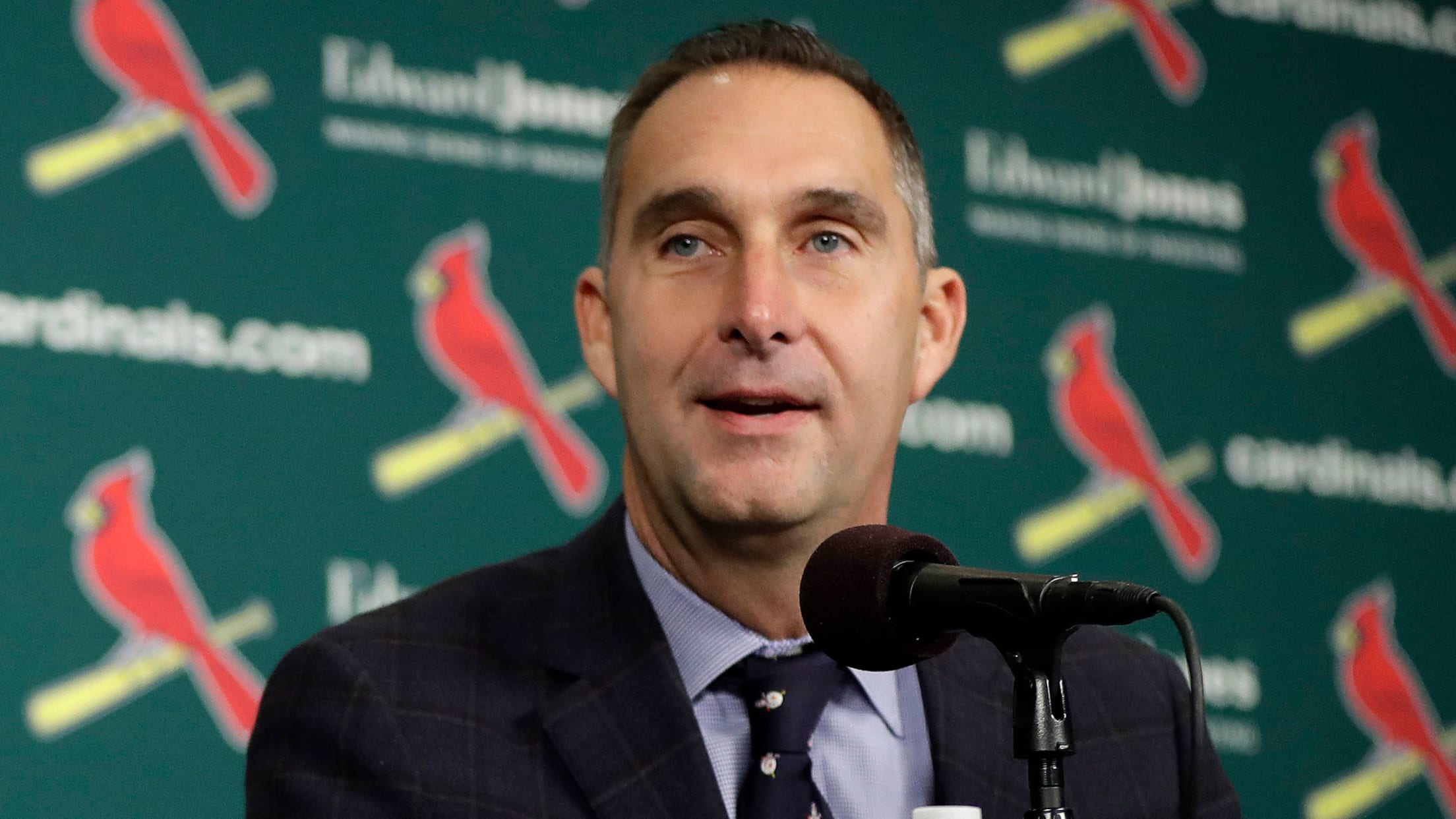 ST. LOUIS -- Landing an impact bat may be the Cardinals' top offseason priority, but it's hardly the only item on the to-do list for an organization seeking to rise back to the top of the National League Central.After watching the bullpen atrophy at the most inopportune time, the Cardinals
ST. LOUIS -- Landing an impact bat may be the Cardinals' top offseason priority, but it's hardly the only item on the to-do list for an organization seeking to rise back to the top of the National League Central.
After watching the bullpen atrophy at the most inopportune time, the Cardinals are cognizant of the need to reinforce their relief corps. Some of that will be done as it was last July -- by plucking starters squeezed from the rotation and sliding them into the 'pen. There will also be a search for outside help.
"When you're looking at last year versus this year, I do feel like we're looking at more depth than we had a year ago at this time," Cardinals president of baseball operations John Mozeliak said this week. "I also recognize that I think the biggest Achilles' [heel] right now in our bullpen is the left side."
A carousel of lefties came and went last season with little sustained success. Tyler Lyons and Ryan Sherriff were pushed off the 40-man roster. Brett Cecil struggled through injuries and command troubles. Tyler Webb and Chasen Shreve were serviceable, but far from dominant. By September, the Cardinals had little confidence in any of them.
Webb, Shreve and Cecil remain under team control, though it's possible the Cards will cut ties with at least one of them before Spring Training. And in a division where prolific left-handed hitters like Anthony Rizzo, Joey Votto and Christian Yelich lurk in rival lineups, the lack of reliable lefty relief will continue to handcuff the Cards if it goes unaddressed.
The trade market could offer a pool of intriguing candidates if the Cardinals come up empty in the free-agent market, which hasn't been a place the team has had much recent success in finding relief help.
Over the last three years, the Cardinals have signed five free-agent relievers to Major League contracts. Two (Jonathan Broxton and Greg Holland) were released before finishing out their deals. Two more (Cecil and Luke Gregerson) are in jeopardy of being pushed out prematurely, too. Only Seunghwan Oh made considerable contributions.
Together, the Cardinals committed $68.25 million to these five arms for a cumulative return thus far of 0.3 WAR.
"We did choose to [be aggressive in that market] a few years back, and it has not been a home run. We get it," Mozeliak said. "That's not going to create some paralysis for us now. We understand the volatility of it. And trying to get it right is what we're going to continue to do."
Andrew Miller, Zach Britton, Tony Sipp and Justin Wilson are among the left-handed relievers expected to command the most interest. It is worth noting, though, that the Cardinals have proven adept at finding value through Minor League deals. That was, for instance, how they found Bud Norris, who saved 28 games for the club last season.
But while the organization begins an external survey for left-handed relief help, they believe their depth can help them fill in around any such additions. Though the Cardinals will refrain from naming a closer ahead of Spring Training, Jordan Hicks has been groomed for the role.
Returning along with Hicks next season will be right-handed relievers John Brebbia, Dominic Leone and Mike Mayers. The club then has nearly a dozen rotation candidates, a number of whom will end up in the 'pen. That could be the case for the likes of Dakota Hudson, Daniel Poncedeleon, Austin Gomber, Luke Weaver and even Adam Wainwright. Getting contributions out of Gregerson and Cecil would be a bonus.
"In terms of pitching, I feel like we have an enormous amount of depth," Mozeliak said. "Now, it's going to be defining roles and understanding how to maximize it."