Inbox: Will Cards make changes to lineup?
Beat reporter Joe Trezza answers questions from fans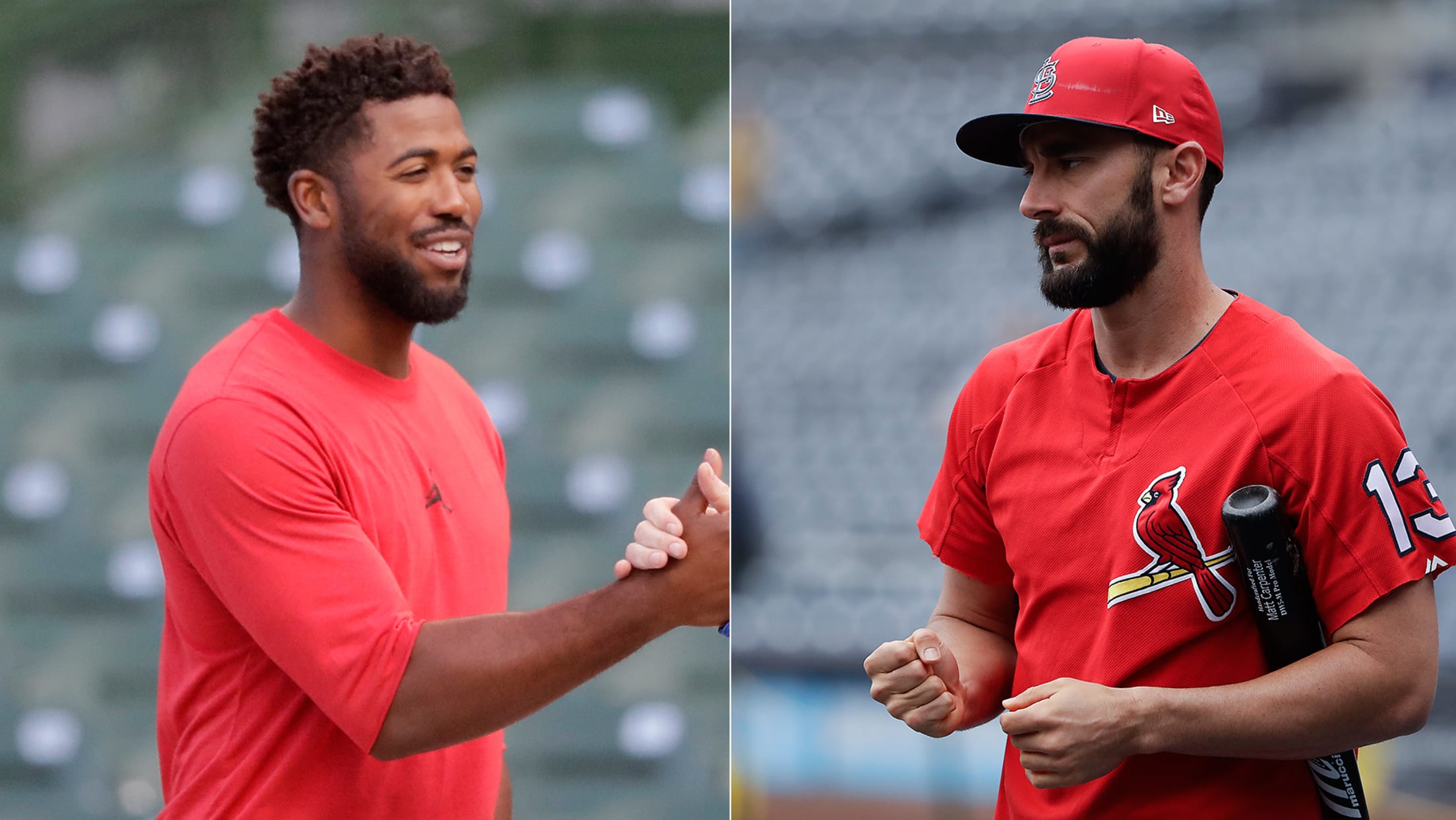 Is Mike Matheny going to move William Fowler and Matt Carpenter down in the lineup or to the bench and replace them with Jedd Gyorko and Harrison Bader? Both are hitting under .200, and they are defensive liabilities. -- Bob O., via emailFor what it's worth, the lineups Matheny has
Is Mike Matheny going to move William Fowler and Matt Carpenter down in the lineup or to the bench and replace them with Jedd Gyorko and Harrison Bader? Both are hitting under .200, and they are defensive liabilities.
-- Bob O., via email
For what it's worth, the lineups Matheny has written during the Cardinals' most recent offensive funk have been far from static. He's tried six permutations in the eight games since Yadier Molina went down. Fowler has hit first, second, third, fourth, fifth and sixth already this season, and Carpenter has bounced from leadoff to second to third and back through all three slots. Their continued scuffles lend credence to the theory that the extent to which lineup construction facilitates individual success is negligible. Over the course of a 162-game season, batting order position merely dictates how many at-bats a player gets or doesn't get, and little else.
All of which brings us to the heart of your question. For how much longer can the Cards afford to wait for Carpenter and Fowler, who have the two lowest batting averages among qualified hitters across the Major Leagues? The answer is not long, particularly given the injuries to the club's starting rotation and continued uncertainty in its bullpen. Carpenter and Fowler are not the only members of the lineup slumping, but they are perhaps the two most vital to its success, and at the epicenter of its struggles. Carpenter is 1-for-his-last-22 and Fowler is 3-for-36 since the calendar flipped to May.
:: Submit a question to the Cardinals Inbox ::
The versatile Gyorko appears bound for more at bats, especially with Kolten Wong hitting .186 and 0-for-his-last-16 as well. As of last week, Matheny wasn't ready to change his commitment to Fowler, who is in the second season of a five-year $82.5 million contract. But the leash is getting shorter. Fowler didn't start two of four games against left-handed starters in San Diego, while Carpenter sat the final three in what was termed a "reset." It's worth mentioning how the offense didn't exactly rev without them, its nine-run outburst Friday aside. In the other three games, the Cardinals managed just six runs across 31 innings.
How soon can Alex Reyes be in the Cards' rotation?
-- TG, via Twitter
It's still unclear when and where Reyes will make his anticipated return. But at this juncture, the club expects to have its No. 1 prospect as ranked by MLB Pipeline back at its disposal by some point late this month.
Cardinals officials have been slow to commit publicly to the specifics of their plan for Reyes, and for understandable reasons. There are a lot of moving parts here, both within the Cards' rotation and with how they have to handle Reyes' workload.
St. Louis wants Reyes healthy and available for a stretch run (and potentially a postseason). The Cardinals want him to anchor the rotation for years to come. They need to build up Reyes' innings, but not too much. The Cards may very well need a starter, with Carlos Martinez and Adam Wainwright both injured and Luke Weaver struggling. They also have other options (Jack Flaherty, Austin Gomber, John Gant) they'd go to over risking Reyes' health or their long-term goals for him.
The possibility of Reyes undertaking a bullpen role also remains open, though reaching his innings goal (between 100-120) in one would be far more difficult, logistically.
Reyes threw 67 pitches in his first rehab start on Wednesday at Class A Palm Beach. A second rehab start is scheduled for Monday night at Class A Peoria. If all goes well, another start each at Double-A Springfield and Triple-A Memphis should follow.
Reyes is eligible to return from the 60-day disabled list on May 28, when the Cardinals open a three-game series in Milwaukee. He'll technically be in line to throw that next night, May 29. Whether he will or not, it's probably still too early to guess.
How come Carson Kelly hasn't transitioned to hitting Major League pitchers?
-- William Bennett, via Twitter
Though Kelly hasn't showed much offensively at the big league level, this assessment is at least premature, and at worst unfair. He is, after all, merely a week into his fill-in gig for Molina, and he's the owner of just a tad more than 100 big league plate appearances. Whatever kind of player Kelly is or will be, we haven't seen enough to determine yet.
That said, Kelly was always a glove-first prospect who impressed with how quickly he took to catching after converting from third base. Most important will be the work he does behind the dish -- calling pitches, relaying scouting reports, blocking dirt balls and handling the running game.
One rival scout that's seen Kelly often in the Minors told me this week Kelly could provide league-average offense, though he's expected to develop some power in time.