Five offseason questions facing Cardinals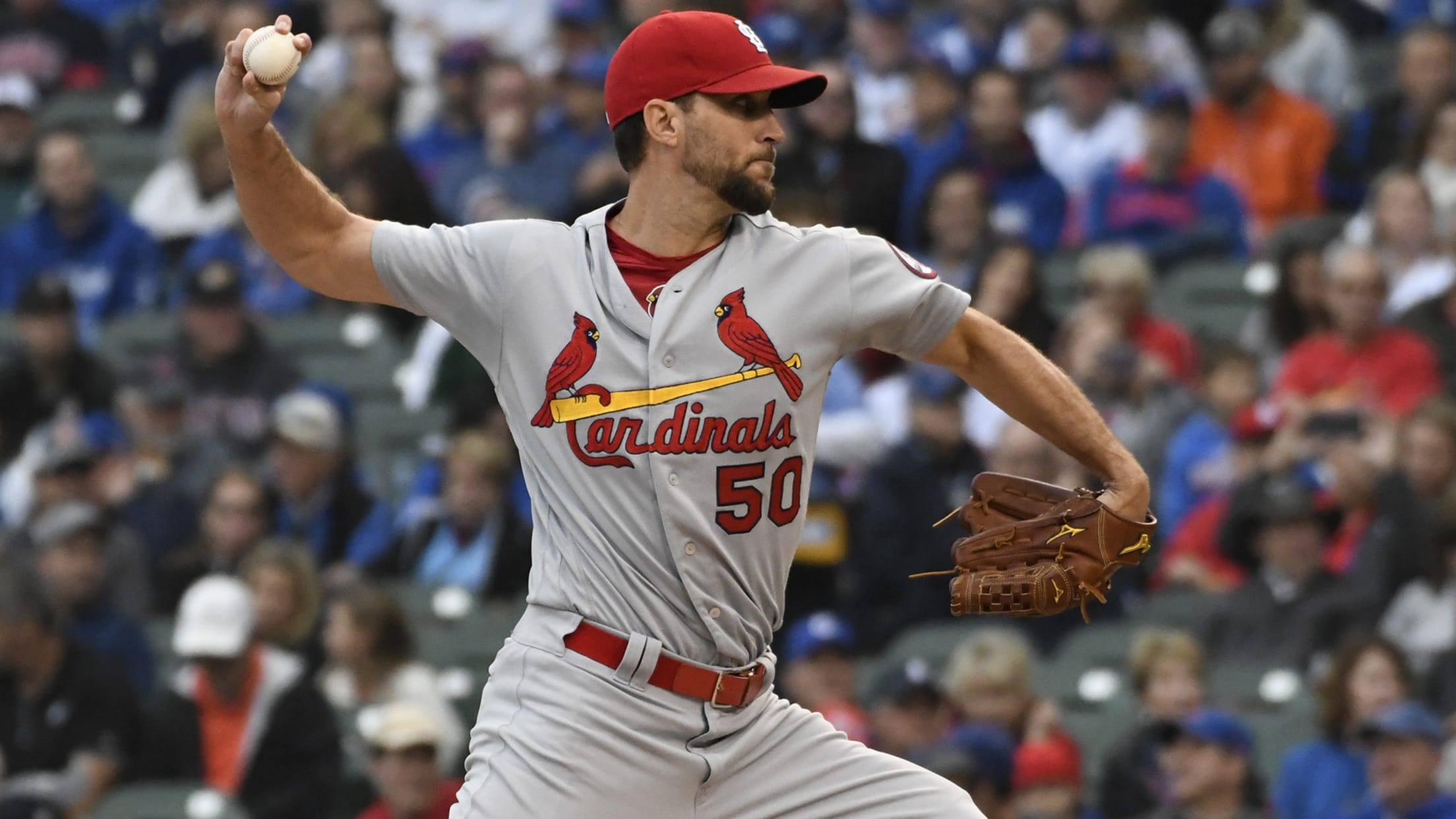 CHICAGO, IL - SEPTEMBER 28: Adam Wainwright #50 of the St. Louis Cardinals pitches against the Chicago Cubs during the first inning on September 28, 2018 at Wrigley Field in Chicago, Illinois. (Photo by David Banks/Getty Images) (David Banks/Getty Images)
ST. LOUIS -- As the Cardinals unpack the emotions of a season they couldn't extend into October, they also begin to turn their attention to the decisions that will define the months ahead. Decisions about roster construction and free-agency pursuits, potential trade targets and future roles, all loom.Here is a
ST. LOUIS -- As the Cardinals unpack the emotions of a season they couldn't extend into October, they also begin to turn their attention to the decisions that will define the months ahead. Decisions about roster construction and free-agency pursuits, potential trade targets and future roles, all loom.
Here is a look at five of the most pressing questions the Cardinals must answer as they begin to build toward 2019:
Will Adam Wainwright return?
After Wainwright came back and pitched well in September, it seems unlikely that he is ready to make his 13th big league season his last. He wants to keep pitching, and he proved he can after an arduous four-month rehab process. But where? A Cardinal his entire Major League career, Wainwright would prefer to end his career with the organization. The Cardinals must determine if he still has a fit.
As it is, the Cardinals project to have Carlos Martinez, Miles Mikolas, Michael Wacha, Jack Flaherty, Alex Reyes, John Gant, Luke Weaver, Austin Gomber and Daniel Poncedeleon as rotation possibilities for 2019. A healthy and effective Wainwright could be an asset among such youth. His recent injury history, however, also underscores the risk of re-signing the right-hander. Over the last four seasons, Wainwright made a combined 68 starts.
Are Harper and/or Machado in the plans?
The free-agent class will be headlined by Bryce Harper and Manny Machado, both of whom would offer instant offensive impact. The investment would be similarly as heavy, with some projecting that both players will command record-setting contracts. It's easy to see how either Harper or Machado could fit in the organization. The Cardinals still need another middle-of-the-order bat, and there's uncertainty about how things will shake out in right field and on the left side of the infield.
Cardinals ownership has shown a willingness to make the financial commitment necessary to lure some of the game's biggest stars, and general manager Michael Girsch confirmed over the weekend that the team enters the winter with financial flexibility. But as the Cardinals' recent pursuits of Giancarlo Stanton, David Price and Jason Heyward reminded, it takes two sides to strike a deal. And it's unknown whether Machado and/or Harper would seriously entertain an offer to come to St. Louis.
Who takes over in right field?
Marcell Ozuna will return as the team's starting left fielder, and Harrison Bader did enough to assert himself as a permanent fit in center field. But the Cardinals still have to sort through their right field options. William Fowler began the season as the team's everyday right fielder, and Jose Martinez finished the year with the job. In between, Tyler O'Neill also got some exposure. It's unlikely the team brings back all three.
Martinez would fit best on an American League team, where he can serve as a designated hitter. Look for the Cardinals to explore trade possibilities with him. The Cardinals might also see if there's any outside interest in Fowler, though dealing him would be complicated. Not only is Fowler coming off the worst season of his career, but he has a no-trade clause and is still owed $46.5 million. O'Neill has power potential, but also a jarring strikeout rate. Ultimately, the Cardinals will have to decide if they want to commit to any of the three, or look outside for additional help.
Where do the Cards begin another bullpen rebuild?
The Cardinals won't get a winter off from reconstructing their bullpen, which did not perform up to expectations again in 2018. In particular, the Cardinals have to once again try to address their glaring deficiency from the left side. None of the three lefties -- Brett Cecil, Chasen Shreve or Tyler Webb -- who ended the season on the active roster was reliable down the stretch. All three remain under team control, but the Cardinals are going to hunt for a better late-inning option.
They also have to decide how they'll structure things in the back end of the 'pen. Martinez is expected to slide back into the rotation, and Bud Norris will depart as a free agent. Even if the Cards are ready to anoint Jordan Hicks as their closer, they'll have to fortify things around him. And they'll need to do better in the free-agent market than they did with the recent signings of Greg Holland, Cecil and Luke Gregerson.
How do the Cards improve the defense?
This, too, has been an annual topic of late, but it still needs to be addressed. While the Cardinals are strong up the middle with Yadier Molina, Kolten Wong and Bader, they were especially susceptible down both lines. And if the organization wants to anchor its club around pitching, it will need a more reliable defense. The Cards could consider pursuing a defensively minded shortstop and thus slide Paul DeJong to third. Or they could upgrade both offensively and defensively at third base or right field. Either way, there's room for improvement after finishing the year with the most errors in the Majors.