Q&A: Mozeliak reflects on 2016, looks ahead
Cardinals GM addresses Matheny, Moss, team's defense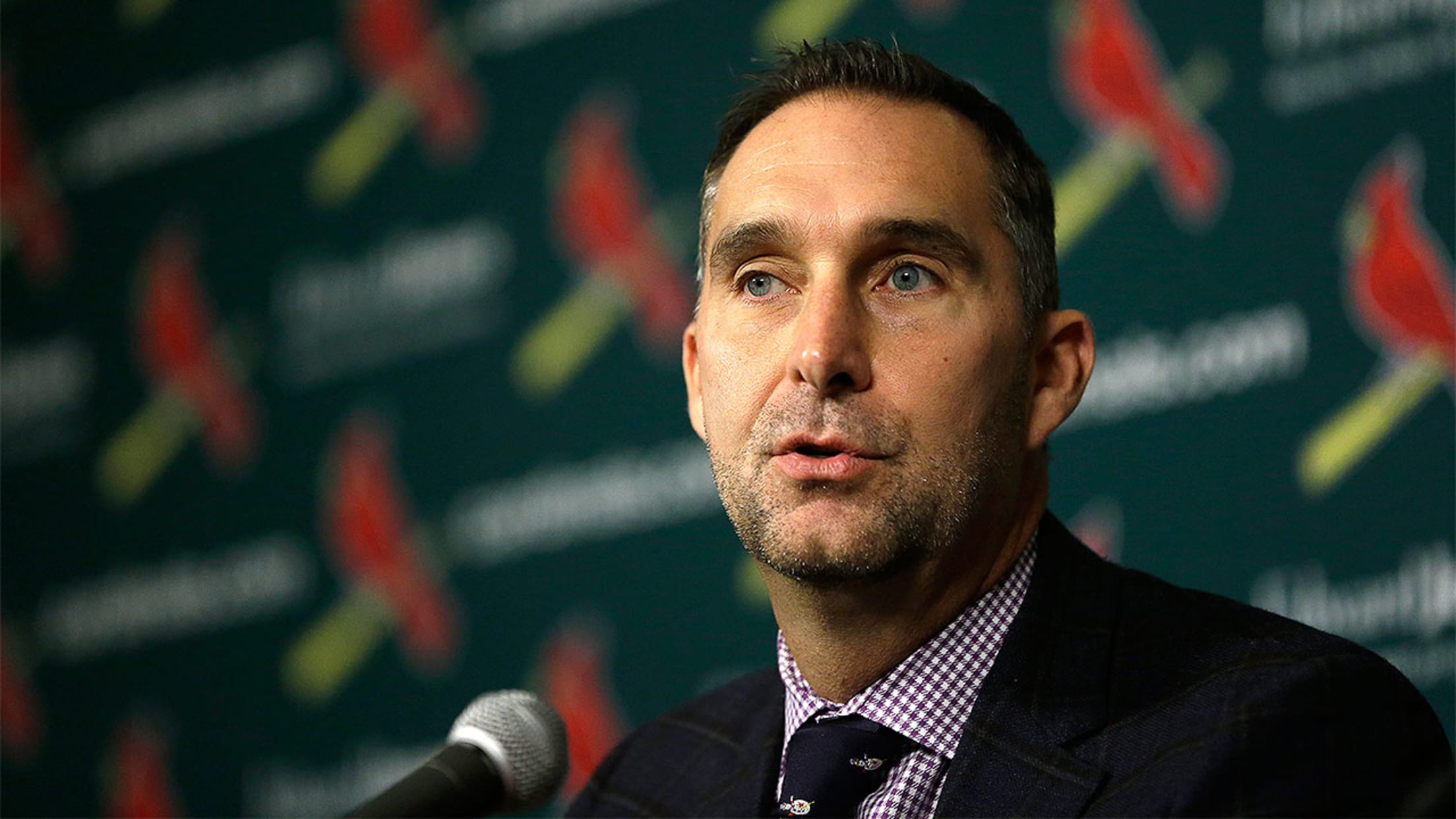 "We understand that people are going to look at us and hold us accountable for what the year was," John Mozeliak said. (AP)
ST. LOUIS -- Though the Cardinals entered Tuesday one game out of playoff positioning, an afternoon session that general manager John Mozeliak held with the media took on an end-of-year feel, as many of the questions either elicited reflection on the season or thoughts about how the team will retool
ST. LOUIS -- Though the Cardinals entered Tuesday one game out of playoff positioning, an afternoon session that general manager John Mozeliak held with the media took on an end-of-year feel, as many of the questions either elicited reflection on the season or thoughts about how the team will retool for 2017.
Amid the back-and-forth, Mozeliak offered a vote of confidence in manager Mike Matheny, assured that the team's defensive makeup will be a priority this offseason and discussed where things stand regarding a possible extension for Brandon Moss.
• Wild Card standings | Tiebreaker scenarios
Here are those and some other highlights from the 18-minute discussion:
• On how he evaluates Matheny and the coaching staff as it relates to the season results:
"Mike takes a lot of heat, and I have defended him and I will continue to. I really feel like some of the things that we're dealing with aren't fair to put on the manager. I do feel like all of us are always held accountable for what we do here. There is nobody excluded from that. But having said that, I don't look at him as we are where we are because of that."
• On whether the team is still interested in exploring a contract extension with Moss, who is 5-for-73 in September:
"He and his agent and I decided [about two months ago] that we would table [discussions] until the offseason. In terms of reflecting on what we may or may not do at this point, I don't think it's all that productive to discuss. He's been a very streaky player for us, and unfortunately, right now, he's struggling a little bit."
• On whether his assessment of the season will change depending upon whether the team advanced to the postseason:
"No. I don't think you can do it that way. I think taking a clinical approach at how this team looks is the only fair way to do that process. I think if you don't reach the playoffs, you are going to be disappointed. And I think we should be. We felt going into this year that we were going to be extremely competitive. Right now there are still six games left. I'm not ready to write the final chapter. I think we still have time to do that. But ultimately, we understand that people are going to look at us and hold us accountable for what the year was."
• On the cohesiveness of the clubhouse:
"Whenever you're dealing with struggles or ups and downs, clubhouse chemistry is always an interesting topic. But these guys get along. They're good teammates. I don't feel like there is anything glaring coming out of the clubhouse that warrants discussion or concern."
• On how the organization intends to improve its defense before next season:
"Any time you identify something you want to address, whether it's defense, power, the pitching, a lot of times it's at what cost? And what I mean by that is, to get better defense, we may have to take a step back offensively. In terms of internal analysis that we do upstairs, that's certainly an exercise we're going to do. Then we're going to decide what makes us look like a better club. But none of us is satisfied with 81 wins. So as we look to the offseason, we'll certainly explore all the available options that we feel can help us improve."