Cardinals have made clubhouse family-friendly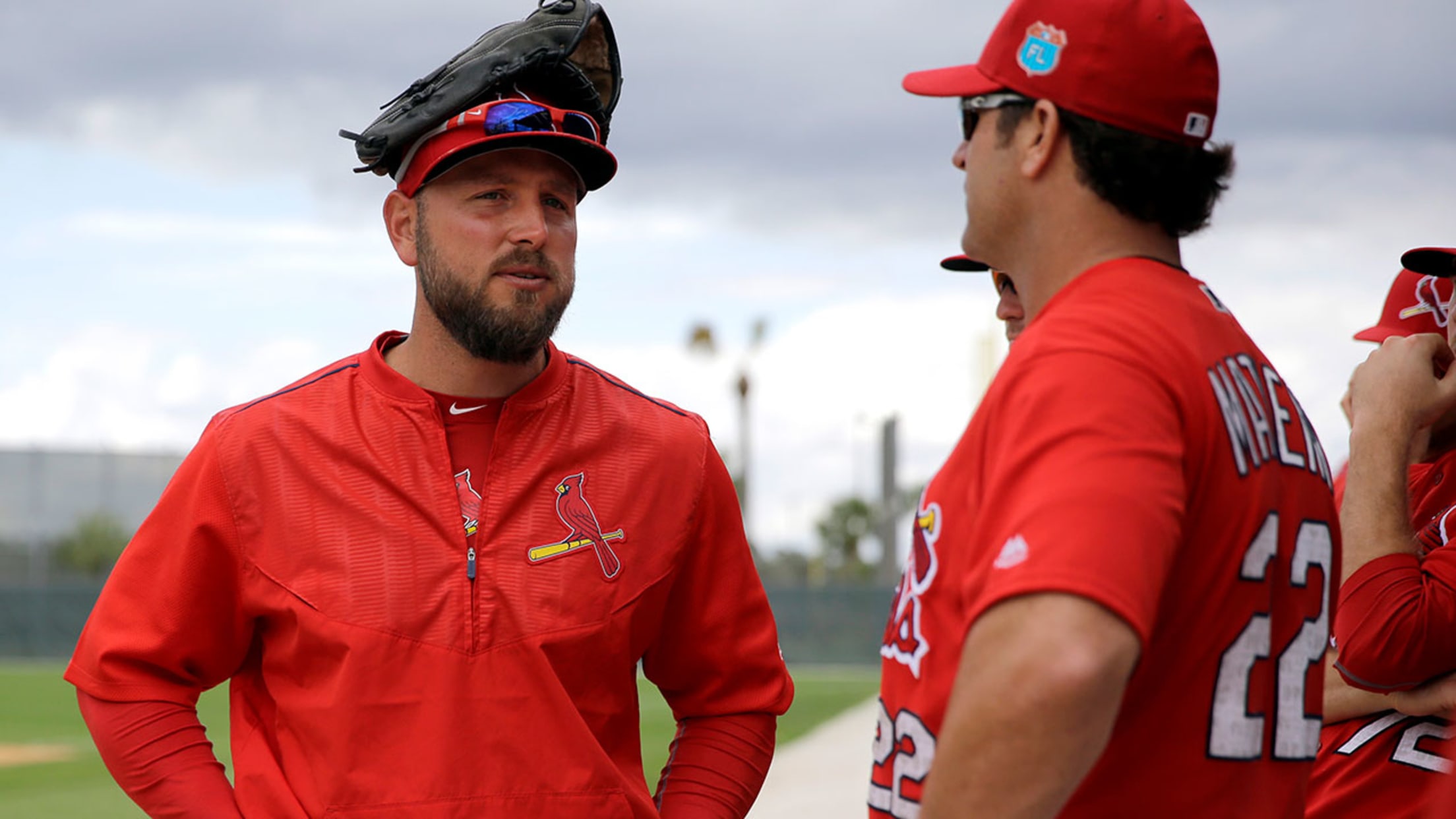 Matt Holliday and Mike Matheny are two of many Cardinals who welcome children's presence in the clubhouse. (AP)
JUPITER, Fla. -- Adam LaRoche's decision this week to walk away from the final year of his contract after White Sox executive vice president Kenny Williams asked him to reduce his son's presence in the clubhouse has caused a stir in the Chicago clubhouse, and it prompted discussion elsewhere about
JUPITER, Fla. -- Adam LaRoche's decision this week to walk away from the final year of his contract after White Sox executive vice president Kenny Williams asked him to reduce his son's presence in the clubhouse has caused a stir in the Chicago clubhouse, and it prompted discussion elsewhere about when it is appropriate to mix family and the baseball workplace.
The Cardinals, like most teams, have long welcomed children in their clubhouse, as long as the privilege isn't abused and the time is appropriate. In Spring Training, when the days are more laid back, families linger outside the clubhouse on most afternoons. Children periodically trail their fathers inside the clubhouse doors, though often they don't stay inside for long.
• Justice: Cardinals always prove naysayers wrong
During the regular season, players' kids can be spotted out on the field before and during batting practice, and then sometimes in the clubhouse postgame. For players who spend so many days on the road during the season, having the added family time is appreciated.
"I know that [manager] Mike [Matheny] is very family-friendly, and [general manager John Mozeliak] and [owner] Mr. [Bill] Dewitt [Jr.] have created an environment that is very welcoming to the families and the kids," said Matt Holliday. "As a man with four kids, and two older boys who absolutely love to be around here, and would be here more if they could, I think it's on me to make sure that they are respectful. It's my job to make sure that nobody else has to alter their conversation or change how they behave based on having kids in here. That's how I look at it as far as having kids in here."
• Molina gets first Grapefruit League swings
Holliday's two oldest sons, 9-year-old Ethan and 12-year-old Jackson, are among the most frequent young visitors in the Cardinals' clubhouse. Their presence has never caused an issue.
"Mike and his staff welcome children and, as a group, we believe this is a healthy approach," Mozeliak said. "Balance is a great word, and we respect how difficult the travel demands are on players and their families. We encourage players to take advantage of this and, for the most part, we have the players monitor this. Our expectation for the clubhouse is awareness, and there are times when we need the clubhouse closed."
• Wainwright goes 4 2/3 solid vs. Tigers
Determining that balance between maintaining the clubhouse as an active workplace and allowing children the opportunity to spend more time with their fathers is something the Cardinals partially leave up to the club's leadership core. That group, which includes Holliday, monitors the clubhouse culture to ensure children -- or anything else for that matter -- do not become a distraction.
"The guys who have sons do a great job of getting them in here," said Adam Wainwright, who has four young daughters. "We don't really care because we love all the kids in here."
Without speaking specifically of the situation with LaRoche, Wainwright did stress that he supports his longtime friend and former groomsmen.
"He is one of my best friends in the world," Wainwright said. "I don't know the whole story. I just know I love Adam."
• Cardinals must make decision on Gonzales
Matheny, who has four children, including one in the Red Sox system and another two playing Division I athletics, said he believes his kids were molded partly by their exposure to Major League sports. Over his 13-year Major League career, Matheny played for four organizations, all of which, he said, welcomed the occasional visit from players' children.
"We can't sit here and say our families are a priority and then deny them the opportunity," Matheny said. "But there's a way it should look. Fortunately, we do have quite a few veteran players around here who understand what that looks like and [others] who have seen it done in a way that maybe pushes things too far. A lot of times during an eight-and-a-half-month season, we have to find time to spend with them."