Peralta fields first grounders since surgery
Shortstop recovering after injuring left thumb in Spring Training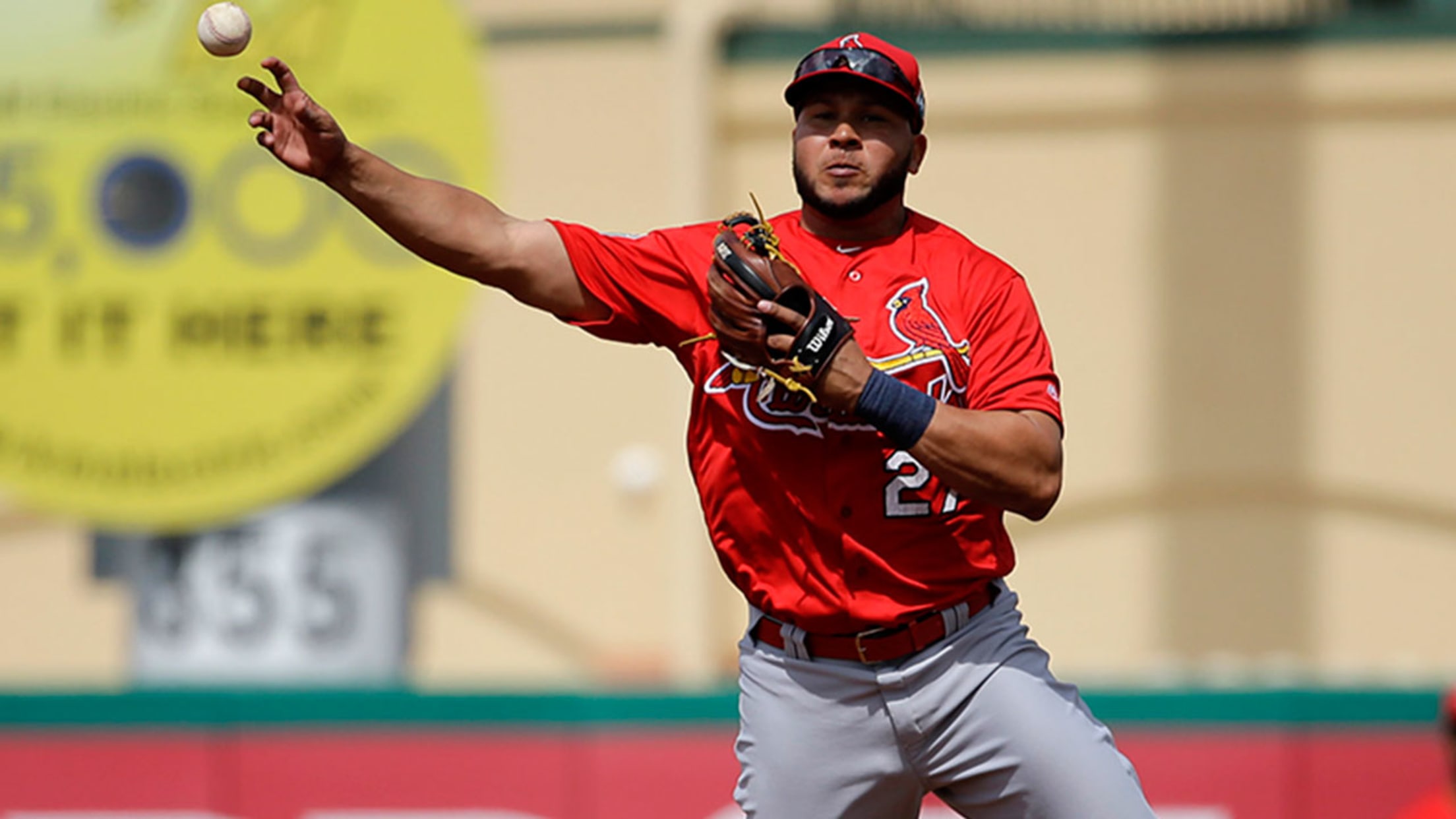 The Cardinals project shortstop Jhonny Peralta's rehab stint to begin May 21, and aren't ruling out a late-May return. (AP)
ST. LOUIS -- A Cardinals club that watched its fill-in shortstops commit nine errors in April got a glimpse on Sunday of the help that is on the way.For the first time since undergoing left thumb surgery on March 10, Jhonny Peralta grabbed a glove and fielded ground balls at
ST. LOUIS -- A Cardinals club that watched its fill-in shortstops commit nine errors in April got a glimpse on Sunday of the help that is on the way.
For the first time since undergoing left thumb surgery on March 10, Jhonny Peralta grabbed a glove and fielded ground balls at shortstop. He wore a hard plastic casing around his thumb for protection.
"I still have to work a little more, but for the first time it felt pretty good," Peralta said afterward. "Nothing is bothering me. I don't feel pain. I feel strong."
Peralta is progressing at a slightly quicker clip than the Cardinals initially anticipated, which means that a late-May return can't be ruled out. Peralta will have his next follow-up visit with the doctor in just over a week, at which time the Cardinals expect Peralta to get clearance to swing. The club projects he'll begin a Minor League rehab assignment around May 21.
"[It's] exciting to see him continue to progress," manager Mike Matheny said. "We try not to get too excited, because there's always the chance that something might slow you down. But so far, he's been coming along."
While the shortstop position has been a defensive liability with Peralta absent, the Cardinals have gotten an unexpected boost of offense from Aledmys Diaz, who has started 17 of the team's 25 games at short. Even Peralta has taken notice of the rookie infielder, who, on Saturday, joined Albert Pujols as the only two rookies in franchise history to tally 30 hits in the month of April.
If it were up to Peralta, Diaz would remain in the lineup even once he returns. With Diaz able to play other infield positions and Peralta having some defensive versatility himself, the Cardinals can field a lineup that will include both.
"How he's fitting in right now, he's supposed to be on the team," Peralta said. "What he's doing, he needs to be on the team."