How potential Cardinals playoff roster may look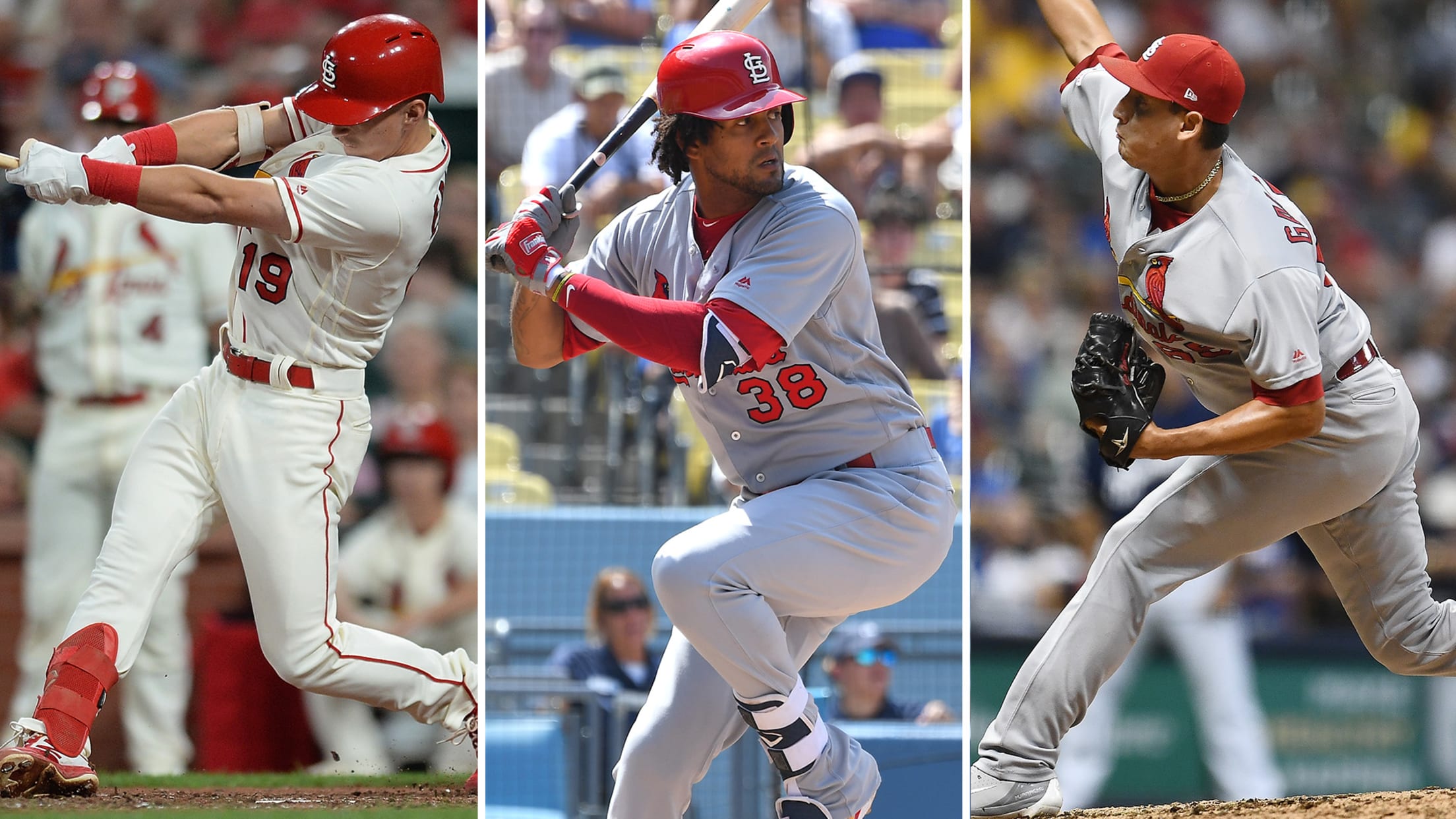 ST. LOUIS -- The Cardinals officially punched their ticket to the postseason with a 3-2 win and a four-game sweep of the Cubs at Wrigley Field last weekend, and they clinched the National League Central title with a 9-0 win over the Cubs on Sunday at Busch Stadium. With their
ST. LOUIS -- The Cardinals officially punched their ticket to the postseason with a 3-2 win and a four-game sweep of the Cubs at Wrigley Field last weekend, and they clinched the National League Central title with a 9-0 win over the Cubs on Sunday at Busch Stadium.
With their first division title since 2015, the Cardinals are heading to an NL Division Series showdown with the Braves, beginning Thursday in Atlanta, and MLB.com is looking at how their postseason roster might shake out.
• Here's how the playoff rosters might look
• Cardinals-Braves NLDS presented by Utz, Game 1: Thurs., 4 p.m. CT on TBS
Catchers (2): Yadier Molina, Matt Wieters
There's no question whether Molina is ready to lead the Cardinals into the playoffs. The 37-year-old catcher has guided the Cards' rotation to nine shutouts since he was activated from the injured list on Aug. 13. In his last 10 games, Molina is hitting .302 with three walks and eight RBIs. And the switch-hitting Wieters was cleared to play this week after dealing with a mild left calf strain, and he gives the Cardinals a strong left-handed bat off the bench. The Cards are fortunate that they signed Wieters in the offseason, because his experience and effectiveness came in handy when Molina missed a month with a right thumb tendon strain.
• Buy Cardinals' postseason gear
• What's ahead? Cardinals postseason FAQ
Infielders (6): Paul Goldschmidt, Kolten Wong, Paul DeJong, Matt Carpenter, Tommy Edman, Yairo Munoz
Wong has been out since Sept. 19 with a left hamstring strain, but the second baseman is hopeful to be 100 percent for the NLDS. Wong brings elite defense to the Cardinals' infield, and his .361 on-base percentage saw him moved to the top of the lineup. While Wong heals, switch-hitting utility man Edman has transitioned from third base to second smoothly, with his offense continuing to produce. The rookie hit .350/.417/.660 with six home runs in September. If Wong is healthy, Carpenter will likely go back to a bench role, but he has found some success this September with three home runs and 10 RBIs. Goldschmidt (34 home runs) and DeJong (30), with Marcell Ozuna (29) sandwiched in between, each provide power in the middle of the lineup. First baseman Rangel Ravelo and his power are still making a case for a postseason spot, and he could substitute for Tyler O'Neill or a pitcher's spot. But Munoz is more versatile, playing shortstop and third, and he can provide a spark off the bench.
Outfielders (5): Dexter Fowler, Harrison Bader, Marcell Ozuna, Jose Martinez, Tyler O'Neill
Edman and Munoz could also fit in this group, and they've shown up in the outfield plenty of times. But Ozuna in left, Bader in center and Fowler in right has proven to be effective. While Martinez is sometimes a defensive liability, he provides a quality bat off the bench. The switch-hitting Fowler has found his footing this year, especially since being moved to the leadoff spot in the beginning of August. Ozuna's power fits into the middle of the lineup, and Bader rounds out the bottom of the lineup with his speed. If added to the postseason roster, O'Neill gives the Cards another power hitter off the bench, and his speed on the bases and in left field helps his chances, too.
Starting pitchers (4): Jack Flaherty, Dakota Hudson, Miles Mikolas, Adam Wainwright
It's not essential to carry a five-man rotation in the postseason, so anyone the Cardinals don't need can be used in the bullpen. Young starters Flaherty and Hudson have shown to be the Cards' dominant duo over the past month, with Flaherty spinning a gem in Sunday's division-clincher to finish with a 0.91 ERA since the All-Star break, the third-best second-half mark in MLB history. Wainwright has struggled in his past two starts, including allowing six runs and four homers in 4 1/3 innings on Saturday. But he has been an integral part of the Cardinals' playoff push, and the 38-year-old veteran brings valuable postseason experience to the team. Mikolas -- the Cardinals' Opening Day starter -- will start Game 1 against the Braves despite his inconsistent second season. He's shown the dominance that led to his 18-win season last year, though, especially lately. Michael Wacha has a right shoulder strain that could keep him off the NLDS roster.
Relief pitchers (8): Andrew Miller, Tyler Webb, Carlos Martinez, John Gant, Ryan Helsley, John Brebbia, Giovanny Gallegos; Genesis Cabrera
The Cardinals might elect to carry more bench players, which shrinks the number of pitchers they'll have on the roster. But the bullpen has been incredibly effective this year, and the Cards have options. Gallegos has burst onto the scene this season and has held opponents to a team-low .170 batting average. Miller and Webb are the left-handed relievers and both have gotten big outs down the stretch, while Brebbia and Gant can appear in effective short bursts or give the Cardinals length if needed. Martínez has transitioned well to the closing spot and has converted 24 of his 27 save opportunities after Jordan Hicks' season-ending Tommy John surgery. The Cardinals could add left-handed reliever Cabrera to help against a Braves lineup that has a lot of lefties.